When it comes to water purifiers, one question that I am asked often is what is the difference between Aquaguard and Aquasure. While most people are aware that both these water purifiers are manufactured by Eureka Forbes. Prospective customers remain confused about the need for two separate brands. If you too are facing the same dilemma, continue reading this review on Aquaguard vs Aquasure in India.
Summary – Which one to Buy?
If you are looking for the best water purifier and the budget is no bar, this Eureka Forbes Aquaguard 6 litre Model is an easy choice. Here is a water purifier which senses the quality of water and chooses the apt purification technology. This premium model uses what is called "Tasteguard Technology".
Do make sure you compare the price on Flipkart as well before you buy the product.
This water purifier uses a multi-stage purification process through RO+UV/UF that is capable of purifying water from borewells as well as tankers. With a 6 litre capacity, this is a product best suited for medium-sized families.
However, if you are seeking a more pocket-friendly solution. I recommend this Aquasure water purifier. This model of Aquasure makes the best use of technology with affordability in mind. This product is a sleek water purifier that uses double purification technology to treat and render water from all water sources safe for drinking and cooking.
Do Read – Kent vs Aquaguard Water Purifiers in India. Which one to Buy?
History of the brands
Eureka Forbes is credited with the introduction of water purification in your homes as a concept way back in 1984. At that point of time, when water purification through a machine that can sit over one's kitchen sink, was completely unheard of in India and was grossly misunderstood at that.
With the launch of Aquaguard in the early '80s, Eureka Forbes also felt the need to educate prospective customers. They introduced the concept of direct selling to achieve the same.
A friendly customer service representative would go from door to door explaining why water purification was important and what Aquaguard could do. The dynamic salesforce that Eureka Forbes employed were successful in changing the perception of common people.
Soon Aquaguard became a household name.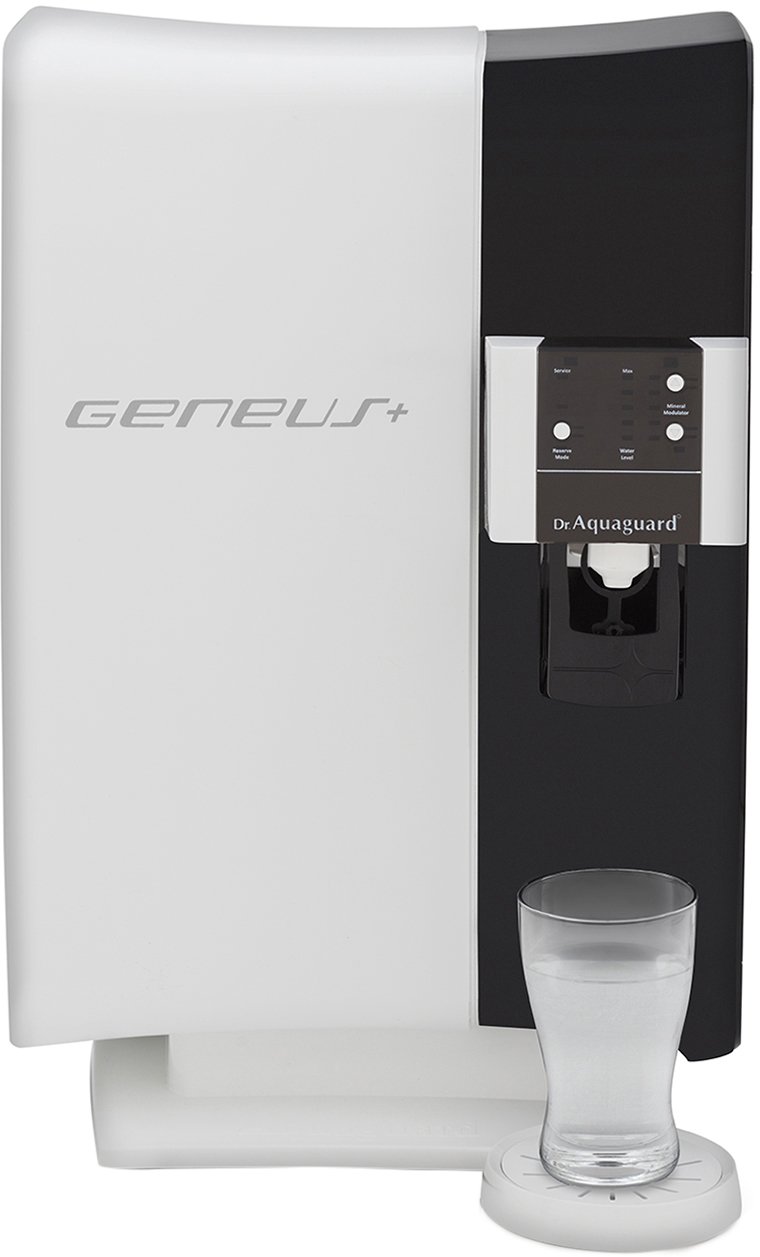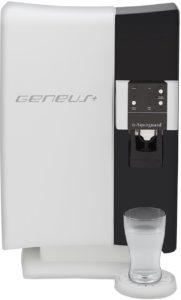 By the 90s, a water purifier or an "Aquaguard" was a common sight in all middle-class Indian homes. However, with the passage of time and advance in technology, Aquaguard became a sophisticated water purifier. It used state of the art technology such as the combination of RO/UV/UF to purify drinking water with the help of electricity.
Naturally then, these purifiers were priced at a higher range.
The need to Launch Aquasure:
However to remain relevant and hit home with the average Indian, Aquasure was launched as an offshoot of Aquaguard. Aquasure was launched with the idea of making clean drinking water available to the masses at a low cost. The first models of Aquasure were therefore non-electric and affordable for the masses.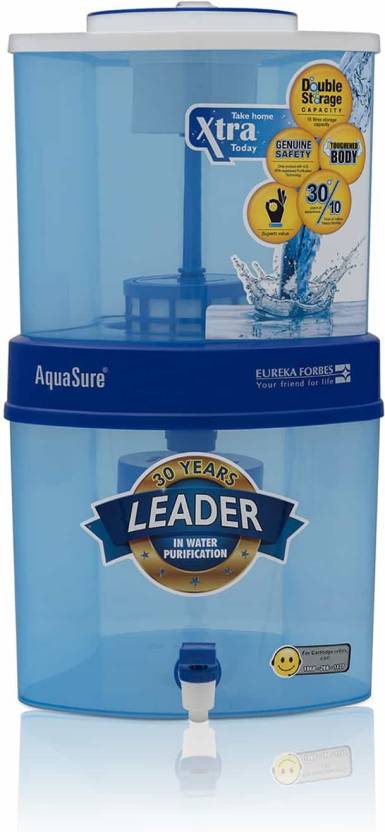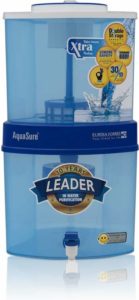 However, over time Eureka Forbes realised that there was a scope of greater penetration among the retail class with an electric version of Aquasure. Thus, while affordability still remained its USP, Aquasure metamorphosed into a brand that offered both electric and non-electric water purifiers at a lesser price, with the same promise of providing clean and safe drinking water.
Summary – Difference between Aquaguard & Aquasure
To Summarize, Aquaguard is a top end range of water purifiers from Eureka Forbes and come with all the latest features. While Aquasure is a more budget-friendly range of purifiers. Dr Aquaguard Geneus+ and Aquasure Smart Plus are the best models respectively from each of these brands.
The current status
Today Aquasure is also a popular brand that has grabbed a significant market share in the offline market and in online retail space. With advancements in technology in the water purification methods, Aquasure too offers water purifier models that are loaded with premium features and they fulfil the requirement of providing water fit for consumption in middle-class homes.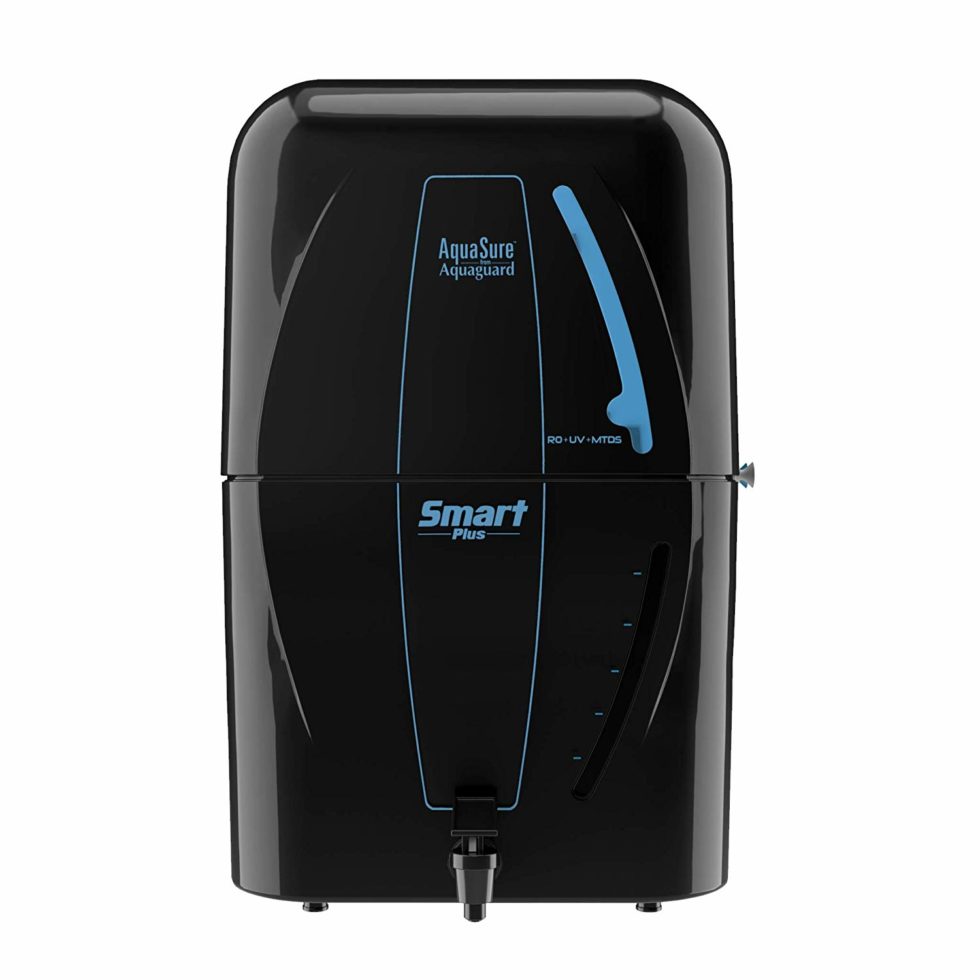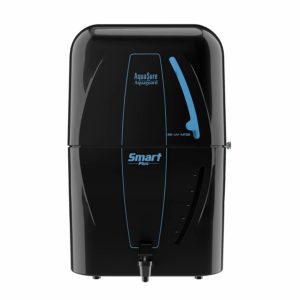 Thus, if you are looking for a budget-friendly water purifier, you can trust Aquasure with your eyes closed. Eureka Forbes is a brand that you can trust.
However, if you are still willing to take a look at Aquaguard, here is a comparison of the two top models of both Aquaguard and Aquasure for you.
You May Like – Aquasure Smart Plus vs Shield 
Comparison of Aquaguard vs Aquasure
Now let us take a closer look at how the top models of Aquaguard and Aquasure compare on the following parameters:
Purification
Aquaguard Geneus uses a unique technology christened Taste Guard Technology. The G-Tech sensors identify the source of water and deploy an appropriate multi-stage purification process. Thus whatever the source of water, Aquaguard Geneus lives up to the promise of rendering safe, pure and healthy drinking water always.
Aquasure Smart Plus also has the capability to purify all types of water with competence. Purification happens through a six-stage purification process–
Pre-filtration of large impurities
Elimination of bad odour and organic contaminants
Elimination of chemical contaminants through an Electronic Membrane Life Enhancer
Removal of heavy metal and hardness of water through the RO membrane
Replenishing the minerals lost in the RO process through the taste enhancer.
Last and final removal of bacteria and viruses from the purified water.
Filtration and storage capacity
The Aquaguard Geneus has a filtration capacity of 15 litres per hours and features a storage capacity of 7 litres. The Aquasure Smart Plus has a filtration capacity of 10 litres per hour and features a storage capacity of 6 litres.
Efficiency with water source
The Aquaguard Geneus uses RO+UV+UF and a mineral moderator that identifies the water source and can efficiently purify water coming from borewell, municipal corporation and tankers. This water purifier purifies water with TDS level as high as 1-2000 ppm.
The Aquasure Smart Plus too is suitable for purification of water from various sources. It uses a 6-stage RO+UV+MTDS purification method to ensure that you receive pure and safe water for consumption. The TDS controller in this water purifier is capable of adjusting the taste of water depending upon the water source.
Warranty
Both water purifiers offer a 1-year warranty on the product
Special features
The Aquaguard Geneus features an intelligent sensor that gives an advance warning to replace cartridges. While the Aquasure Smart Feature is lacking this feature, it has other features such as smart colour changing sensors when the purification process is on. Further, it provides voltage fluctuation protection (150 V-270 V) and is especially helpful in areas where power supply is fickle.
Don't forget to watch this latest advertisement by Eureka Forbes
Hope that now you know the differences between Aquaguard vs Aquasure. You can now make a choice based on your budget and needs.
So which one did you decide to buy? Have you used a water purifier by Eureka Fobes in the past? How was your experience? Do feel free to share your feedback or queries in the comment section below.