Who doesn't like a good, homemade cake? 🙂 In this post, I will be reviewing the best OTG ovens for baking in India.
OTG is the best type of oven you can use for baking. If someone wants a microwave too. I would recommend buying two separate appliances. OTG and a Microwave.

 
OTGs or "Oven, Toaster and Griller" are one of the oldest types of electric ovens in existence. These ovens use electricity and convert them into heat (Microwaves work very differently). Some of the biggest advantages of OTGs are:
They cost less compared to equivalent convection ovens.
They use less electricity.
OTGs are lighter in weight. So they are more portable.
The simplicity of use.
Amazing baking results.
If you need more details about OTG and how they function, browse towards the end of the article. I have answered a few questions for someone who has not used an OTG before this.
I will now jump straight into the results. The ovens are listed in ascending order of capacity.
This first three products are good for someone who is buying OTG for the first time and want to experiment with Baking.  These products are good for a small family baking once in a while.

However, if you have a larger family or if you like to bake for your friends often. You should select a product from the last three options listed on this review.

 
1. Bajaj 1603T – 16 Litres
If you are looking for a basic OTG for your occasional baking, you can go for this product by Bajaj. This is easily amongst the bestselling OTG ovens in India. It is very compact and light so can be stored easily. It does not block a lot of space in your kitchen.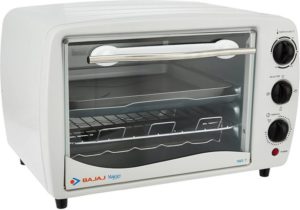 Key Features:
Oven capacity is 16 Liters (Enough for a small family of 2)
All the controls are mechanical. The oven comes with three knobs. First one for temperature control. Second one for coil selection (If you want only one of the coils to heat up or both). The last knob is the timer.
Does not have a rotisserie option.
Maximum temperature you can set is 250 degrees. Power usage is 1200 W
1-year warranty by the company
2. Morphy Richards 18RSS – 18 Litre
If you are looking for a better finish and design. You can go for this product from Morphy Richards. The oven slightly more powerful compared to Bajaj 1603T.
The black and chrome finish on the product looks really good. It is also easier to clean.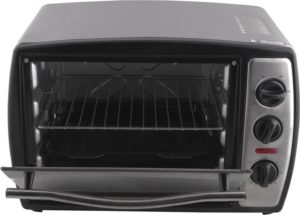 Key Features:
The capacity of the oven is 19 Liters. Slightly higher compared to Bajaj 1603T. Ideal for a family of 2.
Operating range of temperate is 100 to 250 degree centigrade.
Controls are similar to Bajaj OTG discussed above.
It has a motorized rotisserie.
Power consumption is 1380 W
Comes with a year comprehensive warranty by the company
3. Prestige POTG  – 19 Litre
It is very difficult to talk about kitchen tools and appliances and not talk about Prestige. A well known and trusted brand in India. This product, like their name, is built to last. It bakes really well and is the reason for getting featured in our list of best OTG ovens in India.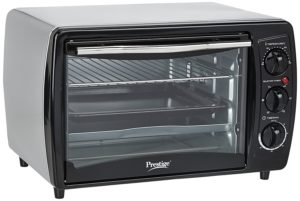 Key Features:
Capacity is the same as the Morphy Richards product above – 19 Liters
The control knobs are the same. However, prestige does have a couple of extra operation modes.
Power usage is 1380 Watts (Same as Morphy Richards 18RSS)
You get a 1-year warranty on the product
4. Morphy Richards Besta 40
Now we come down slightly bigger products. You should consider these products if you enjoy baking different food items on a regular basis.
This first in this list is Morphy Richards Besta 40.  This product has a black metal finish.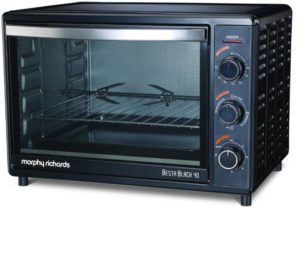 Key Features:
Has a capacity of 40 Liters. Good enough for a large family or if you need to cook for guests coming to your home.
Power consumption is 2000 Watts
Has a m

otorized rotisserie mode.

Comes with three well-designed knobs to select your cooking mode, temperature and time.
This product also has a keep warm functionality built in.
Comes with a 2-year warranty by Morphy Richards.
Dimensions of the product are:

Width – 47.4 cm
Height – 45.4 cm
Depth – 58 cm
Weight – 9.7 kg
5. Borosil  BR 00A 42 – 42 Litre
To be honest, Borosil is not known for its OTGs. However, this product is too good not to include it my list of best OTGs. This is easily one of the best looking product in the entire list.
This OTG also has a convection functionality. This basically, helps circulate the hot air inside the oven. This helps the food cook more evenly and quickly compared to regular OTGs.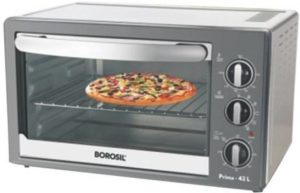 Key Features:
The total capacity of the OTG is 42 Liters.
Power consumption is 2000 watts
Comes with convection mode and motorized rotisserie.
This product comes with a 2-year warranty by the company.
Dimensions:

Width – 32 mm
Height – 55 mm
Depth – 47 mm
Weight – 9 kg
6. Morphy Richards  52RCSS – 52 Litre
This is the last product in our list of best OTG ovens in India for Baking. If someone is just in love with baking, this is the perfect product for him/her. There is absolutely nothing in this world that you cannot bake in this OTG. Literally, It has a huge capacity.
The performance of the product is also really good. You expect the same with Morphy Richards products (Specially ovens)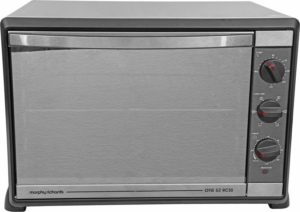 Check Live Price – Flipkart | Amazon
Key Features:
The capacity of this oven is 52 Litres (You can easily bake for 6 to 8 people)
The power consumption is 2000 Watts
The product also comes with equipment for kebabs (Two discs and 10 rods) along with rotisserie rod and tongs
The product has a 2-year warranty by the company.
Dimensions:

Width – 37 cm

Height – 34 cm

Depth – 41.1 cm

Weight – 13.6 kg
Frequently Asked Questions:
How to use an OTG Oven?
If you haven't used an OTG oven. You can watch the video below check how to operate an OTG. Please do keep in mind that each model is slightly different, so do refer the user manual that comes along with the product
Can I use glass bowls in OTG oven?
You need to use glass which is specially designed for use in the Oven. If you use a normal glassware, it will crack in the heat. You can find baking bowls easily online on sites like Flipkart and Amazon.
What vessels can you use in an OTG Oven?
You can use baking trays and moulds safely. They are made specifically for baking in the oven. The common material used in them is either ceramic, glass, aluminium or silicon. A lot of baking trays come with Teflon coating, making them non stick.
Can I reheat my food using OTG oven?
Technically yes. It takes time to heat food in an OTG.  You need around 10 minutes for the coils to warm up. Also, there are chances that your food will get crispy from the outside.
It is better to use a microwave for this job. You just need a minute or two with microwave to het up your food.
Ideally, you can buy an OTG for baking and a small microwave for reheating your food.
How much time do I need to preheat an OTG Oven?
Takes a little longer compared to convection oven to preheat the OTG. This is because OTG uses coils to raise the temperate of the oven. The coils require some time to get heated up
It takes around 15 minutes for OTG to preheat as against 5 minutes fora convection oven.
How to clean an OTG Oven?
You can refer to our earlier post written here. The article is written for a microwave oven, however, most of the points remain the same. Also, do refer your user manual for more details.
This brings me to an end of my Review of the Best OTG Ovens for Baking in India. So, which one did you decide to buy? Do let me know in the comments section below.