Life becomes so much easier when ovens can cook meals for you. You don't have to stand there the entire time to ensure your meal is not ruined. But buying the perfect convection microwave oven for your kitchen according to your needs can be a little challenging. This needs a lot of a lot of comparison and research.
I have hence compiled this list of the Best Convection Microwave Ovens in India for you to choose from. I have taken the time and effort to compare the features and products of all leading brands on behalf of you.
Summary:
As with all my articles, I will be adding this summary section for those are well versed with the working of a convection oven and are only looking for direct product recommendations.
You should definitely look at This Model by IFB. It is also available on Flipkart (Click Here to compare prices between Amazon Indian and Flipkart for this same model).
For people with larger families or those who love to cook for friends and guests at home frequently, you can opt for this bigger model by LG (Amazon). As with the one above, this model too is available on Flipkart and this gives you the flexibility to buy it from the marketplace that gives you the best offer (Click here to compare price on Flipkart)
Which are the Best Convection Ovens?
So, I will now start off with my list of recommended products.
I have deliberately kept the list restricted to 5 products. This helps me focus my research better and come up with only the best products that you can currently buy online. But this list is also enough to have a variety of products that will suit different requirements as per your needs and usage.
1. IFB
25SC4 Convection – 25 Liters
This is amongst the best selling convection oven in this category. This model is also available in different capacities like 20 L & 30 L as well.
This oven by IFB comes with a stainless steel body, timer, led display and multiple power settings.
This oven is perfect for a small family of 2 to 3 people and/or planning to buy it mainly to reheat food but bake/grill using it occasionally.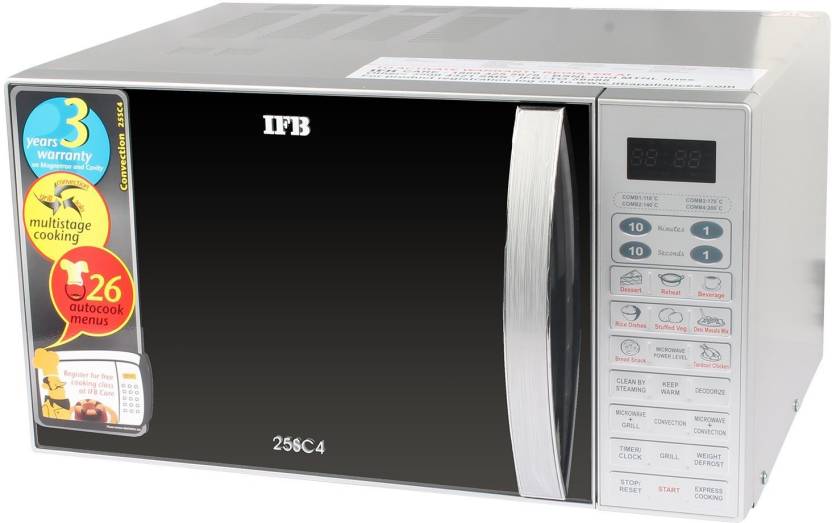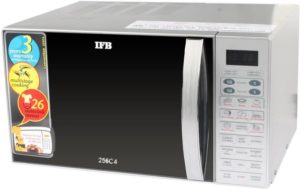 Check for more User Reviews – Amazon | Flipkart
Key Features:
Body is made using stainless steel. This makes it durable and easy to clean
Comes with a free starter kit/utensils that you can use in the microwave. However, I personally recommend you to use only high-quality glass utensils in it (Microwave safe)
A friendly keypad that makes it easy for you to select the cooking mode. It is also easy to clean the keypad
An autocook menu with over 100 different modes to select from
Has an innovative defrosting mode. This helps you to cook using froze food faster and in an easier way
IFB offers a one year warranty on the product and 3 years on a few of the components used within
For detailed a detailed view of the features offered by this product and a demo, do watch the video by Flipkart below:
2. LG
MC3286BRUM
Oven – 32 L
The IFB product mentioned above may suit most requirements but is not an ideal bet for someone with a large family (4+ members) or who like to bake/grill frequently for friends and family.
If you are someone who needs a bigger convection oven, this product by LG is the right product for you.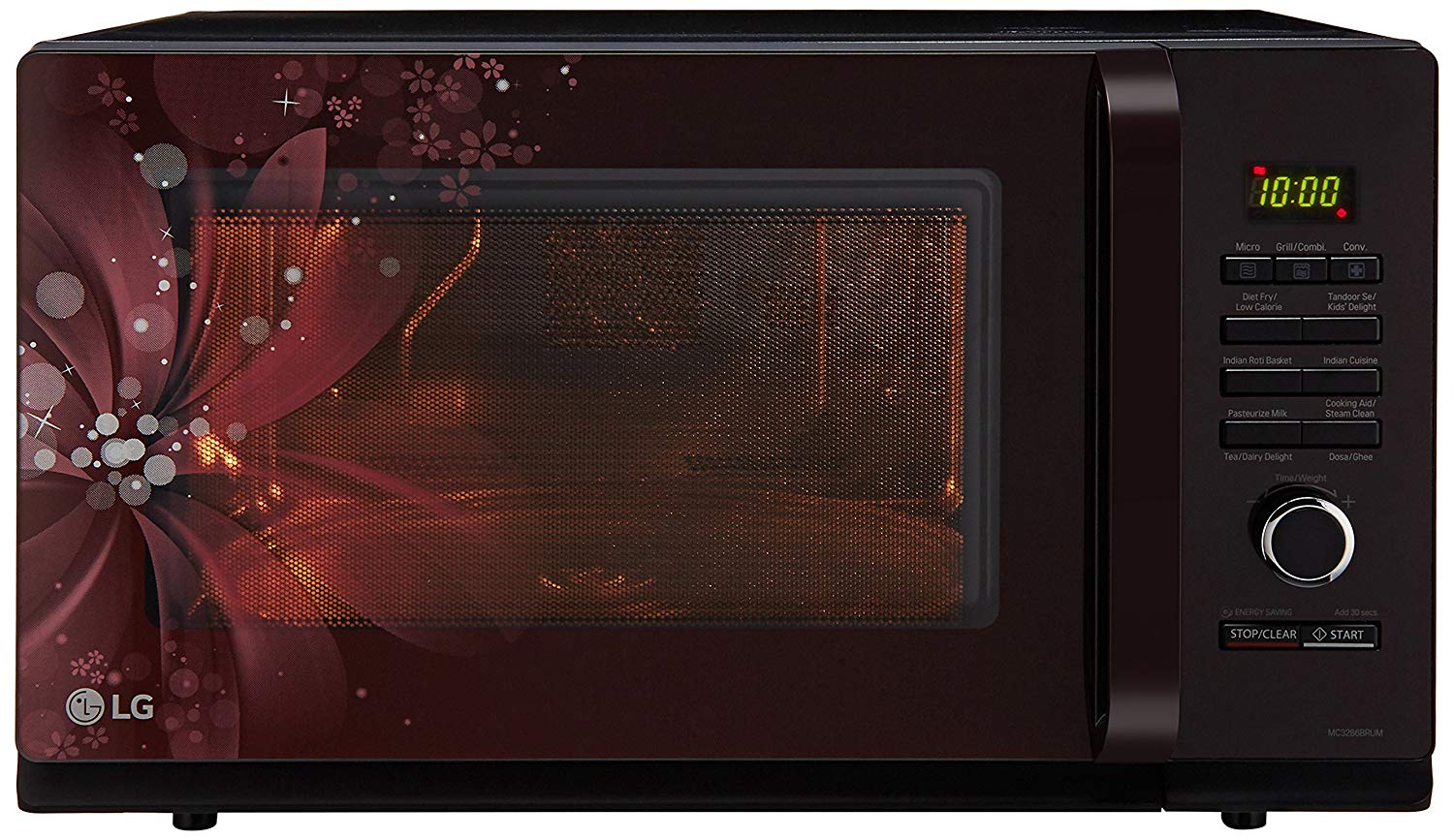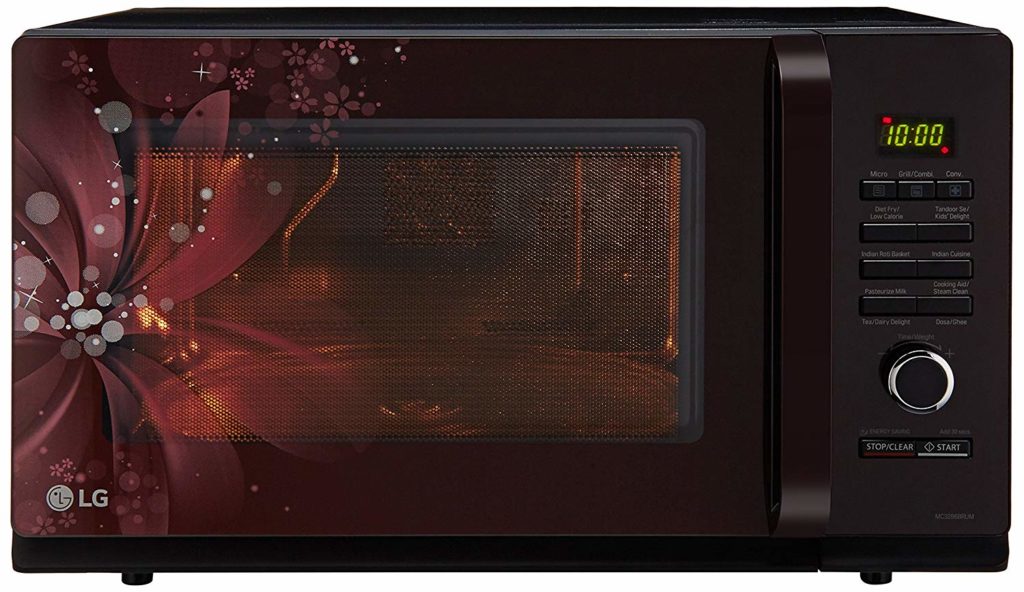 Check the Latest Price in India – Flipkart | Amazon
Key Features:
An oven suitable for requirements of large Indian families
Uses a metallic outer shell which offers durability and ease of cleaning
Includes over 200 auto cook programs by defaults
Comes with a digital timer, control knobs and buttons
LG offers a 1-year warranty on the product and 5 years on the magnetron
For a detailed demo and to understand the features that this product offers, you can watch the video below.
Do note that the model shown in the video is slightly different from the one I have showcased above. But their features are almost identical. (Looks of the front panel may vary)
3. Samsung
CE1041DSB2/TL 28L Oven
This model by Samsung is a much more cost-effective model compared to the LG convection oven on my list above.
So if wish to buy an oven with a decent capacity and willing to let go of the premium looks and features of the two models above, then this is the right oven for you.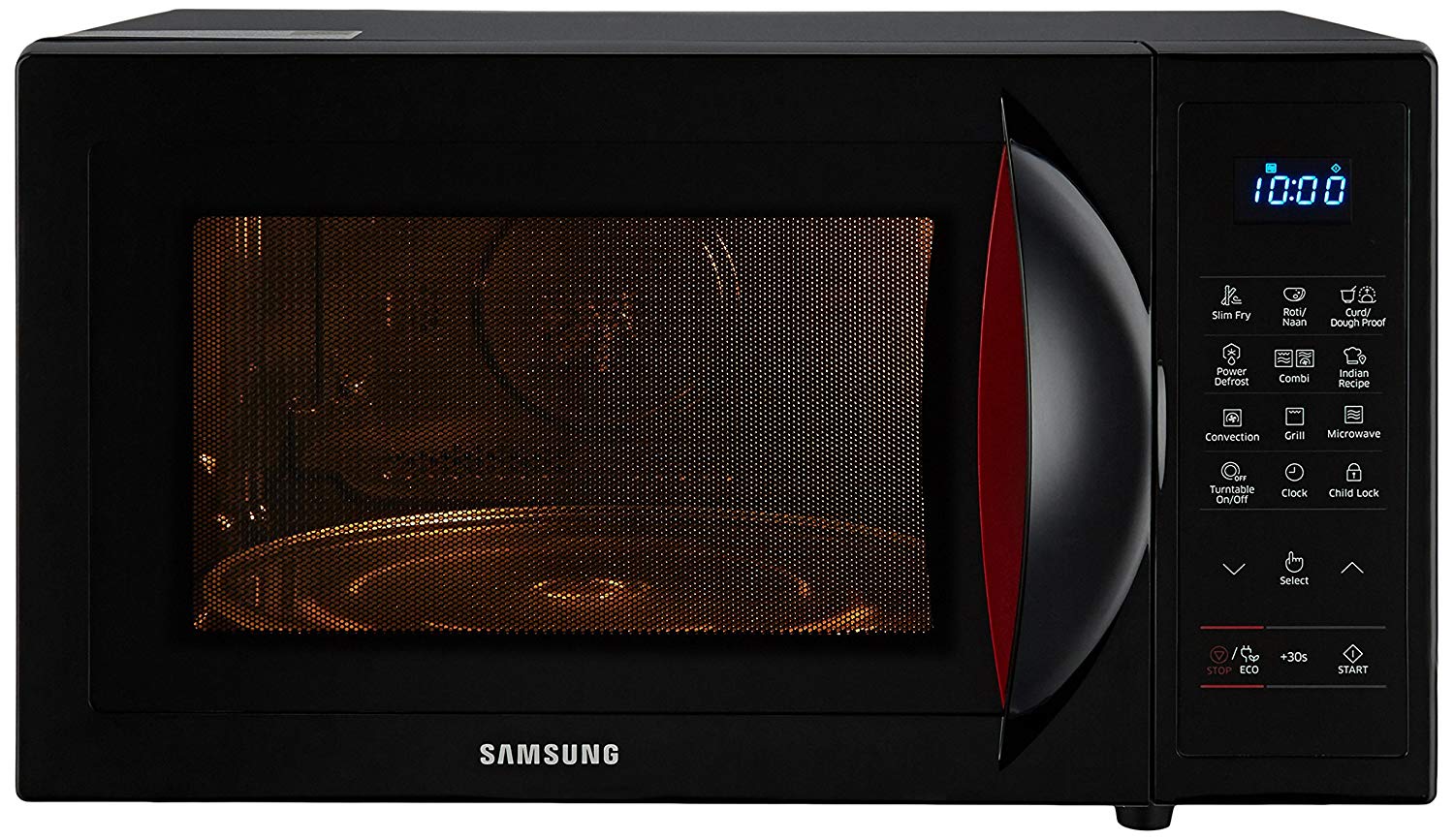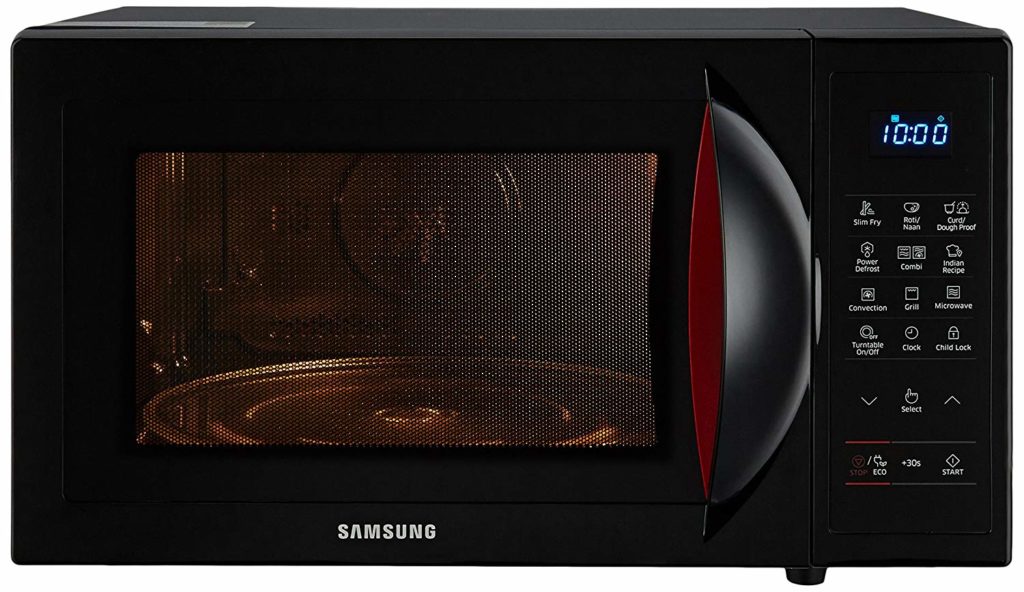 Check the Latest Price & User Reviews – Flipkart | Amazon
Key Features:
One of the most popular budget convection ovens by Samsung
Has a total capacity of 28 Liters. Enough for a family of 4
Comes with a LED display but does not have any control knobs
Controls are provided using membrane buttons
Does not look as good as the two models above but is pocket-friendly
Samsung offers a one year warranty on the product
You can watch the video below to have a closer look at the oven and the functionality that it offers
4. Godrej
GMX 20 CA5 MLZ
– 20 Liter Convection Oven
A good bet for bachelor or young couples. This product is ideal for people who would be mainly using the microwave and bake/grill occasionally.
The product looks really good and has a nice metallic silver finish on the front. The controls are nicely designed and easy to understand/use.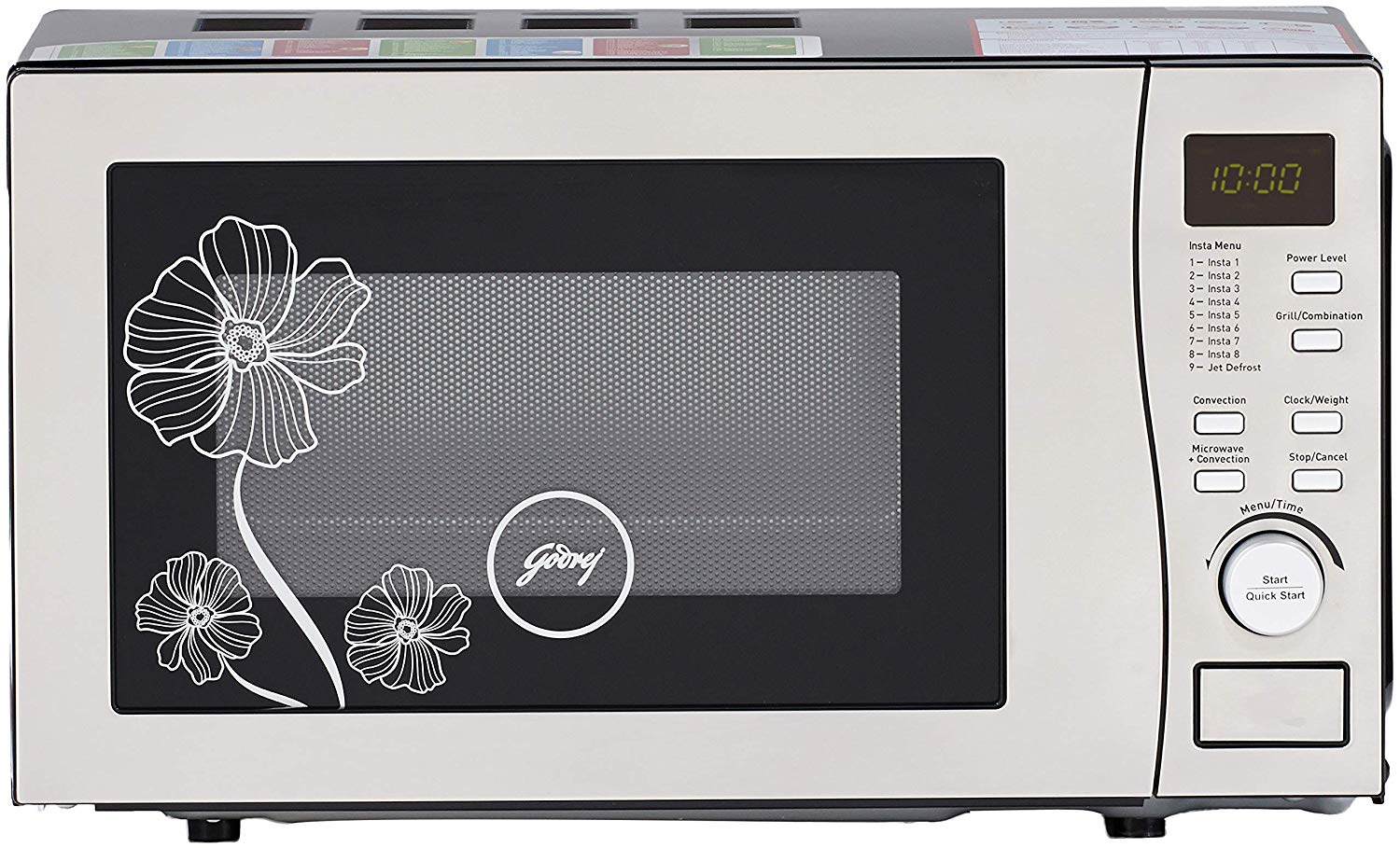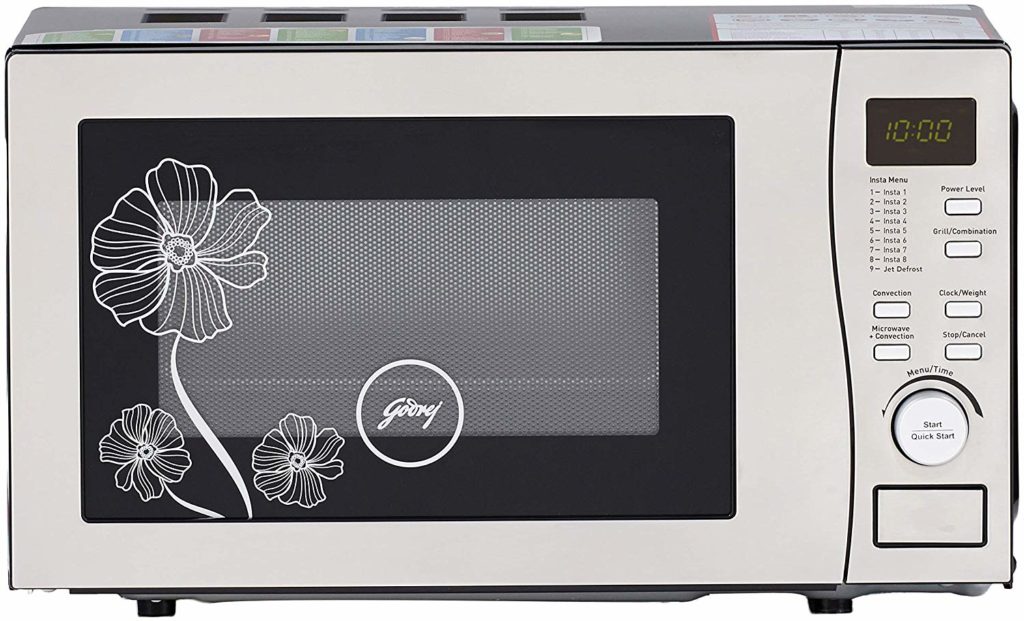 Check Actual User Reviews – Amazon India
Key Features:
A convection oven best suited for small families, young couples and bachelors
Comes with knobs and buttons to control the functionality of the oven
You can cook, reheat, grill, defrost and bake using this product by Godrej
Godrej offers a 1 year on the product and 3 years on the magnetron
Godrej also offers a similar 19 L oven to choose from
5. Panasonic NN-CT645BFDG – 27 Liter Convection Oven
Not many people would have expected to see a Panasonic branded product on my list of Best Microwave Convection Ovens in India.
However, trust me, this product is really good and well deserves this position.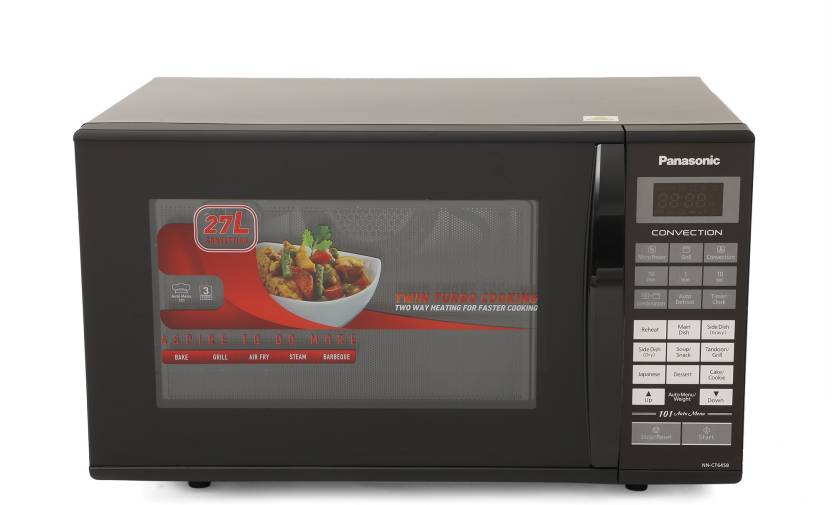 Checkout Actual User Reviews on Flipkart
Key Features:
Has a big enough capacity of 27 litres to meet the requirements of a regular Indian family
Uses membrane based touchpad that is easy to use and clean
Comes with free starter kit
Has over 100 pre-programmed auto cook menus so you don't have to worry about the settings
Enclosed with a rust proof steel cover for durability and ease of cleaning
This brings me to the end of my list. However, for those are planning to buy this product for the first time and need help understanding it can refer to the buyer's guide that I have provided below.
Buyer's Guide – Convection Ovens
With so many different types of ovens to choose from, It is very difficult to choose the one that is right for you. Convection oven amongst them offers so many benefits. However, do read detailed comparisons below before deciding on buying a convection oven.
Types and Working of Ovens
When we talk about how these ovens get things done, there are two main types of ovens: gas and electric. These types are further categorized into a convection oven, conventional oven, steam oven, microwave oven, and OTG oven. There are also hybrid ovens in which you can switch between gas and electricity.
Gas Oven
As the name suggests, natural gas is the primary source for producing heat to cook food. When you set the desired temperature, the gas supply is ignited with the help of an electric lighter. The heat generated by ignition opens the valve, which allows natural gas to move through the burner tube. The burner in the oven has multiple holes, which will enable the heat to spread into the oven. Gas ovens are mostly cheaper than the electric ones, even if they have similar quality.
Electric Oven
An electric oven consists of two elements at the top and bottom which are enclosed in a steel box. These elements get the signal when you turn on the oven and set the temperature through a dialer or control panel which is connected through copper wires. These electric signals activate the heating elements, which makes the temperature go up at its fullest. Then, the power is cut off and the heat comes down to the required setting. When it is adequately heated, the food starts to cook.
Convection Oven
Electric ovens are further categorized into conventional and convection ovens. The convection oven works similar to an electric oven but with an added feature, which is a built-in fan that blows hot air throughout the cooking process. This feature helps maintain even heat so that the food does not only brown at the top and remain uncooked from the bottom. It also allows you to cook multiple items at once.
Conventional Oven
The only difference between convection and a conventional oven is in the heating process. The conventional oven does not contain a fan and produces heat after getting a signal from the control panel. It heats from the bottom, but this can result in pockets of cool air toward the top and lead to inconsistent cooking.
Steam Oven
Steam ovens are not as popular as convection ovens, but they can be a good investment if you want to have a healthy lifestyle. The cooking process in this type of oven helps retain more nutrients in your food and does not require any oils to cook. The steam oven may be a healthier option, but you cannot prepare every dish in it as it will affect the crispiness of your food. These ovens consist of a water container in which the water is filled so that steam can be produced. The oven heats up as every other oven does and the steam starts to rise and keeps the perfect moisture throughout the cooking.
Microwave Oven
A microwave oven works quickly and efficiently. The food is cooked with the help of heat energy that directly penetrates the food particles. This microwave consists of a metal box in which a microwave generator is placed. This generator is known as magnetron which picks up the electricity and converts it into radio waves which are then transferred to the food chamber. The rotating plate in this food chamber continuously spins so that these waves evenly penetrate the food particles.
OTG (Oven Toaster Griller)
An oven toaster griller is mostly used for baking cakes and cookies, toasting and grilling. This oven works pretty well, but it takes a bit more time to cook the food.
It contains two coils at the top and bottom, which get signals from the control panel and heat the coil through electricity. You have to burn both the top and bottom coils for baking and for grilling, you only have to burn the top coil.
The food is cooked when electric energy is converted to heat energy. If you looking to buy an OTG,  Click Here to read my detailed review of the best OTG ovens in India.
What Is a Convection Oven and How Is It Different from a Traditional One?
Convection ovens have been in use since the 1950s in professional kitchens before making their place in homes. They are slightly different from conventional ovens as they have a fan on the rear wall of the oven, which blows and circulate balanced hot air in the chamber. This means you will get evenly cooked food.
In traditional ovens, heat moves upward, cooking the food faster in the top shelf, while the bottom rack remains slightly uncooked. On the other hand, convection ovens with a fan are typically 25% faster than non-fan ovens as hot air circulates evenly and cooks the food properly in time. You have to set approximately 25 degrees lower temperature in a convection oven as compared to a traditional one.
Convection vs OTG Ovens – Comparision
Heating Process
In convection ovens, heat is produced and maintained by the help of a fan which blows hot air. However, in OTG ovens, two coils are heated through electricity, which cooks the food.
Timing
Convection ovens take less time to cook food because of more heat produced by the fan. On the other hand, OTG is a bit slower when it comes to cooking.
Purpose
Convection ovens can be used for baking and cooking many things. They also do a good job for browning just as much as required. However, an OTG oven, as its name suggests, can be used for baking and grilling as well as reheating food.
Pros
Convection ovens save you a lot of time because they are 25% faster than other ovens. Contrary to this, OTG ovens take a little time to cook food.
You can prepare more items in convection ovens as there is more space and the heat will spread evenly. In OTG ovens, you can only prepare one item at a time as there is less space.
You can save on electricity bills a bit if you go for a convection oven because your meals can be prepared in less time as compared to OTG ovens.
Cons
Meals prepared in convection ovens tend to be drier as compared to meals prepared in OTG ovens. Furthermore, proper cleaning and maintenance are necessary for both ovens.
Convection vs Microwave Oven – Comparision
Heating Process
As already mentioned, heat in the convection ovens is distributed with the help of a fan mounted on the rear wall of the stove, which enables even cooking in less time. On the other hand, a microwave uses a microwave generator to produce radio waves to cook the food.
Timing
Microwaves are very speedy and efficient and save you a lot of time. Comparatively, convection ovens take more time to cook food.
Purpose
You can use microwaves to reheat meals, prepare dishes like popcorn and pasta, heat milk or boil water. However, convection ovens can be used to bake, roast and, on lower fan speed, make delicious pies and pastries.
Pros
Convection ovens can cook so many dishes from cakes to pastries, while the microwave oven serves a unique purpose like reheating already prepared food.
If you are planning to cook something in a convection oven, it will take you less time as compared to a microwave oven.
You will not only be able to prepare meals in a convection oven but also get a perfect crust and browning, which you will miss in microwave ovens.
Cons
Convection ovens can be a bit pricier as compared to microwave ovens. Moreover, proper cleaning and maintenance are required as convection ovens have fans in them.
Features to Look For While Buying a Convection Oven
Buying an oven is a difficult task. There are so many options available in the market when it comes to an oven. Every option serves different features for different needs. You have to consider so many factors such as its size, your budget, its functionality, and its quality. The most important features are mentioned below:
1. Fuel Option – Gas or Electricity?
You can buy a convection oven which operates solely on electricity. These ovens may impact your electricity bills, but as they take less time to cook, they might be worth the money. Similarly, you can buy a convection oven with gas as a fuel option, but it does not solely operate on gas as you can switch it to electricity as well as per your requirement.
Gas ovens can save you a bit more money in the long run as compared to electric ones. Also, food cooked in gas ovens is said to be juicier than electric ovens. The result of an electric convection oven is a bit drier.
2. Size
Before buying a convection oven, you have to know which size will be suitable according to the quantity of food you are going to cook in your oven. There are different sizes available for different family sizes.
The size is mentioned on the booklet of every oven and is usually measured in litres. For two members in the family, a capacity less than 29 litres is enough. For 3 to 4 members, 20-29 litres is enough. More than 30 litres would be enough for families with more than 4 members.
These are rough estimates to give a clear picture to those who want to buy a new oven. Your exact requirements might vary depending on how much food is cooked at a time.
3. Floor vs Countertop
You can go for either freestanding or countertop ovens. Their functionality is the same, so the decision will depend on the size of your kitchen and the space available.
4. Specialized Oven Features
If you are looking for a specific function, there are so many brands which allow you to get add-on features for your oven. For instance, if you don't like cleaning your oven or are busy enough to ignore the proper cleaning process, you would like the self-cleaning feature which most brands would offer. Here are some other extras you might be able to get:
Self-Cleaning Feature
Some ovens have a self-cleaning feature which can be activated by pressing just one button on the control panel. Some people might like this feature as it saves some time to do other chores.
Warming Drawer
Warming drawers are very helpful when you cook your food before an event or a party and want to serve it warm. You will have a separate drawer to keep your food in it, which maintains specific heat levels to warm up your meals.
Clear-View Window
The latest models of ovens allow clear-view windows so that you can look at your food while it is being cooked. Hence, you won't have to open the oven to check whether your meal is done. Opening the oven, again and again, can cause a drop in temperature, which may disturb the cooking process, so you should try and get an oven with a window.
The price will go up with any additional feature you get, but buying the right oven with the required functionality will help you in the long run.
5. Additional Components
Many brands provide other components with the ovens such as racks to make more room for items, baking trays, and rotisserie.
6. Controls
The control panel helps you set temperatures precisely. They can be either analogue or digital. The latest models have different components on the control panel such as clock or timer display, oven light, temperature settings, and thermostat.
7. Ease of Cleaning
Ovens can be a bit difficult to clean, especially the control buttons and the inner areas. So do keep this factor in mind while buying your Oven. I have also written a separate post on How to clean your Oven, you may refer the same for more details.
Conclusion
I hope this review and buyer's guide for convection ovens helped you make your purchase decision. Which one did you buy? Have you used any of the above-mentioned products? or If you have any further questions about these products, do feel free to leave a comment below. I will surely respond to you at the earliest.