Microwaves have become an integral part of Indian kitchens today because of the ease that they bring to the table in terms of cooking a variety of dishes quickly. Today, when you want to buy a microwave for your home, you will be spoilt for choice. There are lots of models, sizes and capacities of microwaves at your disposal. Hence, I decided to compare two of the top brands. Read on to know more about IFB vs Samsung Microwaves in India.
Please keep in mind that I do not have any bias towards any of the brands mentioned on this blog. Instead of looking at brands, I try to find the right products for various consumer needs. I have attempted to throw light on some of the features and technologies that these brands use. So that you know which product is a better buy for your family.
Summary – Samsung vs IFB, Which Microwave to Buy?
If you have a family of 2 to 4 members, a 21 – 30l microwave would be enough for you. For a 4 to 6 member family, you will need at least a 32l capacity microwave. Though you may find solo microwaves at an affordable price, I wouldn't recommend them to you, especially if your family is big. You need to opt for a grill or convection microwave that allows you heat, cook, bake and grill foods at will. Here are my top recommendations:
For small families, bachelors and couples this is the best solo microwave that I would recommend. This model is a really good option for people who are looking for a simple and budget-friendly microwave oven. The same model is also available on Flipkart. So do remember to click the link above and compare prices before buying online.
For large families, a solo microwave wouldn't be enough. You should ideally opt for a convection microwave oven. One of the models that I would highly recommend is this one by IFB. Again, do not forget to compare prices on Flipkart before buying.
To have a closer look at the solo microwave that I recommended above, you can have a look at the detailed video made by Flipkart below.
IFB and Samsung Brands – An Overview
IFB and Samsung brands are highly popular in the home appliances market in India. Though IFB predominantly made its name in the washing machine segment and Samsung in the mobiles segment, they have penetrated quite deeply into various products in the home appliances market today. Microwave is one such field where these brands have a huge presence in the country.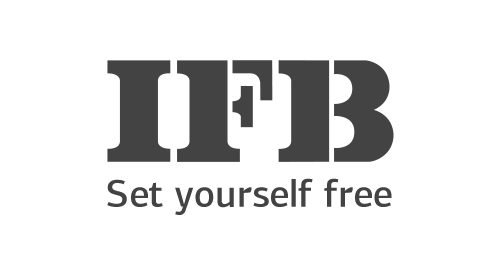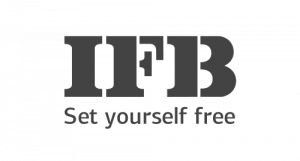 IFB Industries, originally known as Indian Fine Blanks, entered the Indian market in the year 1974, as a result of a joint collaboration with Switzerland-based Heinrich Schmid Group. After blanked goods, coilers, seat belts and other blanking tools, IFB entered the home appliances market by manufacturing washing machines using the latest technology and innovative practices.
It was during 2006-07 that IFB entered into the microwave segment. Since then, there has been no looking back for IFB. They have come up with latest and upgraded models of microwave ovens to suit the different needs of the customers spread across the country.
Samsung, the South Korean telecom giant, entered into the Indian market in 1995 with the formation of the company, Samsung is not a newcomer to the home appliances market. It made its first refrigerator in South Korea during as early as 1974.


It was in 2005 that Samsung started making its home appliances for the US market. The countertop microwaves created by Samsung enjoyed a massive fan-following back then. The legacy still continues, to say the least.
How do the brands fare on various factors?
The solo, grill and convection microwaves from IFB and Samsung come with interesting features and impressive technologies to cater to the exact needs of the customers. While both of them are highly respected brands, how do they fare on certain common factors such as price, build quality, innovative features and the like?
Read on to know more about the same:
Price
I know price is an important factor of comparison when analyzing two brands. That's why I have discussed this as the first point here. While comparing the price ranges, this is what I found:
Solo microwaves – Samsung models start at 5500INR whereas the IFB model starts at around 4600INR. However, I noticed only one IFB solo microwave model on Amazon. Samsung, on the other hand, offers you, three models, to pick from, thereby offering more flexibility than IFB.
Convection microwaves – In this model, I didn't find much of a difference between the Samsung and IFB starting price range. You get decent-performing convection models at around 9000INR in bot these brands. However, Samsung offers a better deal of the two because you get a 21l convection oven for 9000INR. For the same price, you will get only a 20l convection microwave from IFB.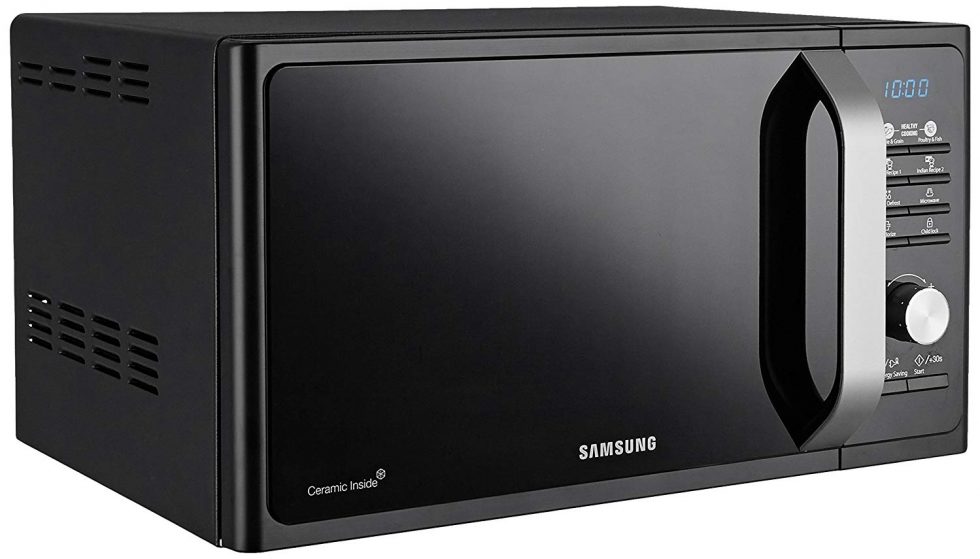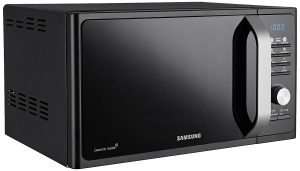 Check Price of this Model – Flipkart | Amazon India
Features
I compared the convection microwaves of IFB and Samsung to understand the features and to know who offers more of the two. One of the main reasons why I would prefer the Samsung brand is its warranty agreement. Samsung offers a warranty of 1 year on product and 5 years on Magnetron, whereas Samsung offers a warranty of 1 year on product and 3 years only on Magnetron.
The other features such as child-lock, touch-panel buttons, grilling, microwave and heating functionalities, LED panel, buzzer to intimate when the work has been done, highly robust external panel and easy to clean interiors are more or less similar in both the brands of microwave ovens.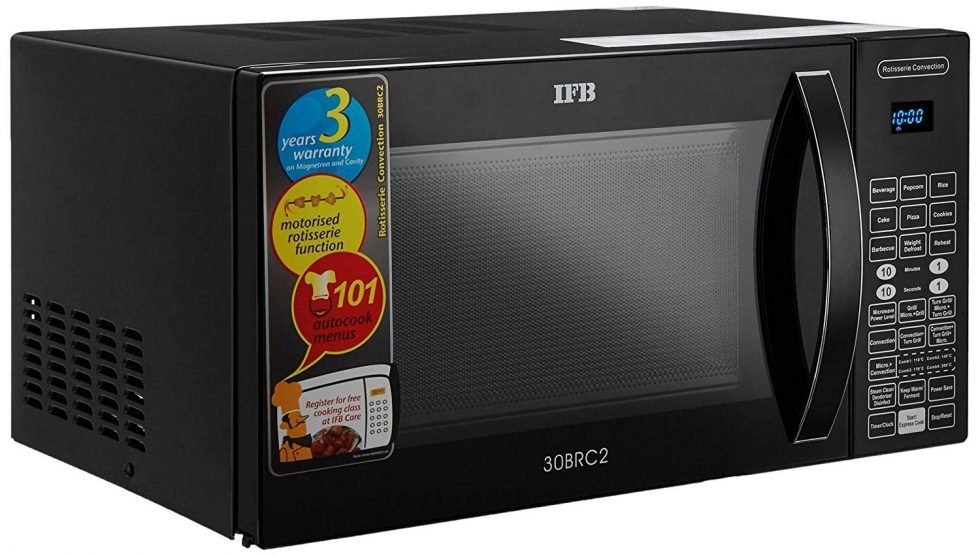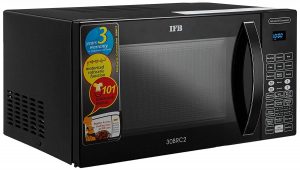 Check More Reviews of this Convection Oven – Amazon India | Flipkart
Nevertheless, if I have to opt for a convection microwave oven for my large family, I would still go for the Samsung brand, though it is around 2k more than the IFB brand, This is because I love some special technologies that I find in this brand such as the Slim Fry (for making healthy, fried foods), Tandoor Technology (for making crispy tandoori dishes) and pre-programmed recipes of a variety of dishes.
Do Read – Best OTG Oven for Baking in India
Noteworthy technologies in IFB and Samsung Microwave Ovens
IFB and Samsung provide special attention to the technical department of the home appliances that they manufacture. Microwaves are no exception to this rule. The technological brilliance with which these microwaves are designed deserves a lot of appreciation. Some of the features that I personally like in these brands are:
Samsung
1. Wide Grill Feature
The Samsung convection microwave ovens come with a wide-grill technology, thanks to which you can cook food evenly in almost 99% of the area. This is definitely wider than what you will find in most of the other convection microwave ovens that you will find in the market today.
2. Slim Fry
If you love fried foods but you are also worried about your health, the slim-fry technology will prove to be a godsend for you. With very little oil, you can enjoy crispy and tasty foods, thanks to this technology. The Samsung convection microwave uses a grill along with warm air circulation to achieve this.
3. Tandoor Feature
Here, you can mimic the tandoor-like environment inside the oven, where the temperature reaches up to 200 degrees C. This will then help you to evenly cook tasty and crispy tandoori dishes like roti and chicken.
4. Ceramic Interiors
Maintaining a microwave oven is one of the toughest challenges that you will face. However, with the Samsung models, you will not face this issue because they come with ceramic interiors that can be easily cleaned. They are also rust-free and scratch-free, which adds to the ovens' longevity and durability.
5. Advanced Fermentation Technology
This feature helps you to enjoy fresh & tasty homemade curd any time of the day. When you enable this feature, the temperature gets set automatically to prepare for fermentation.
IFB
The IFB brand doesn't lag behind in any department when it comes to technological sophistication. Here are some impressive features that you can find in the IFB microwave ovens.
1. Delay Start
Thanks to this advanced feature, you can set your oven to prepare food whenever you want, so that your meal is ready as soon as you wake up or return from work.
2. Cooking flexibility
With more than 101 cooking options available, all you have to do is to set the oven to the option you want and click the button. One of the most useful cooking options is Express Cooking. Here, you can fast-forward your cooking time as much as you want to enjoy a quick meal during the busy morning hours.
3. The combined technology of grill and microwave
With the IFB convection microwave ovens, you can enjoy the best of both the worlds – grilling and microwave. You can grill to the exact temperature that you want so that your foods are cooked evenly and give out the authentic flavours that you expect.
Defrost based on weight
The IFB convection microwave is smart enough to defrost your oven as per the setting of the weight of the foods. You only have to enter the weight of the foods and wait for the machine to do the rest.
You May Like – Best Convection Microwave Ovens in India
Conclusion – IFB vs Samsung Microwaves
As you can see, the Samsung and IFB microwave ovens are great choices if you are looking for technologically advanced options. However, my personal choice is Samsung, because of the variety it offers in terms of solo, microwave and grill ovens.
Also, technologically, I feel Samsung is definitely more advanced than IFB because it has been in the business for a longer time and understands the exact pulse of the Indian customers. I hope this IFB vs Samsung microwaves comparison would have cleared your doubts about which model would suit your requirements the best.
If you have any further question, do feel free to reach out to me using the comments section below.