In this post, I would be comparing two top washing machine models by Bosch. Bosch WAJ2846sin vs WAT2846sin. A quick look will tell you that both these models are exactly the same but there are some minor differences between the two.
Read on to find out.
WAJ2846sin vs WAT2846sin – Which one to Buy?
In my mind, I have no doubt, I will personally buy and also recommend you to buy this model. It is the newer of the two models.
There are minor differences in the Noise level while washing, spinning, the depth of open door and one wash program. Nothing much worthwhile. However, we can be assured that the model I suggested above will be supported by the company for a longer time.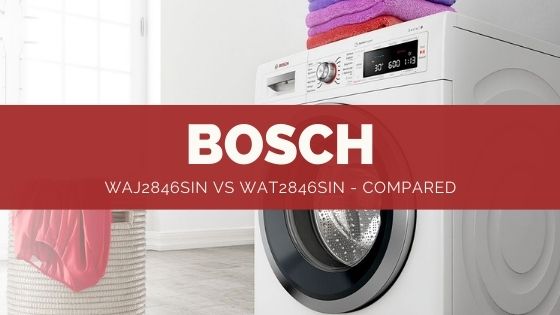 Differences – Bosch WAJ2846sin vs WAT2846sin
As I said earlier, the two models differ by launch date, one wash program, Noise levels during washing and spin cycle and depth of open door. We will go through each of them in detail below.
1. Launch Date:
WAT2846sin is the older model and was made available on Amazon February of 2019. While WAJ2846sin is the newer model and was available for online sale in the month of September 2020.
You May Like – Bosch vs IFB – Which is the Better Washing Machine Brand in India?
2. Noise Levels:
Since WAJ2846sin looks like an upgraded version of WAT2846sin. We can assume there would be minor upgrades made to the motor, few parts etc.
This has resulted in changes in the noise levels of the two machines. While spinning the newer model gives out less noise (73 dB vs 74 dB in the older model)
However, during the wash cycle it is slightly louder (53 dB vs 49 dB of the older model). But this is of no concern at all since Bosch machines are already one of the quietest machines you can buy currently.
The most noise that the washing machine makes is when its legs are not correctly aligned to the flooring. This causes the machine to shake and produce some sound. So, if you ensure your washing machine is levelled correctly during installation, you have nothing to worry about.
3. Wash Program
The WAT2846SIN had an additional wash cycle for washing Lingerie. However, I feel these wash cycles are just marketing gimmicks and you need only 3 to 4 for your daily needs.
All these basic wash cycles and more are still offered by the newer WAJ2846SIN.

Bosch also claims that WAT2846SIN reduces tangles during wash cycle by 50% (Compared to other washing machines). While the WAJ2846SIN has been branded as a machine that reduces Wrinkles by up to 50%.
However, I personally feel the wash quality of both these models is equally good.
4. Depth of Open Door
Again, a very minuscule difference. The depth of the Open Door of WAJ2846SIN is more by 10 mm. Which is non-noticeable in real life.
Check Out some more user reviews of WAJ2846sin by Clicking Here.
Common Features:
After looking at the differences, let us also look at some of the most important features that common to both these models.
1. Both washing machine models offer a wide variety of wash cycles. These cycles include but not limited to Delicates Program, Woolen wash, Temperate control, quick wash cycles, Cotton, Allergy Plus, Wash cycle for heavy clothes like Jeans etc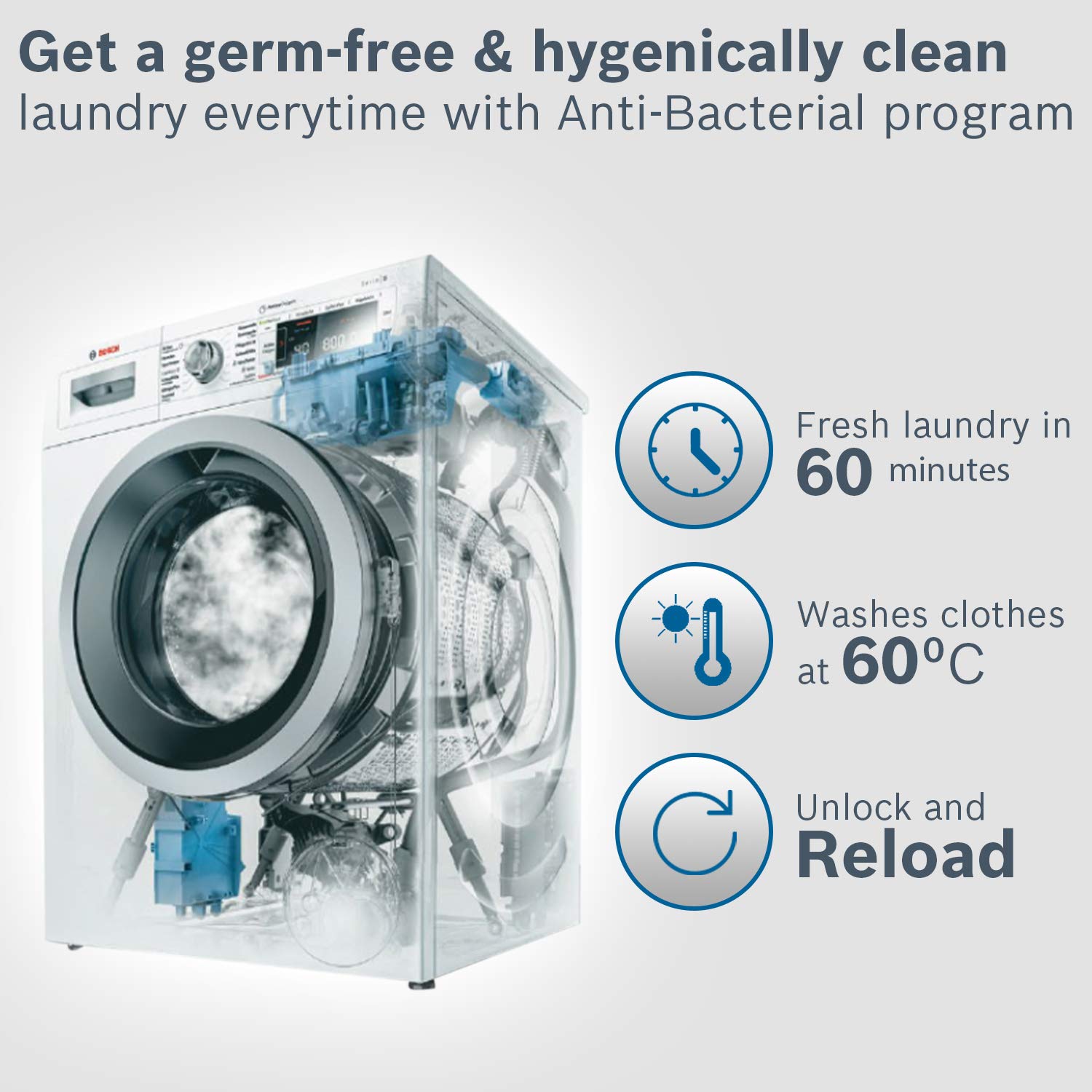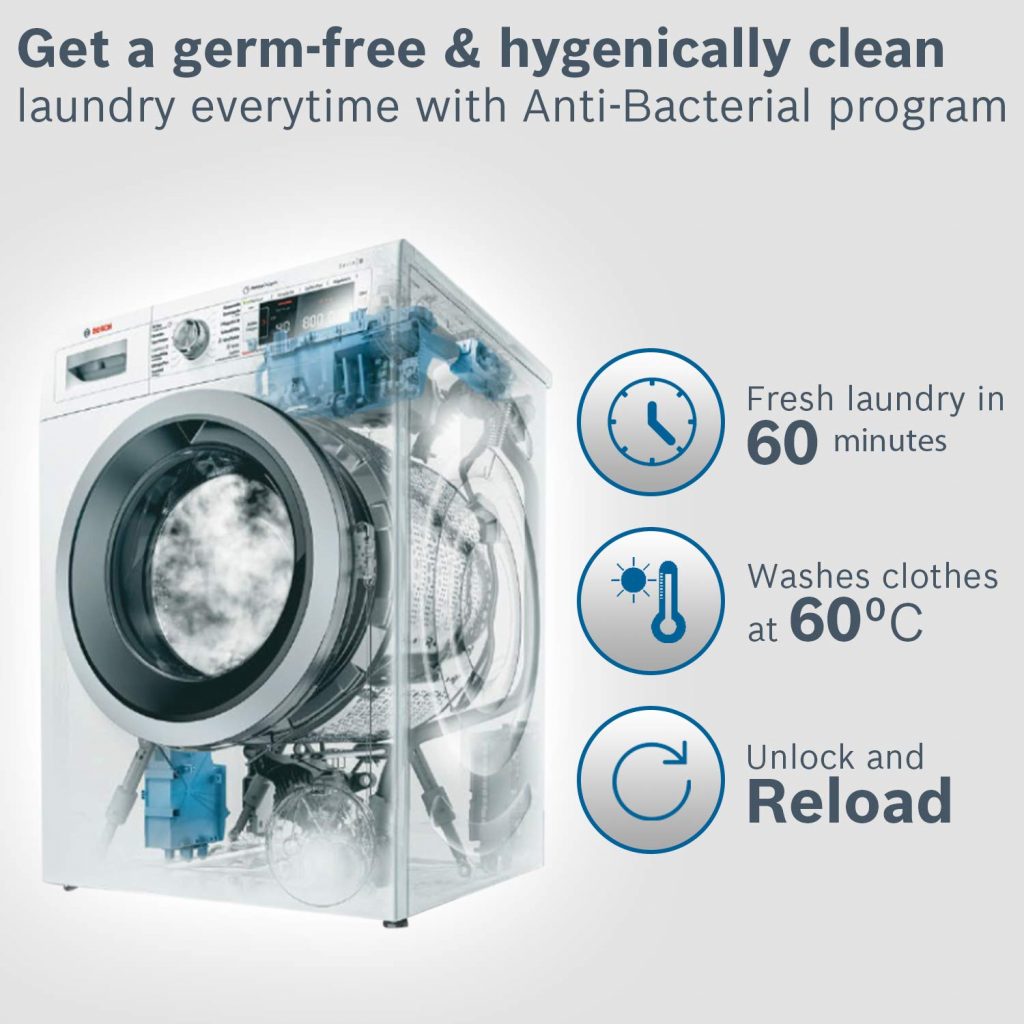 2. Max spin speed offered by both washing machines is up to 1400 RPM. This speed is good enough for you to remove most content from your clothes and they dry up quickly in a couple of hours in normal Indian weather.
3. The wash-drum in both machines is similar and uses the patented Vario drum design.
4. Bosch is known for its German engineering. So even though it does not use a direct drive motor, it still makes less noise compared to them because of it's EcoSilence Drive technology.
5. Both operate with ActiveWater Plus technology. This helps the machine adjust the inlet water level by sensing the load of the washing machine. This helps you reduce the water consumption in case your wash load is low.
6. They both come with reloading functionality. This means that the machine allows you to add more clothes even after started your wash cycle (Not available in other regular machines)
This brings me to the end of my comparison of Bosch WAJ2846sin vs WAT2846sin. I do hope, I was able to help you make the right decision for your home needs.
If you have any further queries of feedback, do let me know in the comments section below.
References: