LG vs Samsung – Better Washing Machine in India?
The washing machine sector in India is quite dynamic with a lot of international and local players competing for lion's share in it. While there are quite a few brands of washing machines currently in the market, two brands that stand out are the ones being compared in this post. Read on to find out which washing machine, LG vs Samsung, is a better buy in India.
p.s – Bosch & IFB are two other brands worth considering. I have compared them Here
LG vs Samsung – Which is the better washing machine brand of the two? This is the question that most of you have in your minds as you read this article. Here, I have given you a comparison between these two brands to make you understand that each of them is good in its own, unique way.
Summary – LG vs Samsung Washing Machines
I always believe in not being brand loyal. It is always better to objectively analyse all the options available in the market and buy the one that best meets your needs. I followed the same approach in this review.
Having spent a lot of time looking at the various model both these brands offered, I found that the LG brand is great if you want a front-loading model. I recommend buying this model if you are a small family and are looking for a budget-friendly front load washing machine. It is energy-efficient and robust washing machine that will last you for years to come.
However, you can opt for this model, if you have a large family and/or wish to go for the latest model in the market with a lot of innovative and modern features like wifi etc.
Now, before you hit the buy now button, do make sure you compare prices on Flipkart as well. At the time of writing this review, both these models were available with them as well. This way you will ensure you get the best deal. Click Here for the first model and Here for the second one.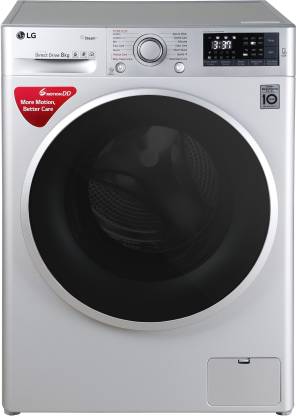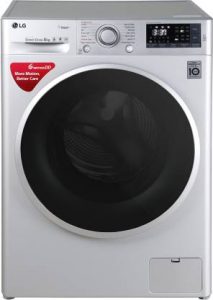 However, if you plan on buying a top load washing machine, Samsung might be a better bet in this category.
Samsung washing machines are technologically sophisticated and come with impressive features. One of the top-load models that I would recommend from this brand is this semi-automatic washing machine. It is a budget washing machine and can serve a large Indian family as well.
However, if you have a higher budget and wish to buy a fully automatic model, then this is the right product for you.
As with my recommendations above, do remember to compare the price on Flipkart here before you buy the product.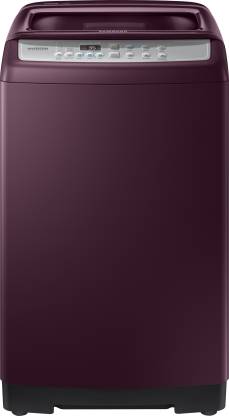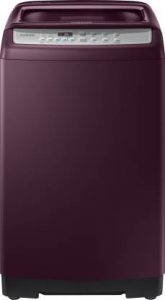 Samsung vs LG – Recommendations
In my summary section, I did recommend one model each by Samsung and LG. Here is a brief overview of these washing machines and why you should buy them.
1. LG 6kg
FH0FANDNL02
This LG 6kg Inverter Fully Automatic Front Loading Washing Machine is a great choice for bachelors and couples. Though it is quite steeply-priced, I highly recommend this for small families, because this washing machine completely justifies the high price that is associated with it.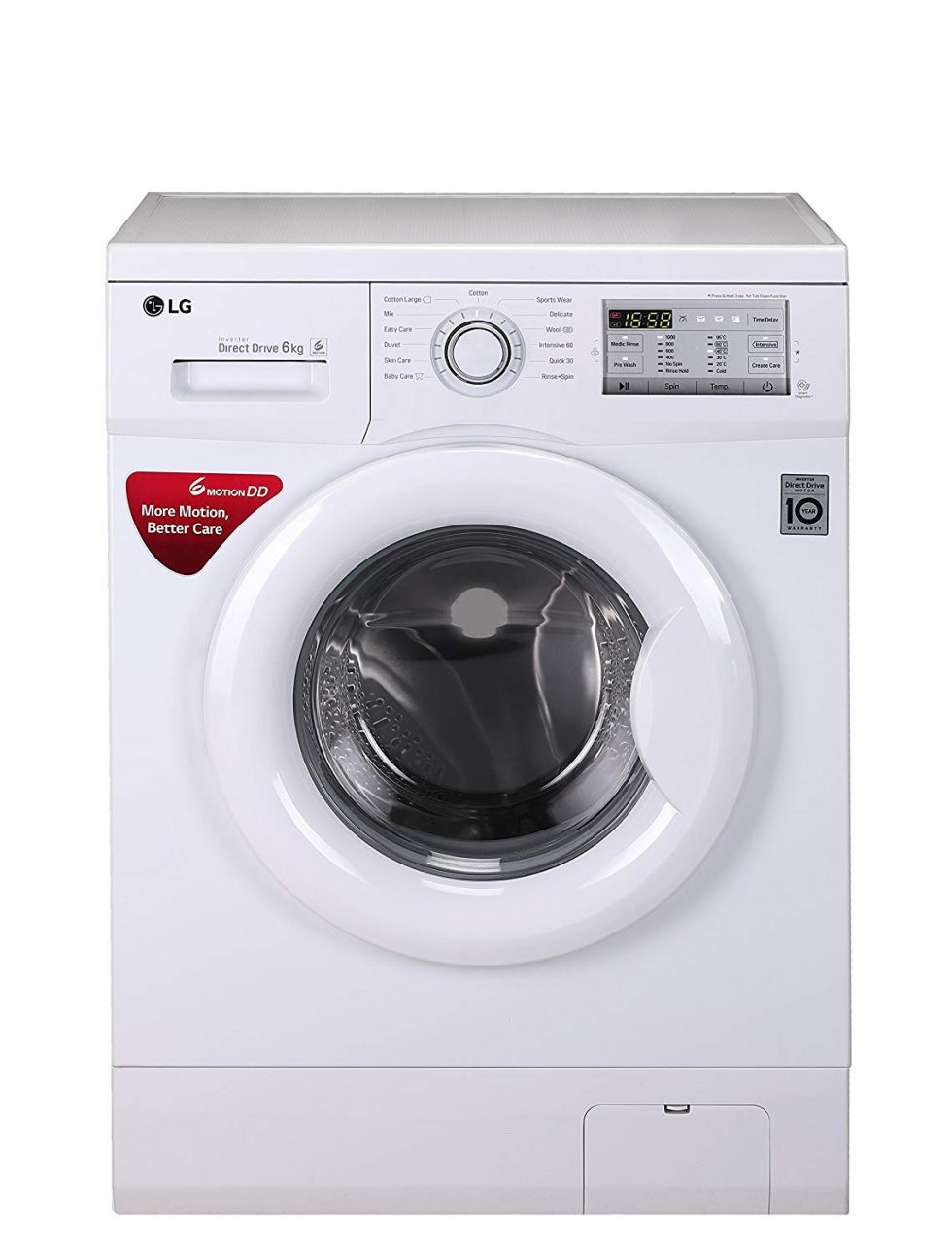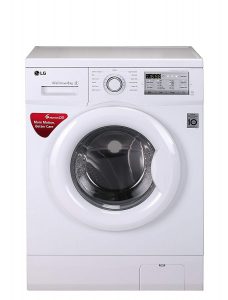 Here are some features of this product:
6-Motion adjustments possible
Warranty of 2 years on product and 10 Years on the Motor
Smart diagnosis feature – you can connect your washing machine to the SmarThinQ App to know your machine and diagnose most of the issues in the early stages itself
Comes with an in-built auto-restart memory, which helps the washing machine to start from it left off in case of power cuts
You can watch the video below to have a closer look at the product as well as understand some of its major features:
Pros
Helps in getting rid of tough stains quite easily
Due to direct contact with the motor, the machine uses very little energy and water when in use
Comes with a full-touch panel giving you the flexibility to adjust the functionalities with a touch of a button
Cons
Quite steeply-priced
Drum quality could have better than what it already is
Who should buy this model?
If you don't mind splurging on a fully automated washing machine for your small family, this LG washing machine is a great choice for you.
2.
WT725QPNDMP

7.2kg Semi-Automatic Machine by Samsung

If you have a family of 3 to 4 members and if you are looking for a washing machine that is highly affordable, the 7.2kg Semi-Automatic Top Loading Washing Machine from Samsung is an excellent choice for you.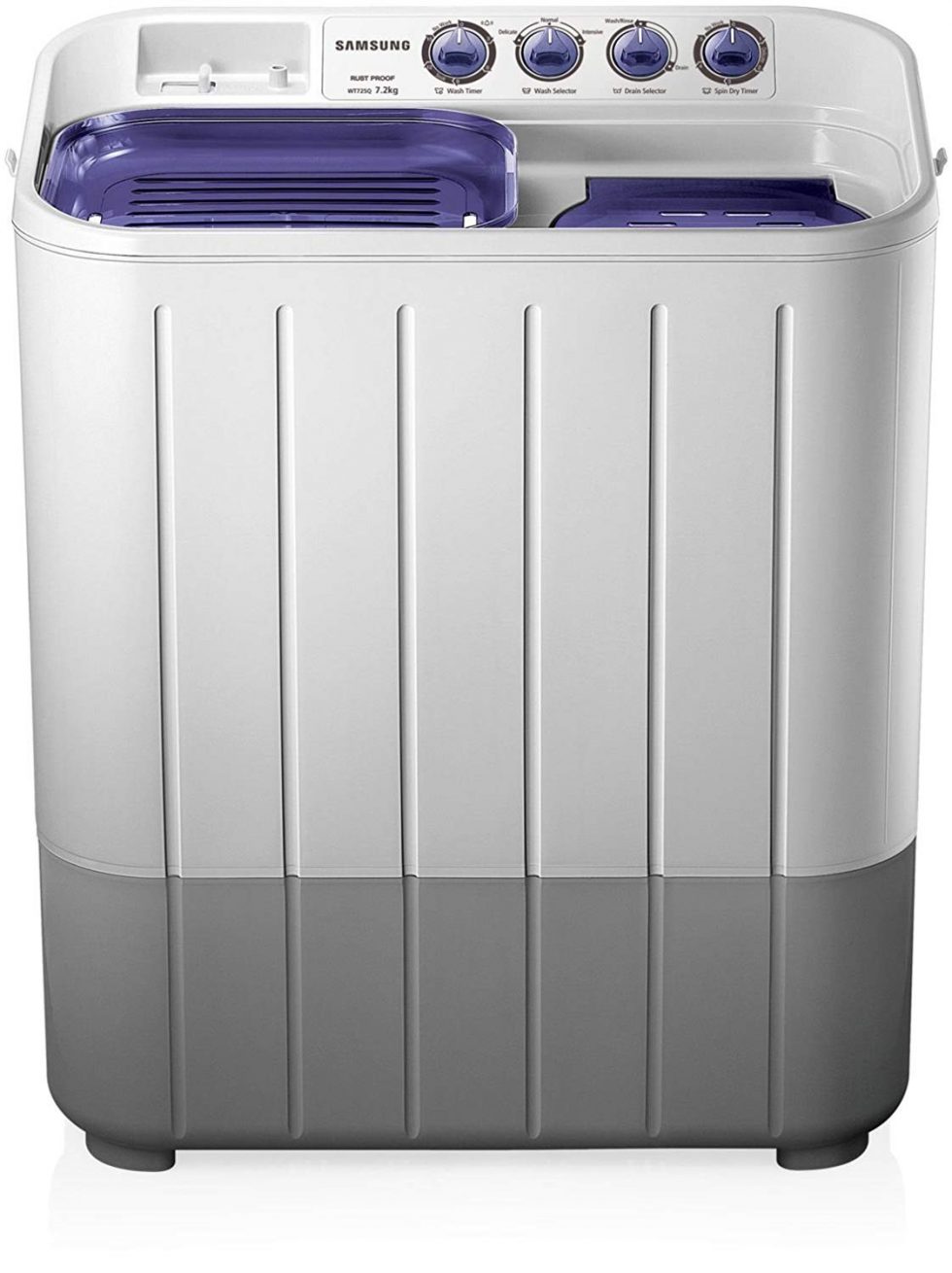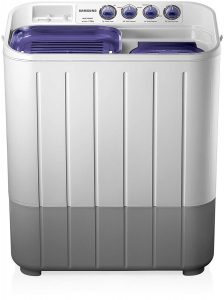 The features that you can find here are:
Warranty of 2 years on product and 5 years on motor
High spinning speed of 1000rpm, thereby giving you quick drying time as well
Come with 3 types of wash features – normal, intensive and delicate
Buzzer feature alerts you when washing is complete
Pros
No need of bending while scrubbing, thanks to the presence of a scrubbing station
Quick drying is now a reality because of the washing machine's air turbo drying technology
Made with a robust anti-rust, water-proof and shock-proof exterior panel, thereby giving you the much-needed durability
Comes with two-way, ergonomic and smart handle, allowing for easy portability
Cons
Customer service not up to the mark in certain areas
Who should buy this model?
This washing machine is suitable for a medium-sized family and is available at an attractive price as well. The technological advancements in this model are convincing enough for me to recommend this model for my readers as well.
An overview of these brands
Samsung
Samsung, the South Korean electronics giant, was established in 1969. It has its headquarters in Suwon. Within five decades, Samsung has grown phenomenally to mark its presence in almost 80 countries. They started its operations their India in the year 1995 with one small office and two employees. The company began making televisions first.
Today in less than 25 years, Samsung has made quick inroads into all the areas of India by manufacturing a wide range of innovative and technologically-advanced products such as refrigerators, washing machines, televisions and the like.
Their home appliances and other products come with Make for India customizations, thanks to which problems specific to Indian customers are addressed by the company. So, you can trust Samsung washing machines to give you a wonderful washing experience.
LG
LG (Lucky Goldstar) is a South Korean MNC, with its headquarters in Seoul. The company was founded in the year 1947 and has forayed into various products such as electronics, home appliances, chemicals and telecommunication
Since then, LG did try to enter the Indian market for the first time in 1993. However, it couldn't meet with success in this attempt because of financial issues. After 4 years, LG Electronics India, a 100% wholly-owned subsidiary company of the South Korean brand of Lucky Goldstar, made its foray into the Indian market.
In less than two decades, LG became the market leader in almost all the products it launched, thanks to its sound knowledge of regional distribution channels. In the washing machine segment, LG is one of the highly-respected brands in India.
How do the brands fare on various factors?
To make a comparison of LG vs. Samsung, you have to understand how the brands fare on various factors such as price, build, features and so on. Here is my take on the performance of these brands in these fields:
Price
Here, I have recommended front-loading washing machines from LG as they come with some impressive features and technologies. All front-loading machines from this brand are fully automatic. As you might already know, fully automatic models don't come cheap.
The highly recommended 6kg Front-Loading Fully Automatic Washing Machine from LG comes with a huge price tag. Although it is a great model, it may not be the right model for you if you have budget constraints.
The top-loading Samsung washing machines come in semi-automatic forms as well. As a result of this, these models are attractively priced. The highly recommended 7.2kg Semi-Automatic, Top-Loading Samsung Washing Machine is available at an attractive price of around 10,000 Rs.
As you can see, in terms of price, Samsung scores way higher than LG, and it is the best brand for you, especially if you have budget constraints.
Spinning speed
In terms of spinning speed, you will not find much of a difference between the LG and Samsung washing machines. Both the models that I have recommended here come with a spinning speed of 1000RPM, thanks to which, they will also give you a quick drying time.
Build quality
Both the LG and Samsung washing machines come with a rust-proof, shock-proof and water-proof panel. Therefore, you can be assured of the reliability and durability of both brands.
Features
It is very hard to tell the better brand of the two while doing a Samsung vs. LG washing machine comparison. When it comes to technology, innovation and energy-savings, LG and Samsung score quite heavily; however, I personally like Samsung better because I get a lot of features with it at a reasonable investment.
Noteworthy technologies used by LG and Samsung washing machines
As I told earlier, the Samsung and LG washing machines come with quite a few technological advancements to give you excellent quality of washing and drying. However, some of them that are worth mentioning are:
Baby Care
The LG Washing Machine that I have recommended here comes with an exclusive baby care feature, thanks to which it keeps the clothes free of germs and safe for babies.
Direct Drive Technology – This LG Washing Machine gives you the flexibility to set the machine to one of the six motion speeds. Since the motor and drum are directly connected to each other, it produces very little noise as well.
Air-Turbo Drying System
You will find that the Samsung washing machine that I have recommended here comes with a highly-impressive Air Turbo Drying System. This is a feature which helps in phenomenal reduction of drying time.
Scrubbing station and Lint Filter
This washing machine comes with a scrubbing station, which helps you to scrub the clothes well comfortably, without bending too much. The Lint Filter that comes in most of the Samsung models helps to keep the drainage system free from the lint, hair and other threads that come from the clothes and get accumulated inside.
Conclusion
All I have done here is given you a very broad idea about LG vs. Samsung washing machines. The final decision to choose the right brand will still depend on your personal requirements and priorities. If I were you, I would recommend investing close to in a fully automatic front load washing machine by LG.
What works for me needn't work for you. That's why I have given you the features, pros and cons of both the models here. Take a look and choose the one that matches with your priorities to avoid regrets later.
I hope I was able to help you finalize your purchase decision. So which one did you opt for? Do you have any furhter questions? Do leave your thoughts in the comments section below.