Buying a washing machine is not as easy as you think. Even though you know exactly what you want, you may get confused when you take a look at the features and prices of different brands. Hence, I wrote this article on AmazonBasics Washing Machine Review. A budget washing machine brand by Amazon India.
I have reviewed two of the most popular models by AmazonBasics. The objective of this review is to help you decide if you should buy washing machines by AmazonBasics or not.
Read on to find out!
Summary – AmazonBasics Washing Machine
AmazonBasics is a brand owned by Amazon. Therefore, it is a highly bankable brand. Amazon knows the pulse of the audiences very well as it is aware of the general requirements of the customers.
If you have a tight budget and are planning to buy their washing machines, you can surely do so as they offer a 10 replacement guarantee and a 2-year warranty on most of the machines on sale.
Although I have reviewed two washing machines from AmazonBasics in my article, I would strongly advise you to go for this model by AmazonBasics. (If you plan to buy this brand only)
However, do not expect miracles from this machine. The quality of the machine is inline with the money you pay. If you can afford to spend a bit more, I strongly recommend going for this top load washing machine by Samsung instead or this model by IFB.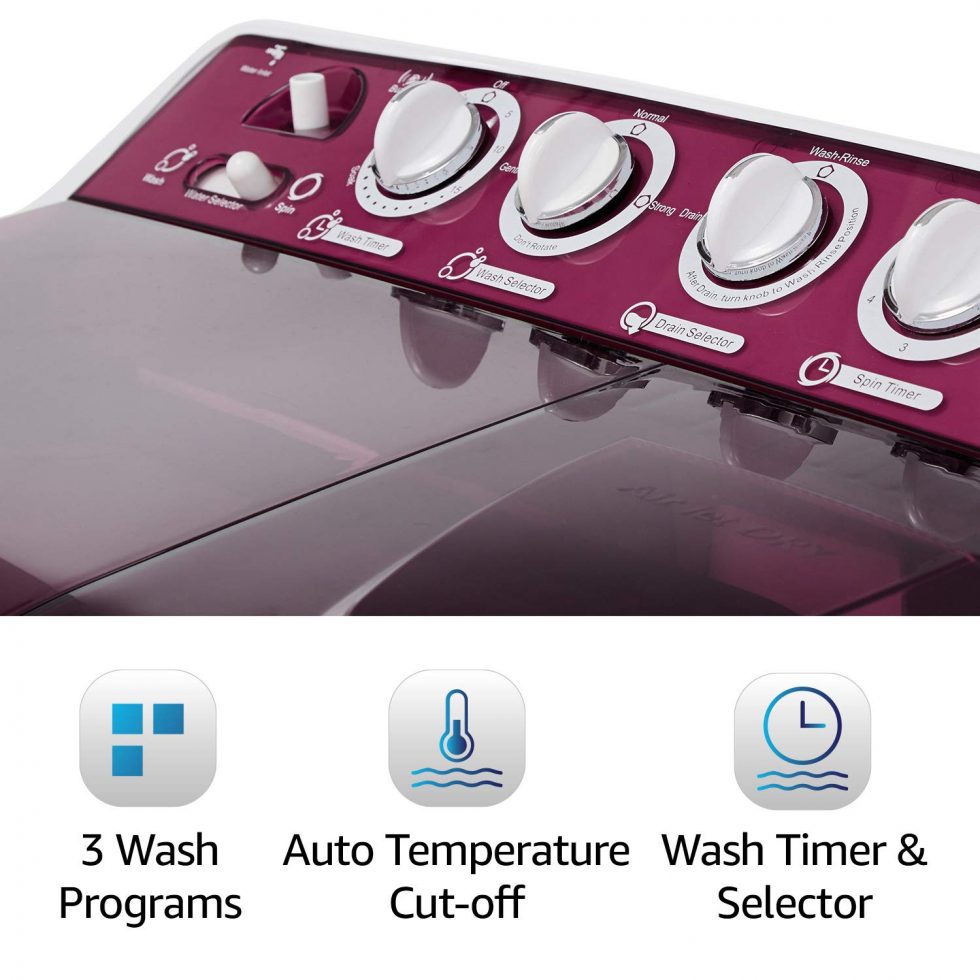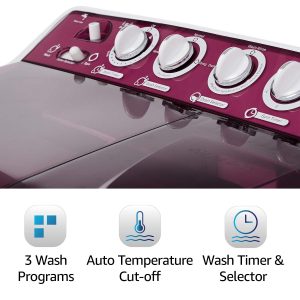 About AmazonBasics
AmazonBasics is a brand that was launched to create affordable but high-performance models in many categories. The washing machines from this brand are trustworthy and reliable because they come with the immense popularity and goodwill that the Amazon enjoys.
Before launching its washing machines, AmazonBasics did a thorough analysis of the customer expectations to come up with attractively priced models that give the users more than 100% value for their money.
This brand was launched by Amazon in 2009 to sell items that were small or not-so-expensive.
However, due to the success of its products, the brand, AmazonBasics, spread its wings into almost all the departments. You can trust the washing machines from this brand to give you good returns on your investment as they are created with customer satisfaction as their main objective.
AmazonBasics – Which Washing Machine to Buy?
At the time of writing this review, there were two washing machine models available on sale by this brand. Having looked at both of them, I recommend either going for the first machine or buying some alternatives (mentioned below)
1. AmazonBasics 7.5kg Semi-Automatic Top Load Washing Machine
When you have a family of around 4 to 5 people, you need a reasonably big washing machine. This 7.5kg semi-automatic top-load washing machine from AmazonBasics is the right choice for you, in that case.
Currently, it is priced well below other popular/best selling top load washing machine brands like Samsung, IFB, LG etc. So, now might be the right time for you to buy this product.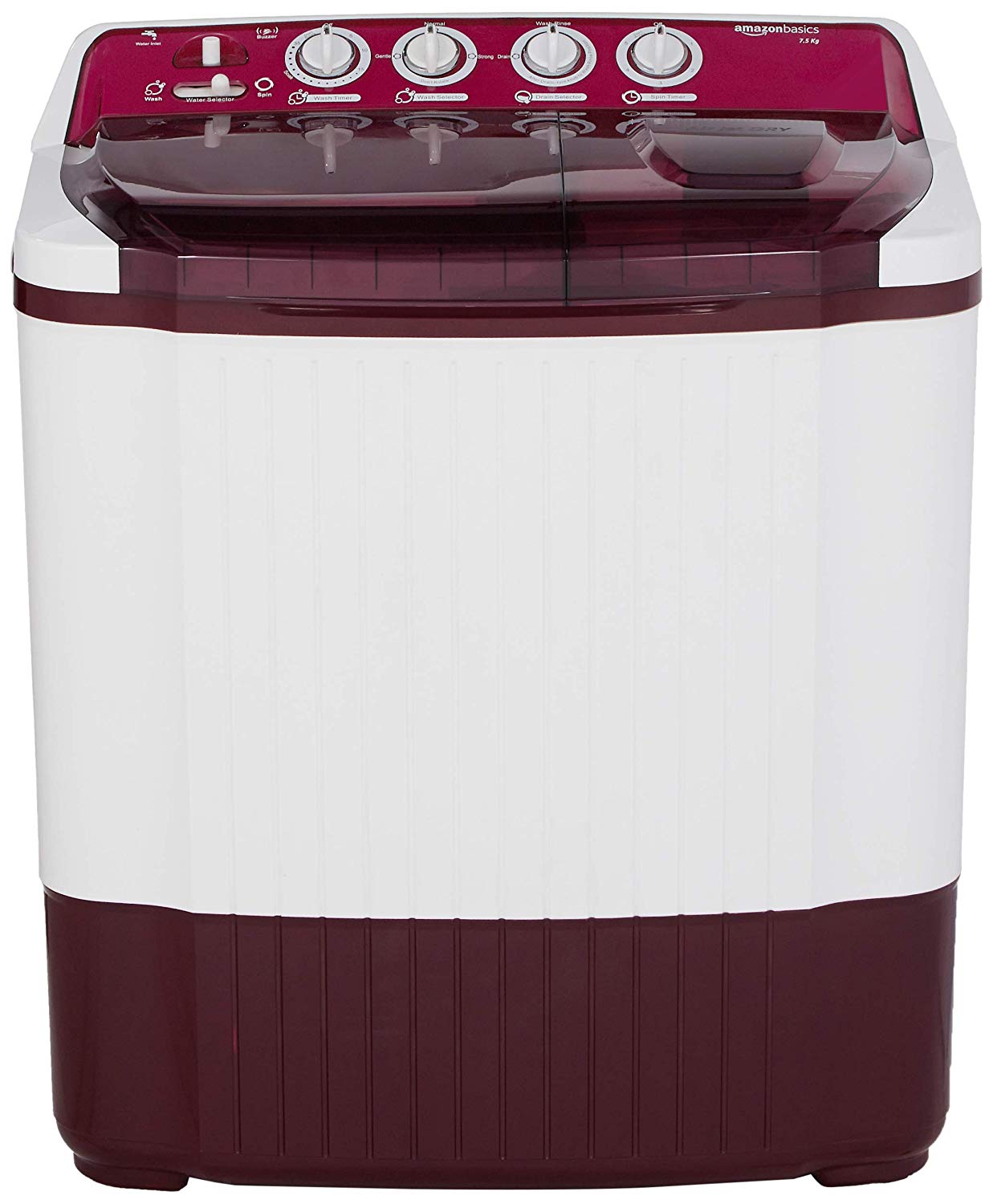 Check for the Latest Price & More User Reviews – Amazon India
Some interesting features of this washing machine are:
Features:
Comes enabled with washing and drying functions
Warranty of 2 years on the product and 5 years on motor
Comes with an in-built scrubber, collar-scrubber, 3 types of wash programs, automatic temperature cut-off, soak motor and auto-balancing spin tub features
75l water capacity and 35 minutes of wash timer
Pros
Ready to use as soon as you buy it. No need for any installation
Consumes less water and energy
A maximum spin speed of 1500RPM
Made from anti-rust material and comes in an attractive burgundy shade
Water-proof and shock-proof exterior panel
Highly affordable
Punch-type pulsating action to get rid of hard stains quickly
Cons
Since the washing is priced well below the popular models, this product has equivalent drawbacks too.
Drier size could have been bigger than what it is currently
Vibrations and noise
After-sales service not up to the mark (Many complaints on Amazon India website)
Who should buy this product
This product is a must-buy if you are looking for a pocket-friendly washing machine for your family of 4-to 5 members.
Again, if you can afford to spend a bit more, go for this model by IFB instead.
2. AmazonBasics 6.5kg Semi-Automatic Top Load Washing Machine
This 6.5kg semi-automatic top-load washing machine from AmazonBasics is great for a small family of around 3 to 4 members.
A good alternative to this washing machine is this top load model by Samsung.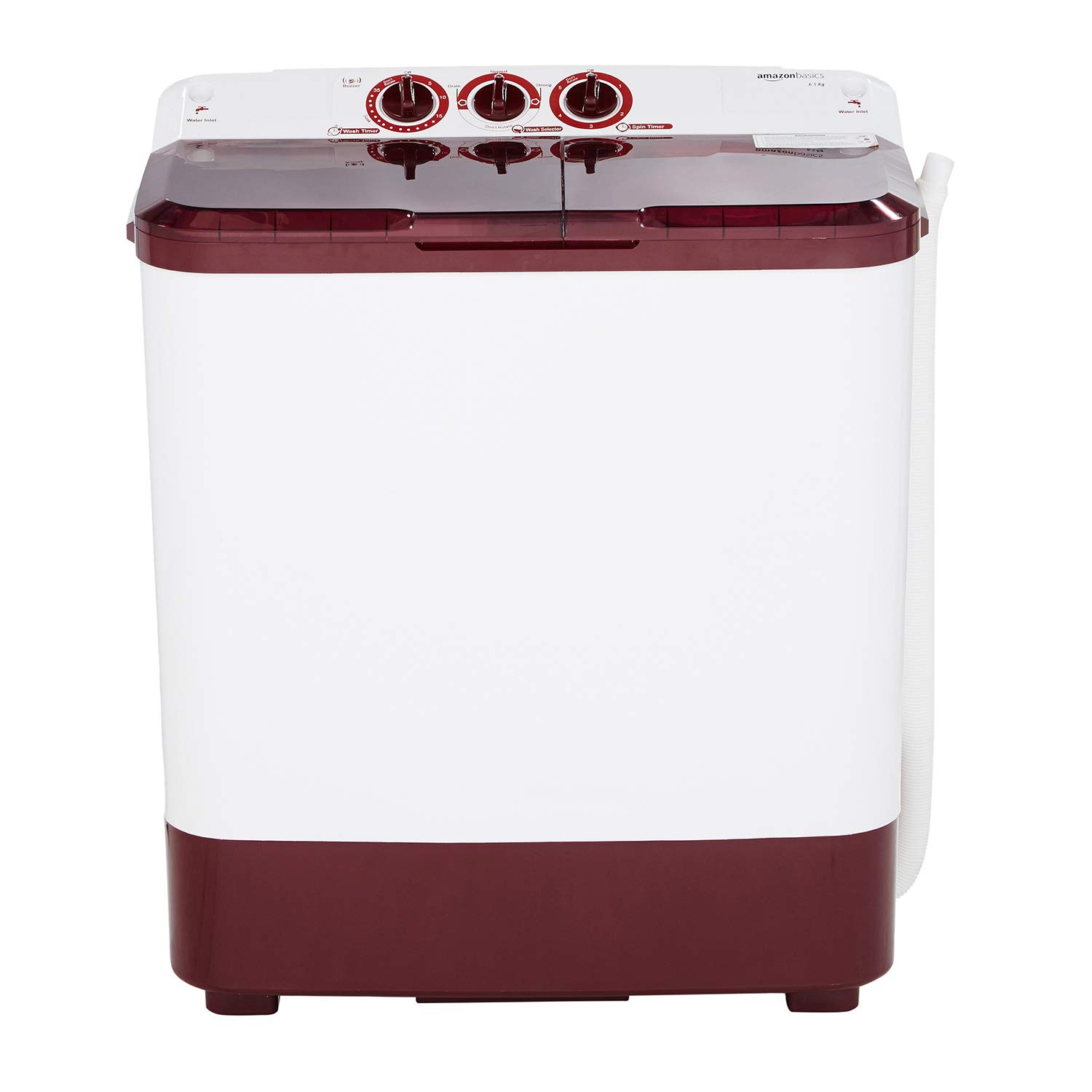 Check the Latest Price – Amazon India
Features:
Top spinning speed of 1300RPM
Anti-rust, shock-proof and water-proof external panel in a rich burgundy shade
Fast drying feature because of the top spinning speed
Two types of wash programs, in-built scrubber, Auto-balancing spin tub, soak facility, automatic temperature cut-off, 65l water capacity and 35minute Wash timer and pulsator features available
Warranty of 2 years on product and 2 years on motor
Pros
Comes with a detailed instruction manual, which makes it easy to set up and use
Very attractively priced
Helps in energy conservation, thanks to its energy cut-off feature
Great wash quality along with quick drying time
Cons
Customer service is not good
Not as durable as it should have been
Drying and washing quality not according to expectations, as reported by some users
Who should buy this product?
Honestly, I wouldn't recommend this product to you, because I am not impressed with its quality of performance. However, if you have a small family and if you have a really tight budget set aside for washing machines, you can go for this, on a temporary basis.
Noteworthy Features in AmazonBasics Washing Machines
As I understood more about these two washing machines, I couldn't help but notice that AmazonBasics is not too far behind in terms of technology. Though it has got a lot of catching up to do to match up to the market leaders in this field, it still boasts of some noteworthy features such as the following:
Lint Filter-More often than not, a clogged drainage system in the washing machine is the root cause of machine breakdowns. With AmazonBasics models, you can get rid of this problem, because the machines with a lint filter to collect the additional fiber from the clothes and prevent clogging issues.
Auto-balanced spin tub – The drying time is directly proportional to the spinning speed of a washing machine. Thanks to the automatic water-balanced spin tub of the AmazonBasics washing machine, the spinning speed is top-notch at all times.
Alternates to AmazonBasics Washing Machines
I am not a great fan of the AmazonBasics series of washing machines, though they are very affordable. I don't like their after-sales service. If I were you, I would opt for other models that are priced more or less similar to the AmazonBasics washing machines that I discussed previously.
Two models of washing machine that I would highly recommend are:
1. IFB TL-SGDG
2. Samsung WA62M4100HY/TL
I have provided links to both these models in the summary section above. You can click on them to find out more about these machines.
You May Like:
IFB vs Bosch Washing Machines – Comparision
Bosch vs Samung Washing Machines
IFB vs LG Washing Machines in India
Conclusion
While I am quite impressed with the features, technology and quality that AmazonBasics washing machines offer at a highly affordable price range, I am also quite disappointed at their customer service. They don't take responsibility for the defects or damages in their washing machines when users report the same. That's a huge let-down for me.
If customer service is not a priority for you, I would blindly recommend you to go ahead with your decision of buying AmazonBasics washing machines. However, I would also like add that you need to buy them at your own risk.