In this detailed review, we would be looking at the Best Juicer Mixer Grinders in India. We have been very careful in not selecting "Mixer Grinder" that can also function as juicer. Rather we have selected only those products who have a dedicated feature for extracting juice.
If you are looking for a simple mixer grinder, this is not the right review article for you. We already have a separate review on the best mixer grinders in India. All the products mentioned in this review will have a dedicated mode or jar which makes juicing efficient compared to your regular mixer grinder. If you are looking at understanding the difference between these functions, we suggest you go through this article. Let us start with the review below:
Best Juicer Mixer Grinders in India
1. Philips HL1632 500 W
Check Live Price – Flipkart | Amazon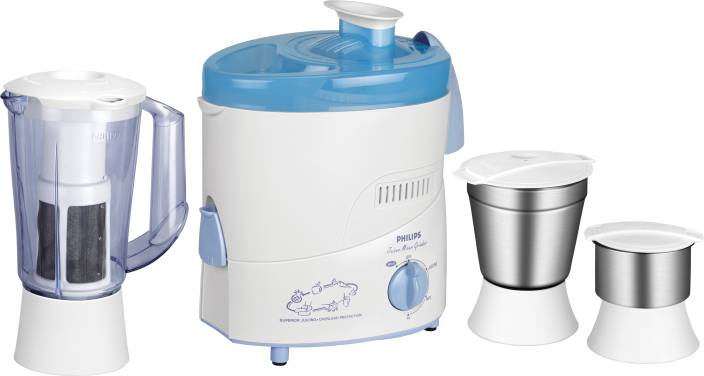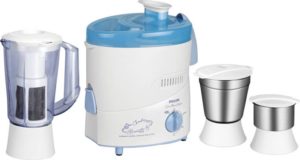 There is no way we can talk about Juicer Mixer Grinder and not discuss Philips. Philips is amongst the most popular brand in this category in India.  We really liked this particular product because this is closest to a standard juicer. Key features are as below:
This works really well as a juicer. You have a cavity on top to add your fruits. It comes with a plastic plunger to nudge your fruits in. There is a nozzle on the side from where the juice flows out. You can easily collect the juice a bowl or a glass.
You can very easily convert this product into your regular mixer grinder. You just take the top covering off. This makes it easy to attach the blender or the spice jar on it.  (The video below will help you clearly see it dismantled)
The juicer does not work very well with small fruits or veggies. This causes a lot of fruit get collected as waste. What you can do instead is  use the juicer jar provided wit it for such fruits and veggies.
The motor is powerful and works really well in the mixer or grinder mode too. It has a small jar which can be used to grind spices.
Although there are a few drawbacks of this product that we wanted to highlight. we found is that the plastic used could have been a little better. Also, it is difficult to clean it after using the juicer.
The product has 2 years of domestic warranty on it.
This is a good option if your budget is around Rs. 3000 mark. Please do remember this is the cheapest Juicer mixer grinder that we are covering in our review. So when compare performance and quality to need to keep the price in your mind too.
2. KitchenAid 5KSB1585DOB 550 W
Check Live Price – Flipkart | Amazon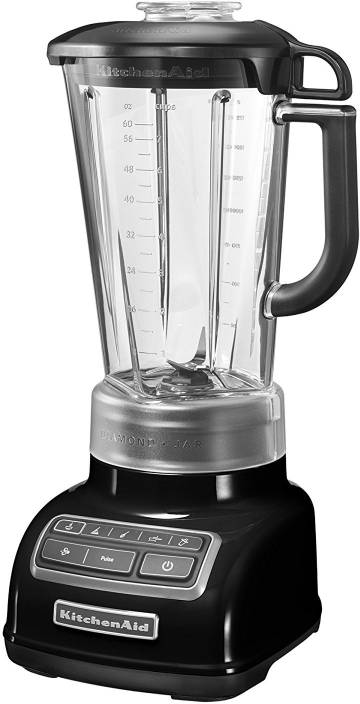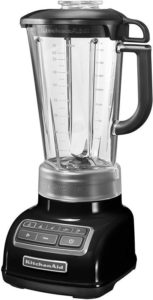 If you looking for RAW performance and dont mind to spend extra money for the same. We suggest you go for this multipurpose Juicer Mixer Grinder by KitchenAid.  It is available in multiple bright colours as well on Amazon. Key feature of this product are:
The product is really well made and very robust. It work very efficiently. Be it mixing, grinding or extracting juice it does it all within seconds.
The diamond blades and the shape of the jar creates a vortex effect and pulls the food back on to the blades.
The liquify mode is great at creating juices and smoothies.
The mixer also have a soft start functionality. So when you start the blender, it starts slowly and then picks up speed.
The only drawback is that it comes with only large jar. So if you need to grind small amount of spices, you will need a separate spice grinder in your kitchen – You can browser them here 
This product comes with a comprehensive 2 year domestic warranty.
You can watch the video below for more details about the product. The video also explains the various modes that this product can function at.
3. Preethi Zodiac MG-218 750 W
Check Live Price – Flipkart | Amazon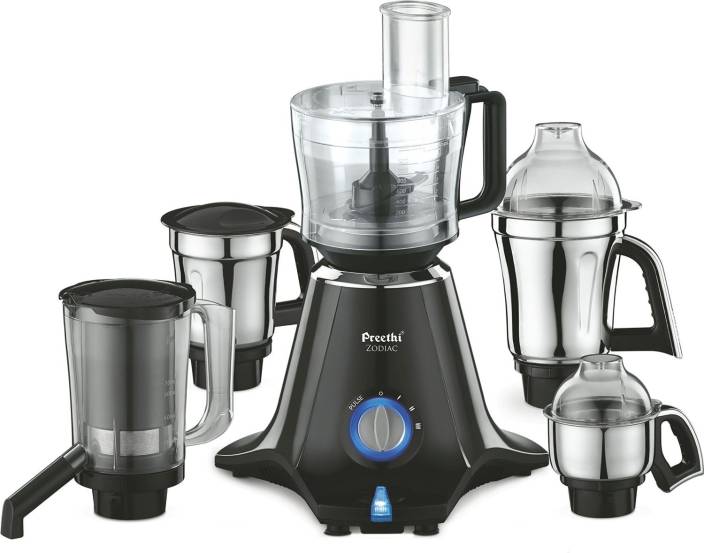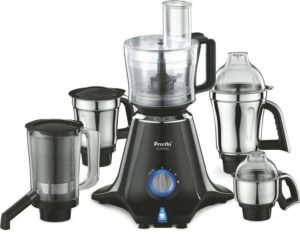 Preeti as a brand has become really successful all over India over the past few years. Preeti Zodiac is easily one of the best looking product that we are reviewing this article today. This is a must have product for someone who really a heavy user of mixer grinder in their kitchen. The key feature of this mixer are as below:
It comes with 5 different jars. This mixer grinder can used for multiple things like kneading ata, grating coconut, slicing vegetables/salads as well as a juicer.
This product has a power 750 W motor. This enables the mixer to work very efficiently.
This mixer grinder has the best designed and most comfortable handles I have ever used. They are really large with a nice grip. You can handle the jar even with greasy hands very easily.
However, a drawback of this powerful motor is that it makes a lot of noise while operating.
This product has a 5 years warranty on the motor and 2 years on the product itself.
You can watch the product is action in a promo video below:
4. 
Butterfly Matchless 750 W
Check Live Price – Flipkart | Amazon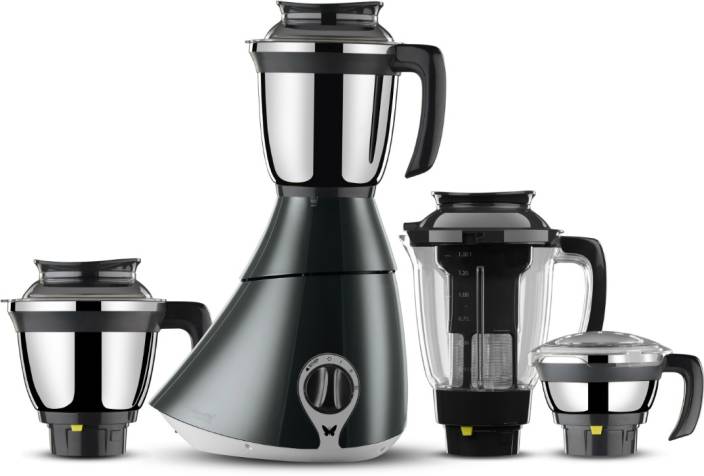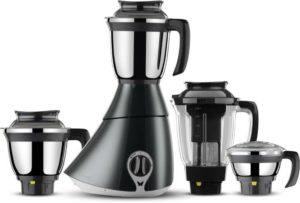 This is a perfect product that will be using the mixing and grinding functionality of their machine more frequently. This is a power juicer, mixer & grinder with a 750 W motor in it. The provide you with a separate jar which can be used to extract juice from fruits and vegetables. The key features of this product are:
This is the second least expensive product on my review today. It is a very well designed product. The finish of the machine is quite good. It  looks like an expensive machine compared to the price.
The machine is very powerful. Both the blender and the spice jar perform really well.
The juicer jar has an inbuilt filter. This filter holds the waste and juice gets collected on the outside. The juicer works really well too.
The product comes with a 3 year warranty.
The drawback of the mixer grinder the noise that it creates while functioning.
5. Panasonic MX AC555
 550 W
Check Live Price – Flipkart | Amazon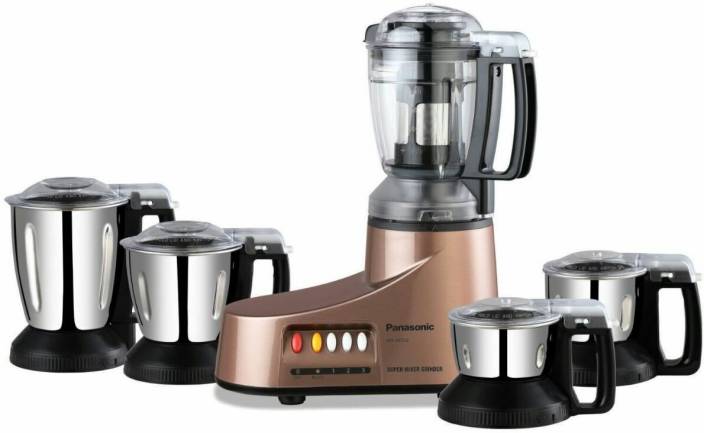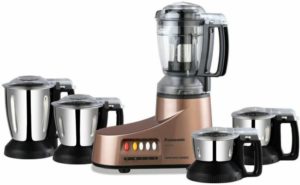 We generally do not co relate Panasonic with Juicer Mixer Grinders. However, we do have a a Panasonic product in our list of "Best Juicer Mixer Grinders in India". The product works really well and hence is in our list of Top 6. Key highlights are as below:
The product comes along with 6 different types of blades to help you with your chores.
The mixer comes with a wide variety of 5 Jars. The Jars are well made. The handles, similar to Preeti Zodiac, are really comfortable to work with.
Great safety features integrated into the machine.  The machine will not start if the Jar is not placed correctly in the groove correctly. It also does not start if the lid is not closed properly on the jar.
The product comes with a 2 year warranty. While the motor has a 5 years warranty on it.
6. NutriBullet
 600 W
Check Live Price – Flipkart | Amazon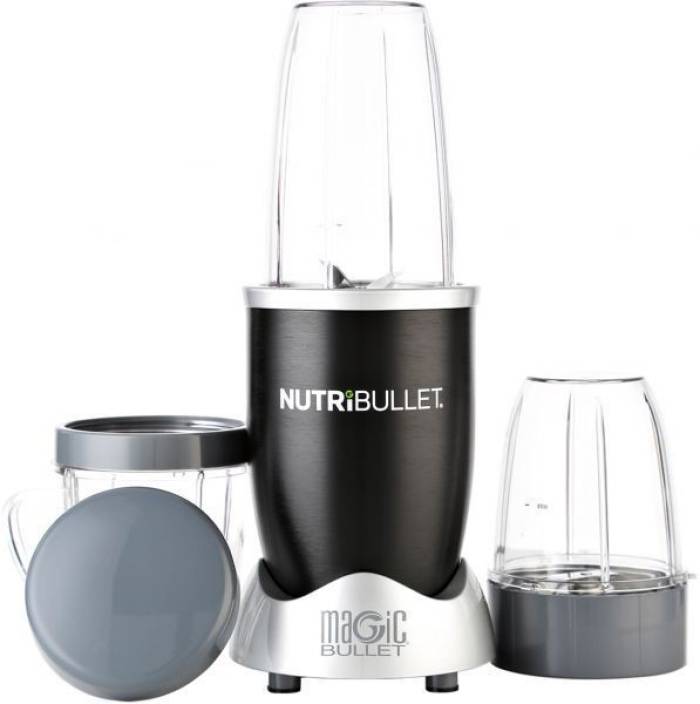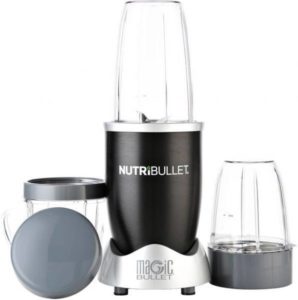 Now, here is a product for someone who just loves smoothies and juices. If you need to have your glass of healthy fruit and vegetable juice everyday in the morning, this is a perfect product for you. This product will not be practical if you need to make juice for a large family everyday. You will have to make the juice multiple times as the jar size is small. KitchenAid mentioned above would be right solution for such families. Key features of this product are:
This keeps your nutrients intact. If you are health conscious person who loves to have your veg and fruit juice along with the pulp, this will work really well for you.
The blades are really powerful and efficient and liquefies almost anything in a matter of seconds.
The container jars can easily work like a glass and you can directly have your juice in it. The product comes with 1 tall cup and two short ones. They also provide you with 2 lids, so once you are done blending you can remove the blade, use this lid and carry the container with you.
This also acts as a very good mixer and grinder as well. Have a look at the video below to see the product in action as well as a few healthy smoothie recipes.
We hope you were able to finalize the best juicer mixer grinder for yourself from the list above. Do let us know in the comments section below if you need to know anything further.
What are the things to consider before buying a Juicer Mixer Grinder in India?
1. Your Requirements
This is one the important things to think about before you start looking for a juicer mixer grinder for yourself.  List down things like how you will be using the product, what you would be using it for etc.
For example, if you are a family of two. You love to have your smoothie everyday before you go for morning walk. You cook mostly for the two of you and want a really good quality product. Now once you have finalized this, you can look at our list above for a suitable product. The Nutribullet might be the perfect choice for you.
2. Usage
Once you have finalized the features that you need. You need to prioritize then basis your usage. There is no point in buying the machine which is the best juicer but an average mixer, when you use the juicer functionality only once in a month.
For example, if you need a good mixer grinder but your kids are insisting on having a nice glass of juice every alternate weekend. You might want to go for the Butterfly or the KitchenAid mixer grinder, basis what your budget is like.
3. Budget
People generally tend to put budget very high on the priority list. But it is third on my list. Once you figure out the type of product you need to buy, then you can starting narrowing down on the right one basis the budget you have. I would say if the right product is slightly out of budget, save more money but the right mixer grinder.
I say this because, if you buy the right product it will serve you well for years to come. If you try and save some money now, you are guaranteed to spend more in months time.
4. Efficiency
You are buying the product so that it makes your kitchen work easier. Do not buy any product because of the brand name, looks etc. Research on how well the product works. You should look at robust the product is. It does not help if the grinder breaks down only after a month. So keep these things in mind while you decide to buy the machine.
5. Warranty
Warranty in a way shows the brand confidence in their own product. If they are giving you a 5 year warranty to the product, this shows that they dont expect most of their products to develop any problem for the coming 5 years.  So always try and compare the warranty offered by different brands on their individual models before making the purchase decision.
6. No and usefulness of Jars
You need to check if you have enough Jars to carry out all the essential tasks you need to do in your kitchen. This does not mean that you go for the mixer grinder juicer with the most number of Jars. A really good product with 3 to 4 jars should be enough to carry out everything you need to do.
This is why, even though KitchenAid is any amazing product. We suggested you buy a separate spice grinder to go along with it.  Indian kitchens and recipes operate with small amount of spices on a daily basis. The large single jar of KitchenAid is simply not enough for that task.
7. Power
This is not as important as the other points highlighted above. If a product is powered by 750 W motor, it does not mean that it will grind your spices better then the one with 500 W motor. Although, you need to ensure the machine has enough power for your needs.
Say you are planning to knead wheat atta in your product. This will surely need a motor that can handle the load. If not, it will simply overload and stop working.
How to take good care of your Juicer Mixer Grinder?
First of all we would urge you to glance though that user manual that came along with your machine. It will have important do and dont's. This will also help you understand the limitations of your product.
Before you try to do anything with your product (Clean, fix a jar on it etc), ensure it is not connected to electricity.
Ensure the lid is tightly attached to the jar. Also, if you want to mix the food while blending/mixing. First take the jar off the machine, only then try and mix it. Please do not try to do it while it is on. You might damage the blades, worst off, injure yourself.
Once used, clean the jar thoroughly after removing the blades. This is keep your jar hygienic. Dry the jar completely before using the lid on it. This is ensure there is no foul smell.
Avoid spilling on the machine. If water goes inside the machine, there are chances that you will damage it.
Do not shake or move the machine while it is operational. Always use the machine in clean, dry area. Preferably away from kids.
Do not try to blend/mix hot food inside your machine. This will surely cause an accident. Always allow the food to cool down before putting it inside the jar.
We hope this review on the best juicer mixer grinders in India  2018 helped you make your purchasing decision today. Do let us know about your shopping experience on Flipkart/Amazon. Also, if you already have any juicer mixer grinder, do leave a review in the comments section below for the benefit of others.