Today I would doing Billion Mixer Grinder Review. This product is exclusively available on Flipkart. Billion is a relatively new company. However, their products have been getting really popular lately.
The billion brand and the company is owned by Flipkart. You would be happy to know that all Billion products are totally "Made in India". They also have a really good cause that they support. For every product that gets sold, they donate a meal to the Akshaya Patra Foundation 🙂
Have a look at the latest advertisement by the billion mixer grinder brand below:
So, we now will get into the technical review of their mixer grinders. I would do a feature and price comparison of all their products. You can have at look at their entire range here on Flipkart. You can also check out our list of best mixer grinders in India.
Billion Mixer Grinder Review:
There are three main variants that are available currently. The major difference between these three is the Wattage. Billion mixer grinders are available in 500, 550 & 750 Watts.
1. Billion Fast Grind MG121/MG122 – 500 W
I will be clubbing together the MG121 and MG122 billion products together for the first review. This is because they are essentially the same product. The only difference between them is the colour combination.
Key Features of this product:
This is the cheapest Billion mixer grinder that you can buy.
The mixer is fitted with at 500 W motor. The product does makes some noise (Lower compared to other brands in the same price range) but you cannot complaint much as this product is really cheap.
It comes with three stainless steel jars. Two for blending & grinding. While the third is smaller one which can be used for making chutney or grinding spices.
The product works well. You might have to open up the lids and mix the food manually once.
The blades and the jar are really well made for the price. They dont look fragile like other brands in this price category.
Comes with one year domestic warranty by Billion company.
Verdict:
Go for this product compared to similar priced mixers from other brands.
However, if you have a little more budget, go for the more powerful billion mixers listed below
Check Live Price and User Reviews on Flipkart –  White | Black
2. Billion Big Jar MG101 – 550 W
This is one of the earliest models that Flipkart launched. There is hardly any difference between this product and the one list below. They are also very similarly priced.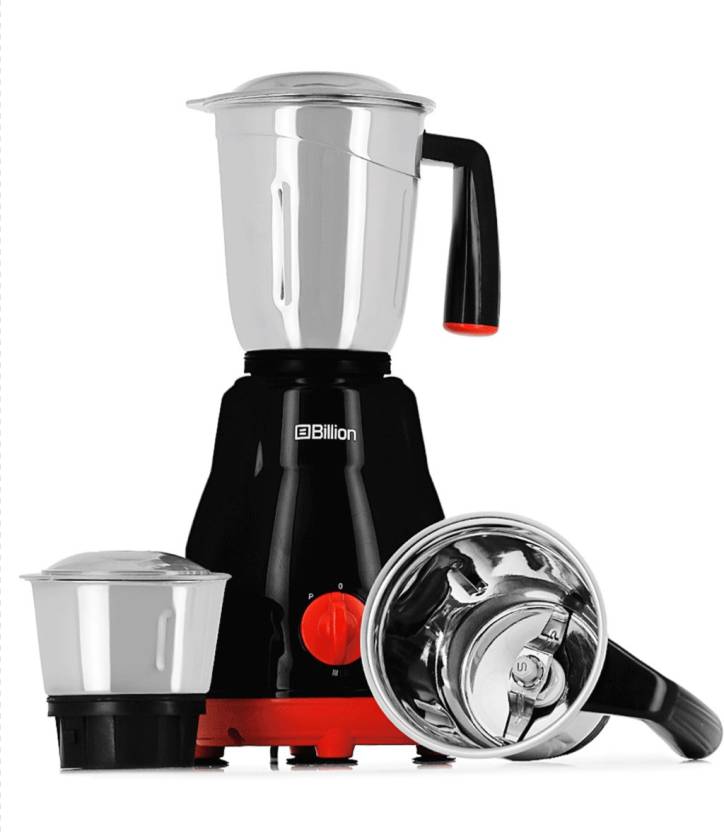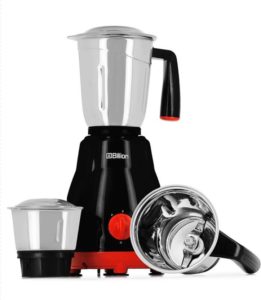 Key Features of this product are:
This has a 550 W motor attached. Slightly more powerful compared to the model I reviewed above
The mixer is very compact and comes with three different jars. The jars are distinctively bigger compared to other brands.
The handle are much better (More comfortable and sturdier) compared to the product above.
The base is made out of high quality ABS plastic. This makes the product more durable compared to other similar brands
The grinding quality is really good. You can use to it quickly grind your daily needs in a matter of minutes.
The jars are made out of good quality stainless steel and have a nice rubber grip on the lids.
The mixer also comes with safety features. If the motor overloads, the product will auto shut off. The product also has shielding beads. These beads help stop the radio interference with other appliance while functional.
This model also offer a higher warranty of 2 years
Verdict:
This mixer grinder is a  real value for the money your pay. You can surely buy this product any day.  However, Rs. 100 more will get you the newer model below.
Check Live Price and User Reviews on  Flipkart
3. Billion Fine Mix MG123/MG124 – 550 W
The performance of this product is very similar to the mixer we reviewed above. As you can see below, the products look almost the same. There are only two main differences between the two models:
This model is available in two different colours
The model also has an additional grating functionality.
Verdict:
This is an excellent product in this category of 500/550 W. You get great performance for the price you pay. Must buy!
Check Live Price and User Reviews on Flipkart –  White | Black
4. Billion Power Grind – 750 W
We now come down to the last and most powerful billion mixer grinder in our review. The design of the product looks very similar to all other products I reviewed so far. However, It does have a better finish to it. Have a look at the speed adjustment knob below. It does look very stylish.
The motor makes less noise compared to other brands. The performance is good. However, you will need to keep you hand on the jar lid while grinding. If you fill up the jar too much the food might come out due to the sheer speed of the motor.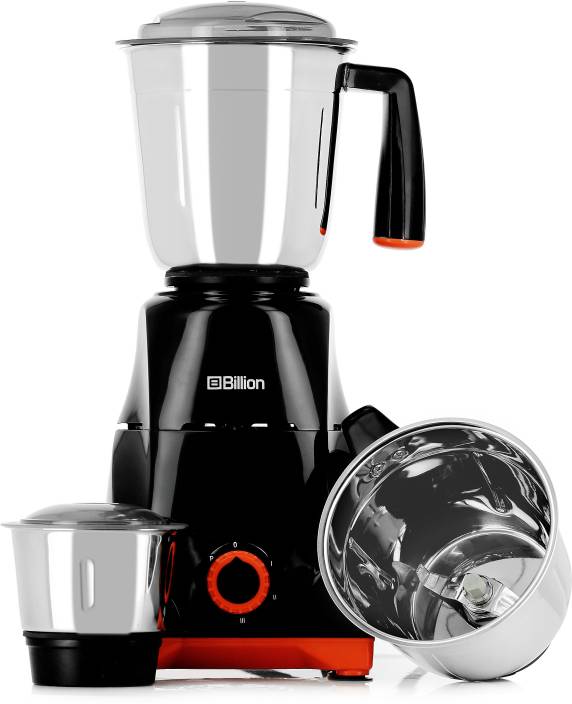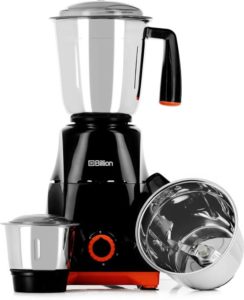 Key features of the product are:
750 W powerful motor.
All other features are similar to the product above.
Verdict:
You get a lot of bang for you buck. The motor is powerful and grinding quality is good. The build of the product is very durable. The product is not perfect but it is truly a value for money.
Check Live Price and User Reviews on  Flipkart
How do I reach Billion Customer Support Team?
If you have any issues with the product or if you need any further information you can easily reach their customer support team. Details of the same are listed on this page.
I do hope this review of billion mixer grinders helped you purchase the right product for your home. Do share your purchase experience in the comments section below.