This review article will list Top 5 Best Cold Press Juicer In India. These are also called Slow Juicers or Masticating Juicers. The list has been carefully curated considering all aspects of a cold press juicer including price, feature & performance.
Overall, the Hurom HE RBC09 has topped my list of Best Slow Juicers in India. The product extracts juice from vegetables, nuts and/or fruits very efficiently. The product does have some minor drawbacks. The same are discussed in the detailed review below.
What is a cold press Juicer?
Cold press juicer extract juice from vegetables and fruits by crushing and pressing them at a slow speed. This process generates a negligible amount of heat and thus keeping all the nutrients of the food product intact.
A regular juicer, on the other hand, processes the food using a high-speed blade. This high-speed motion of the blade generates heat while extracting juice. Heat causes the food to get oxidized fast. Fast blade also destroys some helpful enzymes in the fruits and vegetables. Thus the nutritional value of juice extracted this way is extremely low.
Buying Guide: Factors to select the Best Cold Press Juicer
You should keep an eye on the factors mentioned below while selecting the right slow juicer for your home.
Build Quality – Pressing hard vegetable and fruits is a tough job. Ensure you buy a good quality product which can handle the vegetable you like in your juice
RPM – The product is built on the idea that slowly squeezing out juice from your fruits and vegetable does not oxidize the food as there is no heat generated in the process. This means you should look for a product with a lower speed (RPM). The slower a product extracts juice, the better it is. Any product with speeds below 70/60 RPM is considered good
Easy of operation/cleaning – If the product is difficult to clean or use, you will eventually stop using it. So do keep in mind the ease of using the product. To help you select the product better, I have included videos for each of them.
Intake Chute – The bigger the chute, the better it is. You will not have to slice your food in really small pieces if the intake chute is big enough. Although keep in mind the quality of your product as well. If you buy a budget juicer, make smaller pieces to help your product perform better and last longer
Warranty – I know, a lot of people never avail the warranty even if the product breaks down. It is too much of a hassle. However, the amount of warranty a company provides on a product shows the amount of confidence they have on it. If they give you give a 1-year warranty, this means they don't expect most products of that model to fail before one year. So always keep an eye on this. (True for any product)
Best Cold Press Juicers in India:
1. Hurom HE RBC09
Hurom is a specialized company that only deal in cold press juicers. They have been making these juicers from the year 1974 (For over 40 years now).
This company first invented the slow squeezing technology. This technology allows them to make vertical juicers. The company claims to be the number 1 selling cold press juicer selling brand in the world.
This model is the first generation model. Hurom has come up with more advanced models, however, they are more expensive. I feel this model is enough of the needs of an average Indian household.
The design of the model looks really sleek and modern. It is available in two colours on Amazon India.  Bright red (Shown below) and grey.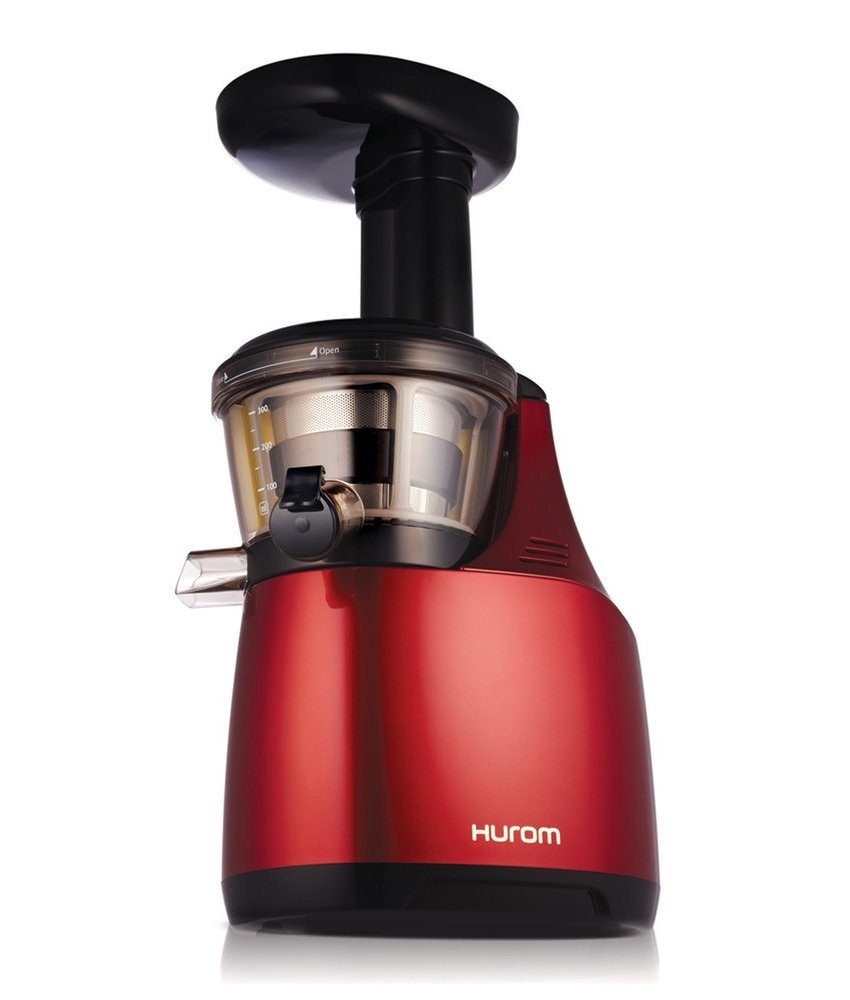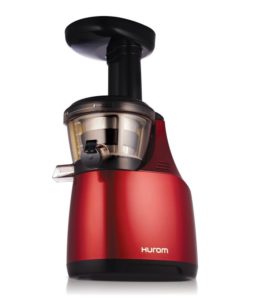 Check User Reviews on – Amazon India
Key Features:
The juicer extracts juice while moving at a speed of 70 rotations per minute (RPM). This is similar speed to someone extracting the juice by hand.
The product is made using 100% BPA free material. It uses extremely sturdy ABS plastic.
The cold press slow juicer is powered by a 150 Watts motor.
It has a sperate container to collect juice and pulp. The containers and the juicer are relatively simpler to clean.
It has a spinning brush, which circulates and mixes your juice. This enables you to juice multiple vegetables, fruits and/or nuts in one go. The juice you get is already nicely mixed and ready to be consumed.
The juicer has a bowl capacity of 350 ml.
The product comes with two filters a fine and a coarse one. You can select a filter as per your choice of juice.
The product has a one year warranty on the body and a 5-year warranty on the motor by the company.
The product weighs around 5 kgs.
Cons:
Although the juicer is very efficient compared to your regular centrifugal juicers, You might need to reuse the pulp again to get 100% juice out of it. This is mostly the case for hard vegetables/fruits like carrot & apple.
It cannot extract juice for a few difficult to work with products like Sugarcane and Chikoo (Sapota)
You can have a look at the Hurom Juicer in action in the video below:
2. 

Usha Nutripress CPJ362F 
I won't blame you if you think this product looks very similar to Hurom slow juicers. 🙂 However, it is very encouraging to see some traditional Indian companies focusing & coming up with such amazing product designs.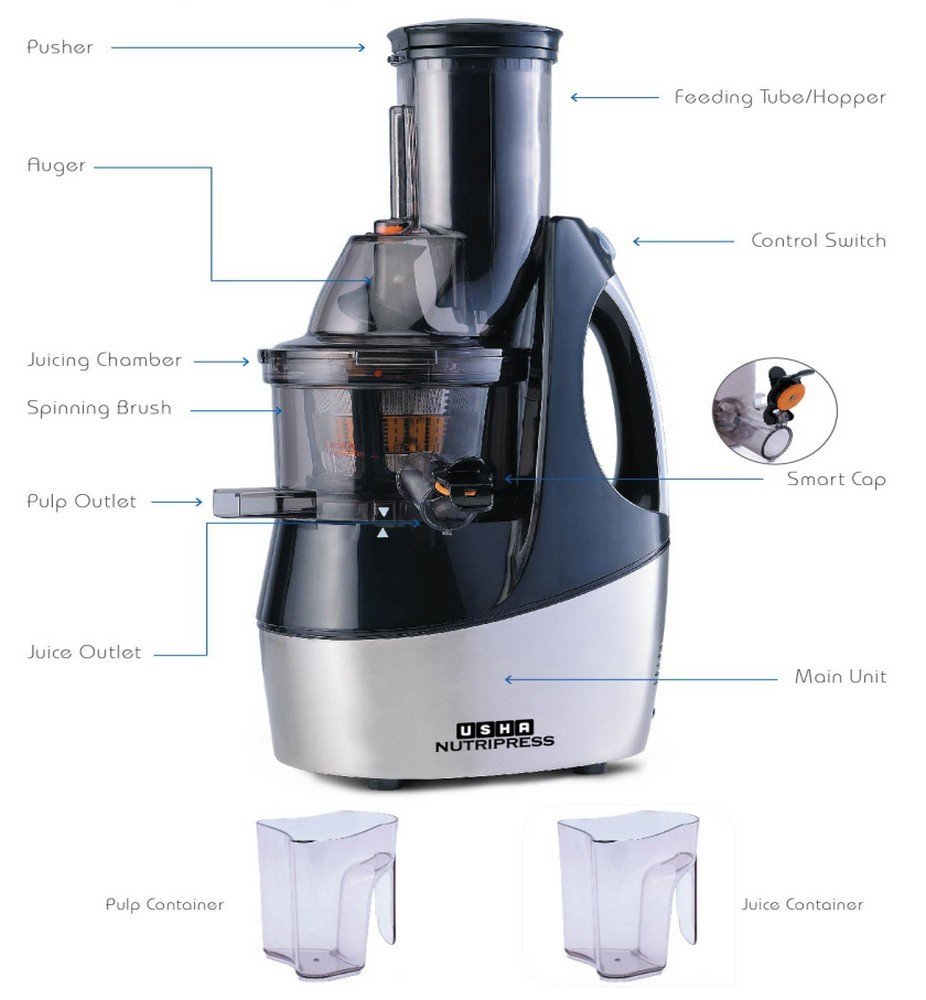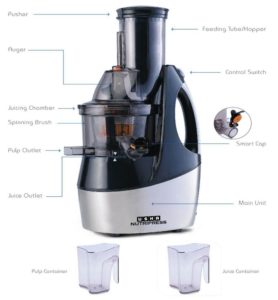 Check User Reviews on – Amazon India
Key Features:
The juicing speed of the product is 65 RPM. This is slightly slower compared to the Hurom model discussed above.
The mouth of the juice is wide enough to accommodate an average size orange in one go. The product also comes with a plunger to push and food stuck in the feeding pipe.
The cold press juicer comes with some features of Hurom like the cap on juice nozzle, a spinning brush to continuously mix the juice and filter of various dimensions.
The product comes with 2-year product warranty and 5-year warranty on the product.
It also has an option to make frozen desserts in it.
The product also has a nicely designed recipe book for various juices and smoothies. Click here to view the same.
Cons:
Same as Hurom, you might need to feed the pulp of Carrot, Apple or other hard vegetables again to get the maximum juice.
The assembly of parts and cleaning is a bit difficult.
You can see the demo of (assembling and using the slow juicer to extract juice) a Usha Nutripress in the video below:
3. 

Panasonic MJ-L500
Panasonic is a known brand with multiple product lines under them. They are known for making great quality products that last really long.
The Panasonic MJ-L500 slow juicer is an also a similar appliance. The product is built really well and sturdy. It looks really good and the performance is satisfactory too.


Check Latest price in India – Amazon
Key Features:
The juicer works at the speed of 45 RPM.
Come with an additional attachment for frozen foods.
There is a separate detachable compartment for both juicer as well as collecting pulp.
The product is made using stainless steel, making it durable and easy to clean.
The product is powered using a motor of 150 Watts
The slow juicer can be easily rinsed using water between juicing
Cons:
The juicing ability of the product is not as good as Hurom. However, I must say, it works very well.
4. 
Wonderchef Slow Juicer 
This is the fourth product in my list of best cold press juicer in India. The product is white in colour, while the slow juice extraction area has a transparent plastic.
The product works well. However, I did find it a bit expensive for the features it offers.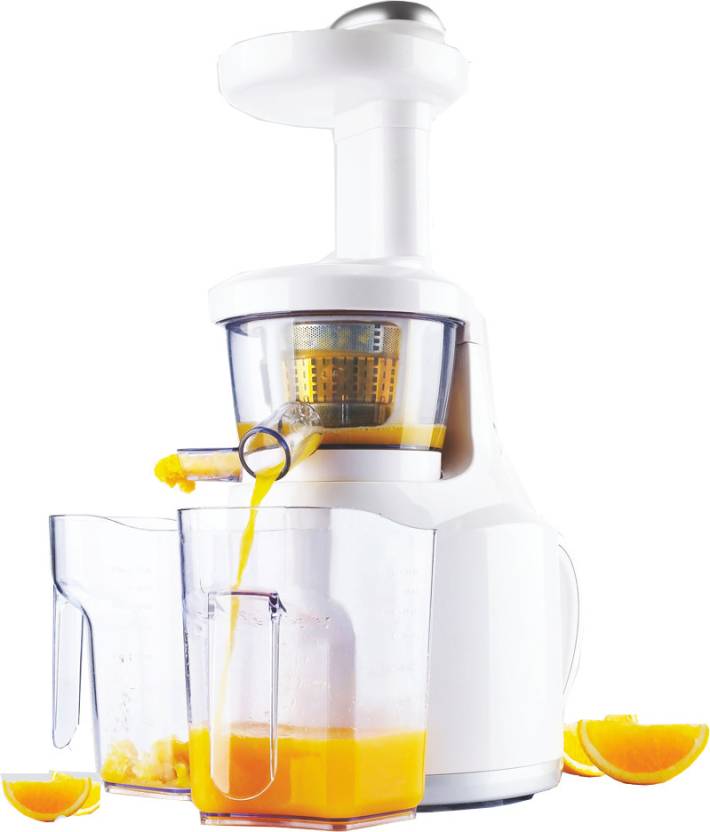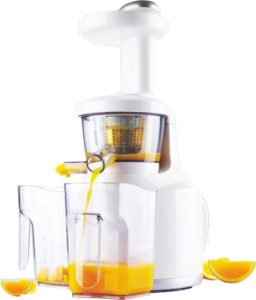 Check Latest Price in India – Flipkart
Key Features:
Uses a powerful 200 Watt motor to power the slow juicer.
The speed of the juicer is a bit high compared to all other cold press juicers on this list. This product works at a speed of 80 RPM.
Cons:
The product is made up of plastic and feels a bit fragile. The quality is not as high as the price tag.
5. Eveready LIIS Slow Juicer
This is the most budget-friendly cold press juicer in this list. On top of it, the product is by a very reliable and well-trusted brand in India, Eveready.
I believe this is the best cold press juicer in India under 10000 INR. Use the link below the image to check the price, you will surely be pleasantly surprised after looking at the price tag of all other products on this list.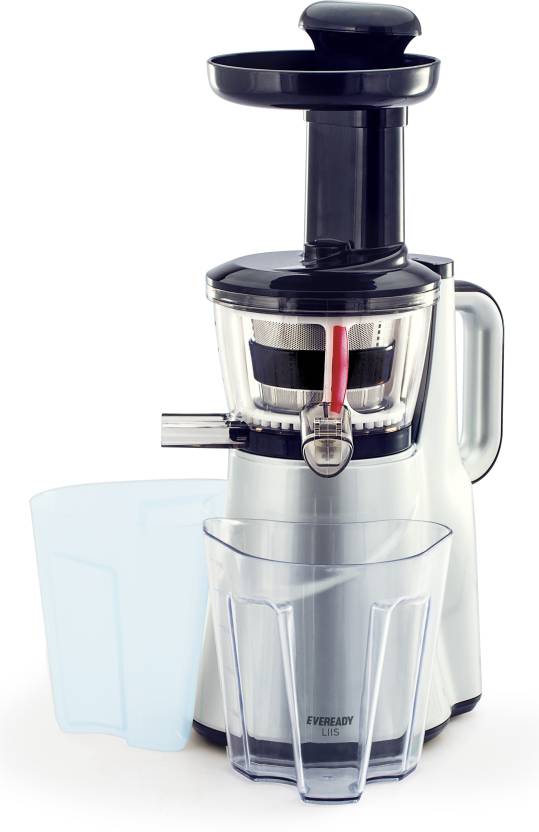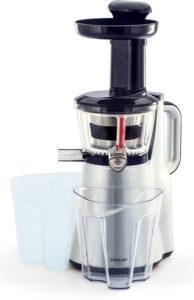 Check price and user review – Amazon
Key Features:
The juicer works at 65 RPM. This is really good if you look at the price tag.
The juice extractor jar capacity is a little on the lower side at 0.4 Liters. However, you can easily empty it a couple of time if you need to extract more juice.
Separate spouts available for juice as well as the pulp.
The product comes with a 2-year warranty.
The assembly of the juicer can seem a bit tricky the first time but you should get used to it soon. The clean is relatively simple
Cons:
Seems a bit fragile. However, you should be good if you use it carefully.
You can chop harder vegetable like carrots or beets if you face difficulty in extracting juice.
This brings an end to my review on the best cold press juicers in India. Which one did you like? Do let me know in the comments below.
I will know to try and cover a few more questions that people tend to ask while or after buying a slow juicer.
What are the advantages of cold press juicers over regular juicers?
Cold press juicers retain a high amount of nutrition in the juice from the fruits and vegetables.
Amount of juice extracted is very high compared to regular juicers. Especially from green leafy vegetables.
The noise level of such juicers is extremely low compared to centrifugal juices that operate at high speed.
Cleaning if more difficult as you need to take care of multiple parts of the juicers.
You can add nuts and dry fruits to your smoothies. They will get processed very well compared to regular juicers
The price of slow cold press  juicer is generally higher
Disadvantages of Cold Press Juicers
They are generally expensive compared to regular juicers.
Keeping an additional appliance at home – Modern mixer grinders come with functionality / sperate attachments to extract juice. If you decide to buy cold press juicers, you will have to maintain a sperate appliance at your home.
How to clean Cold Press Juicer?
You can clean your Cold press juicer the same way you clean other appliances like mixer grinder or regular juicers. You can dismantle the loose parts and clean it separately with soap and warm water.
The main unit can be cleaned using a damp cloth. Just ensure the machine is not plugged in while cleaning and no water enters inside.
You can also view the detailed video below for a visual demonstration:
Can you add Dry Fruits & Nuts to slow Juicer?
Yes, you can. Adding dry fruits like almonds not only makes you smoothies tastier but also healthier. You can soak them in water overnight before adding them to your juice. If you have any doubts over the ingredients you can use, just refer the user manual of your machine.