This review article will talk about the Best Mainline Voltage Stabilizers for Homes in India. A lot of localities in India face frequent power fluctuations. These fluctuations are really bad for your home appliances. They not only cause loss of efficiency but can also permanently damage your expensive home & kitchen appliances. Mainline voltage stabilizers can act as your first line for defence.
What are Mainline Voltage Stabilizers?
These are unlike specialized stabilizers for an individual appliance, mainline Voltage stabilizers are directly connected to the main power line coming into your home.
You have to careful with the maximum load that you need in your home (Based on how many appliances you have). You will need to buy a suitable stabilizer that fulfils your usage requirements.
A lot of people also used these mainline stabilizer specifically for appliances. However, do vary the requirements of the appliance before selecting the right stabilizer for the same. If you have any confusion, do consult a good electrician for guidance and installation.
Best Mainline Voltage Stabilizers:
1. Microtek EML3090+
Microtek is one of the most recognized and awarded companies in India in the electrical & electronic component manufacturer.
The max load capacity of this particular mainline voltage stabilizer is 3KVA.  This is sufficient for a small household with limited usage of appliances. This product also has a separate MCB in place, which helps you bypass the stabilizer in case you need to run a heavier load.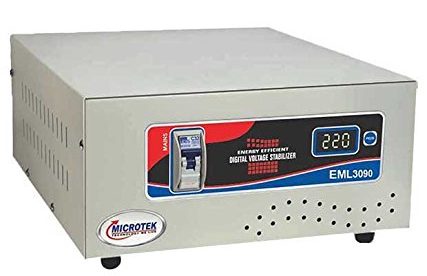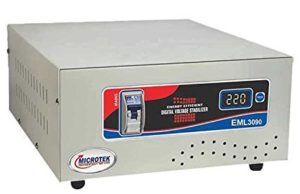 Specifications:
Like all Microtek automatic voltage stabilize, this product is built with the objective of saving power. The product is hence very energy efficient.
It operates on a wide range of input voltage. Right from 90 V up to 300 V.
Comes with a digital display to showcase important information visually.
The product has safety cutoff for both high as well as low voltages. This acts as an important protection feature for your appliances during high fluctuations.
The company offers a comprehensive 2-year onsite warranty for the stabilizer.
The stabilizer weights around 16 Kgs and hence will require a good platform to place it on.
Dimensions (LxWxH) – 457x375x217
2. 

V-Guard V GMW 500
If you have more appliances at your home, the first product might not be enough to take the entire load. You will need a Mainline Stabilizer with more capacity. VGuard VGMW 500 can support up to 5KVA.
VGuard is a brand that is known for its quality products and reliability of its appliances. The product also looks much better and classy compared to the regular looking Microtek Stabilizer. The black colour will go well with almost any home decor.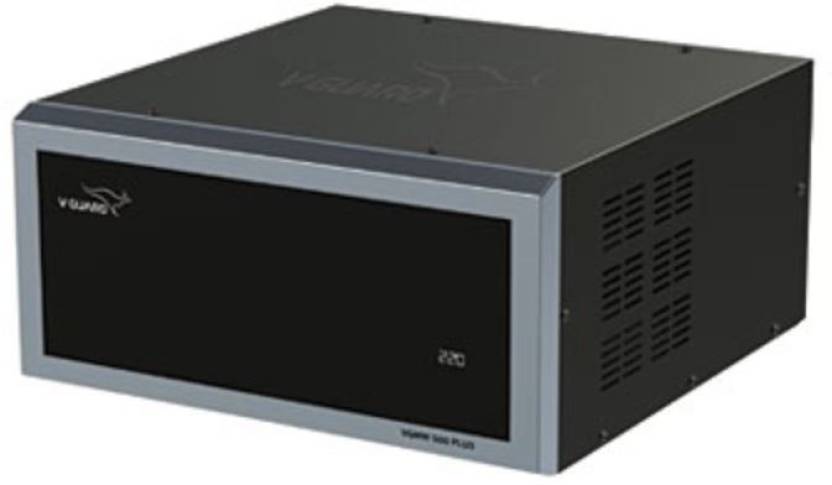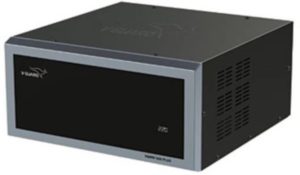 Check Live Price in India – Flipkart
Specifications:
Supports input operating voltage of 90 V up to 300 V. This helps you keep your home appliance safe over a large voltage fluctuation range.
Supports mainline current of up to 15 A
The product comes with Initial time delay feature. This helps protect compressors of expensive appliances like AC or Refrigerators from getting damaged due to multiple & frequent restarts.
It has a nice digital display.
Comes with various safety features like under & over Voltage protection. The stabilizer also has an overload protection functionality.
The product comes with a 2-year comprehensive on-site warranty by VGuard.
The stabilizer weighs around 20 kgs.
3. 

Microtek EML5090
This stabilizer is enough for a house with a small refrigerator and other smaller appliances like television etc. The product can handle a load of 5KVA (Similar capacity to the VGuard product listed above).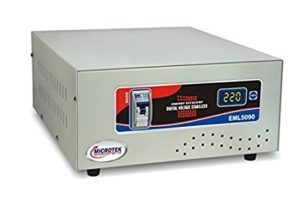 Check User Reviews – Amazon
Specifications:
The specifications of this product are similar to Microtek product listed above.
The only difference is the load capacity of the product.
4.
V-guard V GMW 1000
This is the last product in my list of best mainline voltage stabilizers in India. This is a high output and performance device. It can handle multiple appliances in your home. Do check the peak utilization of your home before shortlisting a mainline voltage stabilizer.
This device will support up to 10 KVA load. VGuard also provides a one year warranty on the product.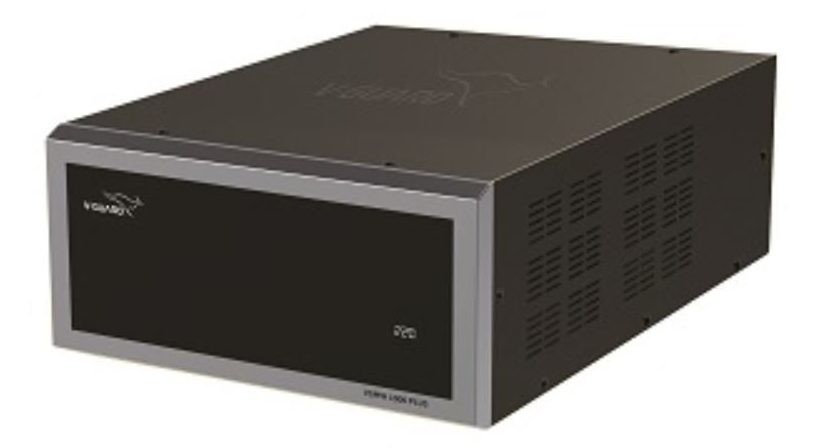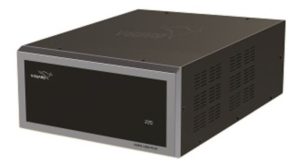 Check Live Price in India – Flipkart
Specifications:
Has all the specifications mentioned in the VGuard 500 product listed above
The only difference is the higher load-bearing capacity of this product.
I hope this helped you select the best mainline voltage stabilizer for your home. I will now be answering some basic questions to help someone who wants to understand this product with further details:
How does Mainline Stabilizer protect my home appliances?
This stabilizer is installed between your main power supply and your home appliances. This product is designed to smoothen out any voltage fluctuations coming from the main power supply and provide a constant supply to your devices.
In simple words, if the input voltage coming at this point in time is higher then when your appliances can handle, your stabilizer will reduce it to an acceptable level. Similarly, if the input voltage is low, it amplifies it.
This way the mainline voltage stabilizer provide a constant supply of electricity within your device's operating range. This helps prevent any unwanted damage due to overloading and increases the life of your home appliances.
How many appliances can I run on my mainline stabilizer?
This depends on the wattage of the devices you use. You should add up the peak power requirements of all appliance in your household to figure out which stabilizer you should be buying.
Normally, people with multiple phases of electricity in their homes, use one phase dedicated for all heavy appliances like Air conditioners, Washing machines (Especially if you use heated water to wash your clothes) etc.
You can use a mainline stabilizer on the second phase which will run fans, lights, televisions and other smaller appliances.
Do I need to buy separate stabilizers for my appliance even if I have a mainline stabilizer?
It is highly likely that you will need a separate stabilizer for heavy appliances like Air conditioners. If you are not sure, do consult an experienced electrician to suggest you the right combination.
Which are the Top Voltage Stabilizer Brands in India?
The two main brands in India are the ones that I covered above. Namely, Microtek and vGuard. However, there are a lot of other brands that offer their products in the Indian market. The list below includes some of the leading ones.
Microtek
vGuard
ServoMate
Accurex
ServoKon
Luminous
IFB
Pulsetron
This brings me to an end of this review of the best mainline voltage stabilizers in India. I hope this helps you understand this important device that you need in your home. Which one did you decide to buy?
Do let me know in the comments section below if you have any further question about your purchase.