IFB vs LG – Which is the Better Washing Machine Brand in India?
Washing machines are an essential part of the household. They come in a variety of types, such as top loading, front loading, semi-automatic or fully automatic. The new technologies and added features in washing machines have made the life of housewives and maids much easier than it was a decade ago.
In this article, I am reviewing two of the best washing machine brands in India. i.e IFB vs LG Washing Machines.
It will help you make a better decision whenever you have to purchase the best washing machine.
Summary:
For most Indian families, this latest LG model (Amazon) will be the most ideal bet. The same model FHT1065SNW is available on Flipkart as well. You can click here to compare prices on both market places.
However, if you do get hard water at your home. You can opt for washing machines by IFB.  They come with Aqua Energie System, which helps treat the hard water before it is used for washing clothes. This is the model that I would recommend buying. Again, you should compare the latest price on Amazon as well to ensure you get the best deal. Click here to check the latest price on Amazon.
Comparison – IFB vs LG Washing Machines
IFB Washing Machines:
IFB is considered to be a world-class and well-reputed brand. With the introduction of front load washing machines along with top load, it has topped the market. Its washing machines are occupying around 40% of the market in India alone.
Smart Loading for Smart Laundry:
IFB has also named its front loaders as smart loaders because they help you do your laundry smartly. It takes care of your special needs. All the dirt, debris, bacteria or your pet hair are instantly removed. The smart technology further helps to save electricity. Smart loaders come with a power notch system to keep the machine safe from power fluctuations in India. I have found these washing machines to be really useful.
Wide Range of Washing Styles:
Furthermore, IFB uses German technology to offer a wide range of washing styles. It includes new and essential features in its front loaders, such as:
360-degree Wash

O-2 Wash

Cradle Wash

Air Bubble Wash

Steam Wash
The 360-degree framework releases water at 360 degrees inside the drum. Its motion makes sure that clothes are evenly soaked. The O2 wash is designed in such a manner as to produce air bubbles to give a clean wash. Cradle wash is useful for delicate clothes so that they can easily be washed at home. Steam wash generates steam inside the drum to keep your fabric soft and wrinkle-free.
Aqua Energy Technology:
IFB has specifically manufactured this aqua energy technology to convert hard water into soft water. As this is a common problem in India, I am really glad to see that a washing machine brand has addressed this problem.
Many models from IFB have this feature built in. It breaks down bicarbonates in hard water into fine crystals. It also activates the detergent. I have seen that this technology helps save the fabric a lot and keep it smooth and long-lasting. I am sure you will be happy to invest in this part.
Other Significant Features:
Some of the other important features of IFB's washing machines are the following:
Washing time is less as compared to other popular brands such as LG or Samsung.

Rapid Wash functionality makes it a premium choice.

The high speed and variable frequency 1400-rpm drive motors win against other competitors.

The motors are load adjustable.
Product Recommendation – IFB:
IFB's Senorita Aqua SX stands in the line of the top 10 best-selling washing machines. It comes with various features of smart loading which makes it one of the top choices available on the market.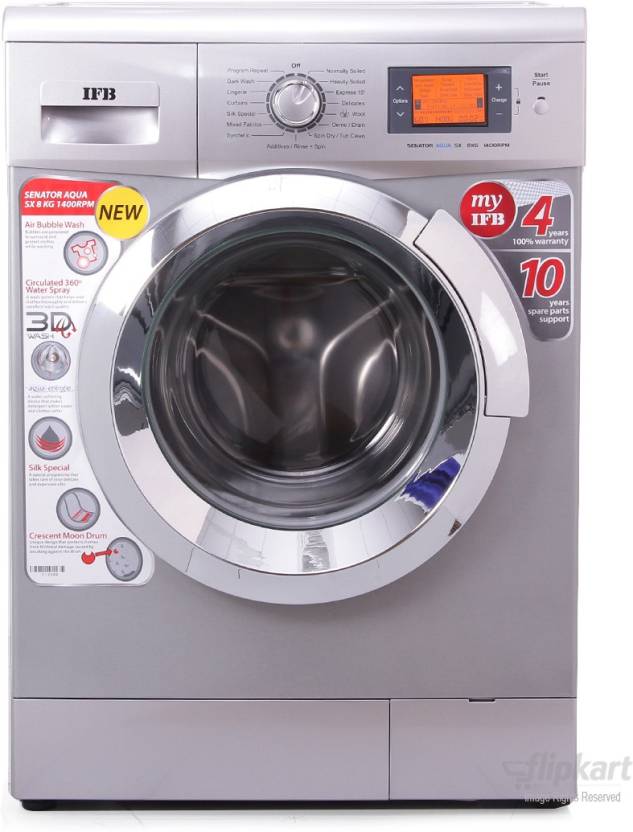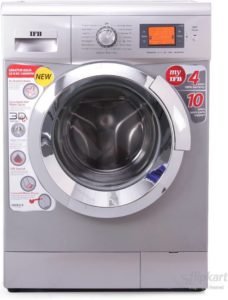 Check the Latest Price – Amazon 
Specifications:
It has a capacity of 6.5kg which is suitable for bachelors, couples or a medium-sized family.

The product comes with a 4-year warranty on both the product and motor.

It has a 1000-rpm motor which goes good with the 6kg capacity.

The crescent moon drum includes a groove on the drum surface to prevent any damage to the fabric.

The 3D wash system gives a clean and perfect wash.

It comes with an aqua energy filter.

Has a foam control system to get a stimulated wash.

It also includes an auto-imbalance system.
Pricing and Reviews:
At the time of writing this review, the machine was priced below Rs. 35,0000, which is not a lot heavy on your pocket when going for a good-quality product. It is rated around 4+ stars out of 5.
IFB has been successful in impressing Indian customers as its technologies tackle their problems well. However, the customers have reviewed that its washer's build quality could have been better. Also, more innovative features, such as TwinWash in LG, are not provided by IFB. Still, it provides a decent wash and smart laundry.
You May Like – Top Rated Washing Machines in India
Now, I am reviewing LG, in the same manner, to help you know better about the admirable features given by LG in its washing machines.
LG Washing Machines:
Undoubtedly, the South Korean brand is one of the biggest names in the appliance industry. It is well-reputed in India as well. All over the country, customers are quite satisfied with the after-sales services they provide. Their washing machines make 32% of the market, so the rate of purchase is comparatively less than IFB.
Looking at customer reviews and offered features, their washing machines are a very good option to consider.
Top Loading or Front Loading:
According to the best seller washing machines at Amazon.in, there is not a single LG front loading washing machine in the top 10. However, LG is very popular offline mainly due to its direct drive technology.
Top loading machines, on the other hand, have plenty of good features. LG has incorporated many new technologies, especially in its top-loading washing machines.
Added Motion Styles:
LG has introduced quite a number of motion styles, which include:
Tumbling

Swinging

Rolling

Scrubbing
In some machines, there are even up to six motion styles. It enhances the washing capability and makes sure that you get cleaner and softer clothes.
Auto Restart:
Almost all of LG's washing machines include the auto restart feature. As LG produces features focused on the Indian market, it has built-in auto restart because of the power cuts that can disrupt your whole laundry.
TwinWash Technology:
LG has introduced a new feature called TwinWash in its washing machines which has not been replicated by any other brand yet. It involves the use of two separate drums for washing, the main drum and the mini drum. It provides increased efficiency by segregating the washing space.
Steam Allergen Cycle:
Many LG washing machines nowadays include steam allergen cycle, which goes through 3 steps: Allergen Sanitization, Allergen Dissolution and Allergen Removal to make sure there is no common allergen left.
Product Recommendation –  LG:
The top loading washing machine from LG that is among the top 10 best-selling washing machines LG's 6.2 KG Top Load washing machine T7281NDDLG.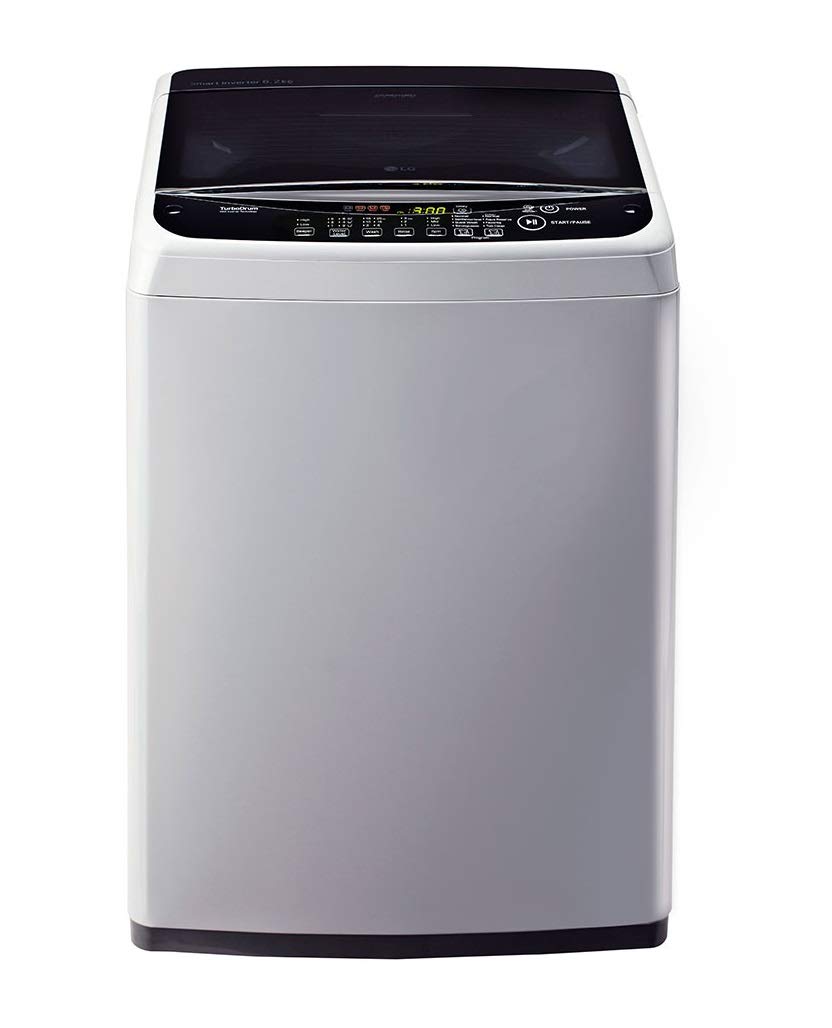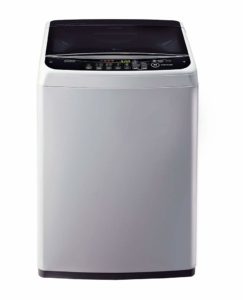 Check the Latest Price – Flipkart | Amazon
Specifications:
It features a 700-rpm motor which is good enough for its capacity of 6.2kg.

The product comes with a 2-year product and a 10-year motor warranty.

It includes Smart Inverter Technology that helps it to run at an optimum speed according to the load.

This washing machine has a turbo drum to reduce laundry time and give efficient cleaning.

It also includes the 3 Smart Motion technology that provides 3 different motion styles.
Pricing and Reviews:
It is available at ₹19,290 and is rated 4.5 out of 5. It meets the main criteria of reliability and top-notch quality. Its new technological features are of no match. It truly understands the needs and desires of its Indian customers. The added features like dual load, which allows segregation of heavy and light load, the allergen removal technology to prevent dust-borne diseases and durable designs to avoid accidents are a great plus.
People are always looking forward to LG's new models and what new features they have to offer. However, I think there is room for improvement in their front loader washing machines that are still not ranked among the top sellers.
LG also needs to bring some better options in the pricing area. Its top loading as well as front-loading washing machines are a little heavier on the pocket considering certain other premium models. Maybe that is the reason that its front loaders could not make into the best sellers as of now.
IFB or LG: Which is the Best?
As you have now reviewed both the brands of washing machines and their technological innovations that suit best to the Indian market, you can easily choose the one that fits your needs. If IFB wins in price and front-load options, LG is rated better for its quality and technology. Therefore, both work well for your household needs.
However, in my view, if you want to choose the overall best one, go for IFB, as it wins in the budget sector. Being economical, it is the best option in terms of capacity, electricity consumption and different washing options. Also, as front loaders from IFB are more efficient than top loading options available from LG, IFB is definitely the better choice.
The product recommendations I put up for you must also be considered when you want to buy a new washing machine. It will help you get an economical, featured and more energy efficient washing machine.
In order to keep any appliance running for long, you need to maintain it well. If well maintained, a product with only 2 years of warranty can work for around 10 years without any major complaints.