In this article, I will be providing an honest review of the Bosch WOE652D0IN Washing Machine. This is a Top Load Washing machine with a wash capacity of 6.5 Kgs.
Before I proceed with a detailed review, I will give you a summary of my thoughts. This will helpful for readers who are short on time.
Summary:
This is a perfect washing machine for people who are constraint by their budget or space in their homes but want a washing machine that looks and performs as good as any Front Loading washing machine.
But before you hit the buy now button, do not forget to compare prices Here & Here.
I would also recommend you to consider This Particular Model by Bosch.  It has similar functionality but is priced slightly lower compared to WOE652D0IN. The same model is also available on Flipkart(Click Here). So do ensure to compare prices before you buy.
Bosch WOE652D0IN Review:
As you already might be knowing that Bosch is one of Best Washing Machine Brand that you can buy in India currently. They offer great quality products at a very affordable cost. Their after-sales service is not bad either.
Coming down to the washing machine model in question (WOE652D0IN). It is amongst best selling Top Load washing machines at the time of writing this review.
It has a lot of great features and a few drawbacks too.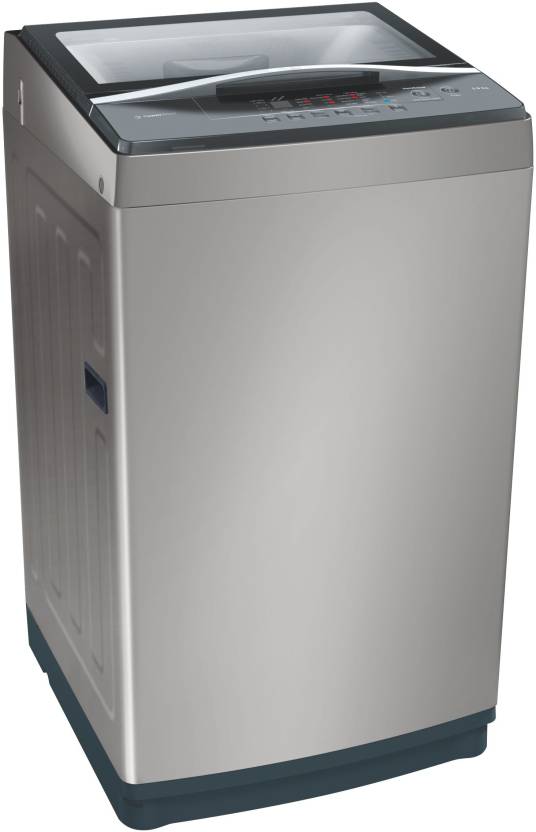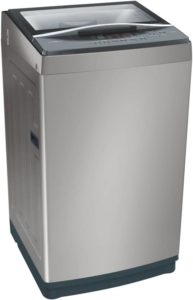 Check More User Reviews & Availability at You Pincode – Amazon | Flipkart
Key Features & Advantages:
Wash capacity of 6.5 Kgs, good for a small family of 3 members.
Comes with a stainless steel drum. Is very durable and washes really well.
Washing Machine comes with 8 pre-programmed wash cycles.
Top Loading. You do not need to bend down to add/remove cloths. Good for people with back problems and senior citizens.
Single drum carries out both wash and dry programs. The dryer operates at 680 RPM.
The lid comes with toughened glass and has a soft closing functionality.
The washing machine can resume the wash cycle after a power cut. You do not need to worry about operating the machine again.
Has a child lock function
The machine looks really good. Its finish is almost as good as any latest front load washing machine.
It has a load sensing functionality. So the machine automatically adapts the wash cycle basis the number of cloths added.
The machine comes with a company warranty of 2 years. While they offer a 10 years warranty on the motor.
Do Read – Bosch vs IFB – Which is the Better Washing Machine Brand?
Disadvantages:
A bit noise while operating, especially during the spin cycle. Please do ensure you get the machine properly balanced during installation to reduce the same. Also, ensure you put the right amount of clothes in to minimize the noise and vibrations.
Does not come with an inbuilt heater. However, it does have a separate connection where you can fit water coming in from a geyser.
Should You Buy It?
Absolutely yes. However, do remember to check out this other Model by Bosch. The same model is also available on Flipkart(Click Here).
I hope this review helped you make your buying decision. So, did you buy this washing machine? If you are already using it, how has been your experience? Do share your feedback in the comments section below.
Also, do feel free to reach out to me below, if you have any further questions about this product.