When you are looking to buy healthy cookware alternatives to non-stick vessels, Indians are now shifting back to cooking with their age-old and traditional utensils. Cast Iron is right up there on the list. I have hence made this list of Best Cast Iron Cookware in India & Top Brands.
Other materials that are also getting popular are Iron, Stone, Soapstone, Clay & Bronze to name a few.
If you do not wish to go through the entire article and looking for a straightforward recommendation of a product to buy, then simply opt for cookware by Lodge. This is a global brand known for quality and is available in India on Flipkart as well as Amazon (Check both links as sometimes some of the products do go out of stock on them)
Best Cast Iron Utensils in India:
1. Lodge Logic Pre-Seasoned Cast Iron Skillet
Lodge is a global brand known for quality cast iron cookware.  As with products of all popular brands, Lodge cookware is comparatively very expensive.
However, if you are willing in to invest in a product that will last you for a lifetime, I will surely suggest going with their products. A couple of extra thousand rupees will not matter a lot over a longer duration.
This product can also double up as a good frying pan.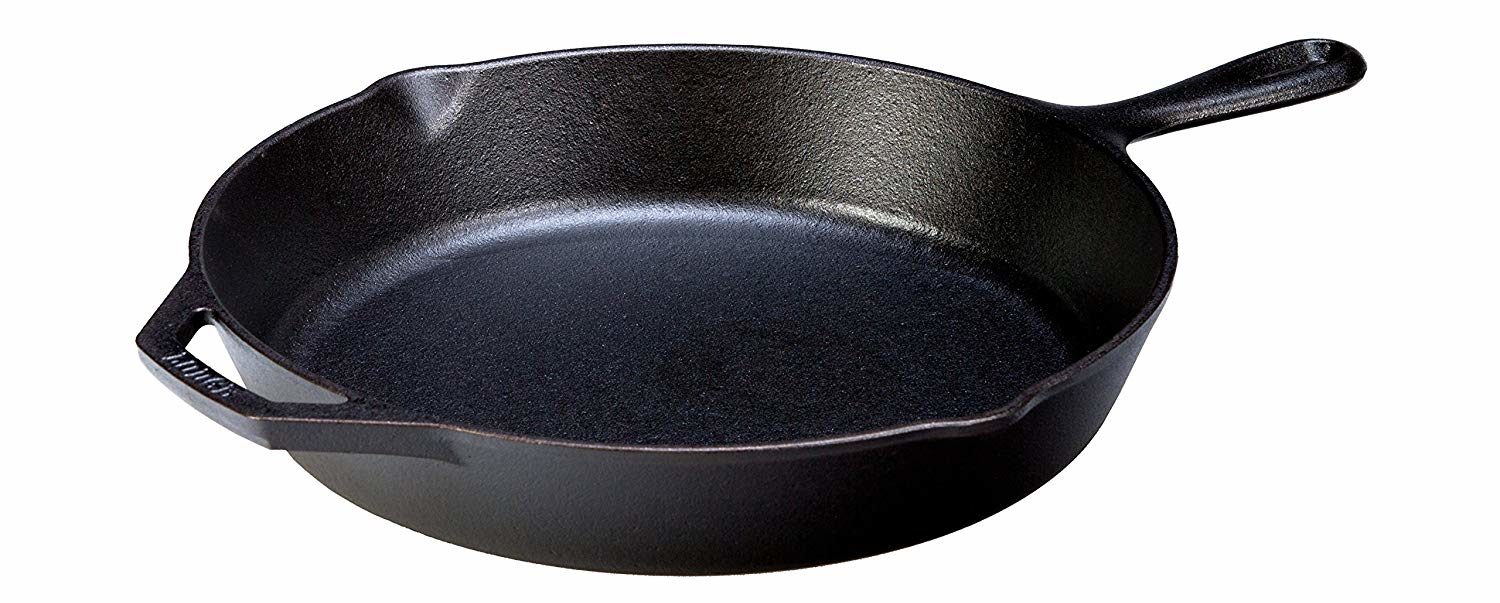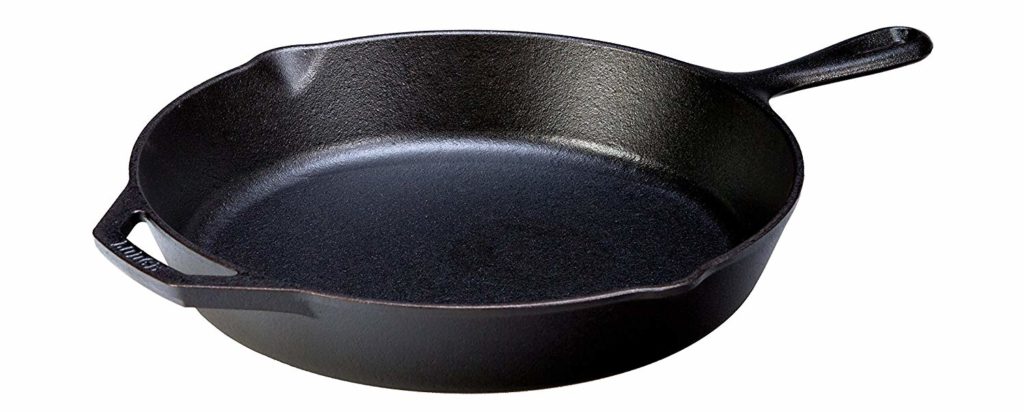 Check the Latest Price and Available Sizes in India – Flipkart | Amazon
This particular skillet that I choose is 30 cms or 12 inches in diameter. However, there are a lot of different sizes available. Do check both Flipkart and Amazon to find out all available products online.
The product comes pre-seasoned and is ready to be used for the first few times (till the time the seasoning lasts). You will then have to season it again at home.
Have a look at the video provided at the end of this article if you have not used a cast iron utensil before this. It will provide you with much need tips on how to clean, maintain and season your pan.
2. 
Zishta Cast Iron Kadai Set
Zishta is an India brand. Since they manufacture the goods in India, the price of their products is much cheaper compared to a foreign brand like Lodge.
The product that I have selected from Zishta is a 3 piece Kadai set. If you wish to replace your nonstick or aluminium vessels, this product is the perfect bet.
Most Indian kitchen and cooking requires to have Kadai of multiple sizes in their household. This product provides the same at a good price. The three kadhais in this set have a diameter of 7 Inches, 8.5 Inches and 11 Inches respectively.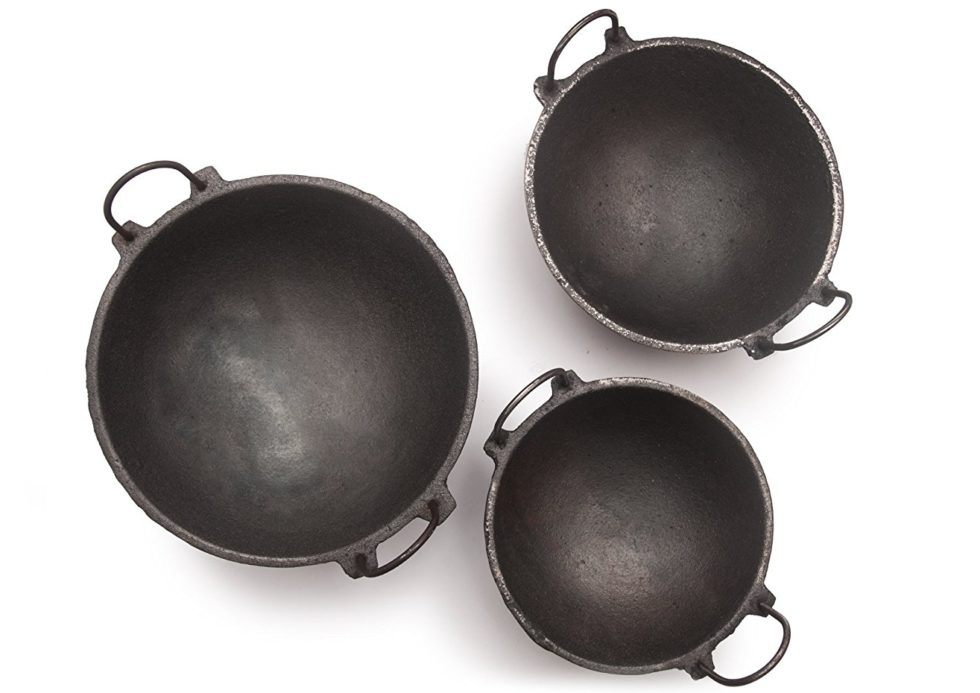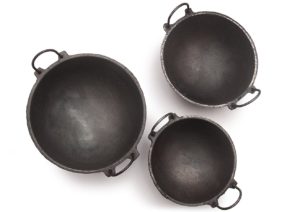 Check the Latest Price and Current Offer at Amazon
Do note that you will have to season it before you start using it. I do prefer season my cast iron cookware myself at home as I want to be sure of the quality of oil I use to season it.
This is a handmade product, so please do not expect the finish that you get from machine-made cookware. Zishta products are made by artisans from Thenkasi district of Tamil Nadu.
3. Dosa Tawa by 
Rustik Crafts
A cast Iron Tawa is what you need to make some nice crispy dosas at home. The tawa gives good even heat distribution. Season it well and this you can easily pass on this product to your next generation.
This particular tawa has a diameter of 30 cms.  At the time of writing this review, Rustik Crafts also had a small tawa available for sale on Flipkart.


Check Latest Price & User Ratings – Amazon India
However, this particular tawa is not suitable for making Rotis on a daily basis. If you wish to buy a tawa for making Chapattis then you should opt for the next product on my list.
You May Like – Best Non-Stick pans without Teflon
4.  
Cookwise Roti Tawa
This product is a great combination of tradition and innovation. The tawa is made using cast iron and has a heat-resistant handle. It allows you to grip the tawa while you cook roti on top of it.
The innovation is at the base of the tawa. The bottom is designed to be used on a regular gas stove. But is so designed that it keeps the flame protected from all sides. This allows the heat to be transferred on the tawa at a much more efficient rate.
Check out the Price and user reviews of this tawa – Amazon
5. 
Crisol Cast Iron  Dutch Oven
Crison Dutch Oven. A perfect vessel if you are cooking for friends. You can even use it outdoors on open flame or coal.
Crisol says the product is pre-seasoned with vegetable oil. However, you will have to do it again before using the same. It is good in a way since they use vegetable oil, while you can use any thick cold-pressed oil.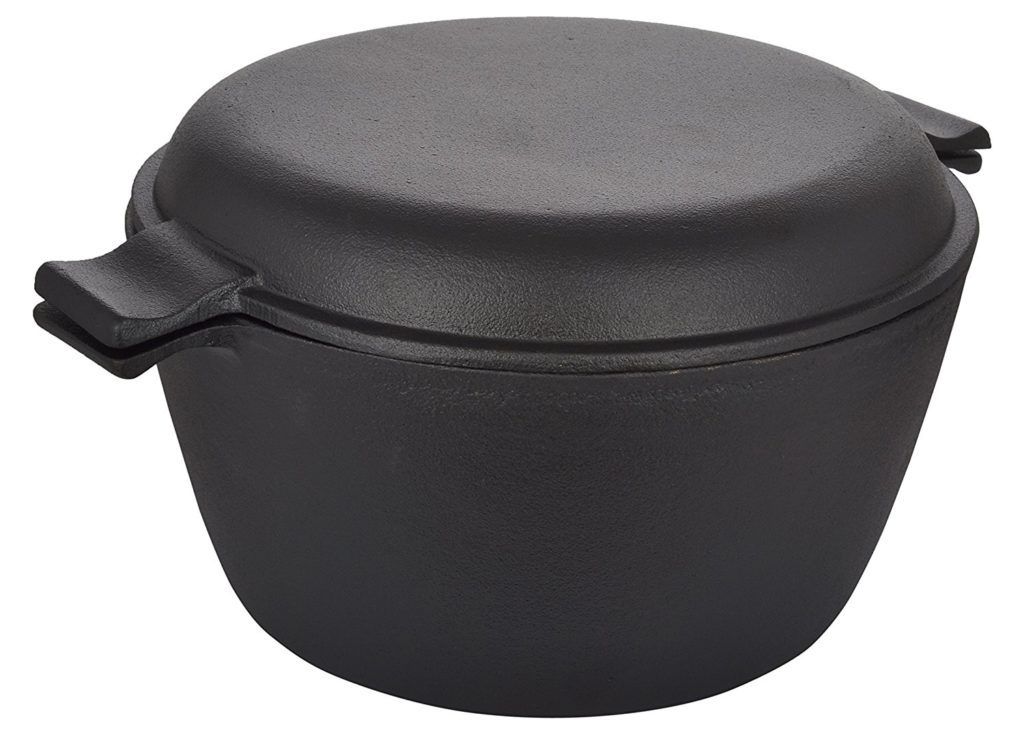 Check all brands & design of Dutch Oven – Amazon India
The product weighs around 5 kgs. Use only warm water to rinse the product. Also, heat the product after every wash to remove any moisture from the surface. Use cooking oil to season it before you store the same.
6. 
Wonderchef Ferro Cast Iron Casserole
Ok, so this is not a product for someone who loves the traditional cast iron cookware.
This is a hybrid vessel, which gives you the benefits of cast iron without going through the troubles of maintaining the same.
This is a cast-iron casserole which has been coated with high-quality enamel. This enamel keeps the cookware rust free and does not crack or chip easily.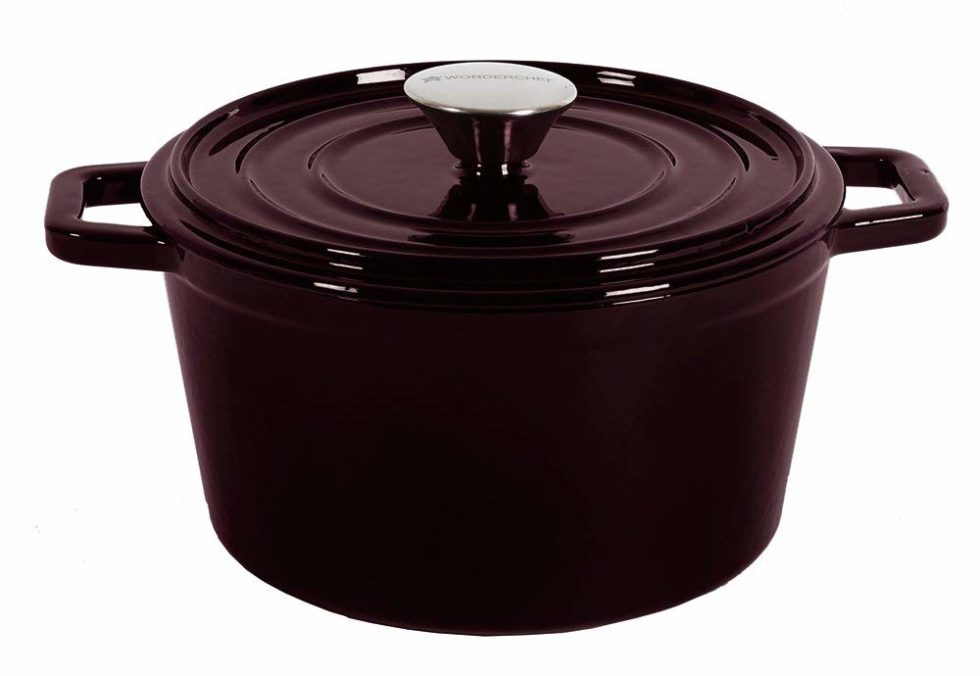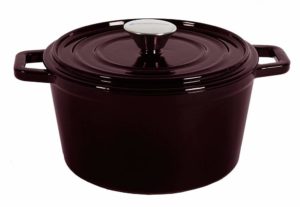 Check out the latest Price, Colours & Sizes available online in India – Amazon
The enamel coating also makes the cookware look really good. Due to the inner cast iron, this utensil is perfect to slow cook food at a uniform heat. The lid is also quite heavy and helps to keep the steam in while cooking.
The capacity of this pot is 2.4 litres. It is also available in various other colours. Check out the entire collection on Amazon using the link above.
Top Cast Iron Cookware Brands in India:
I have listed down some of the top-selling cookware brands dealing in cast iron below. There are a lot of other sellers selling cast iron utensils on online marketplaces like Amazon, Flipkart and Snapdeal etc.
a. Lodge
b. Zishta
c. Rock
d. 
Rustik Crafts
e. Wonderchef
f. Cookwise
g. Crisol
Do Read – Best Granite Cookware in India
Pros & Cons of Cast Iron Cookware:
The benefit of cast iron utensils is that they can last you for lifelong if well-taken care. Plus, they also do not contain any harmful chemicals like the ones found in non-stick coating.
However, not everything is rosy. Cast Iron cookware needs a lot of love, seasoning and care. Not everyone today has the time and energy to do so. Plus they are on the heavier side and are more difficult to store.
How to Season Cast Iron Cookware?
The key to using a cast iron cookware easily and trouble-free is a good seasoning.
Seasoning helps you create a nice non-stick layer on top of your cast iron cookware. Once you have cleaned your pan/kadhai, you put it back on the gas and start heating it. You then apply a thin layer of oil (I use groundnut oil) all over the cast iron surface.
Once the pan is heated, let it cool down. You can wipe off all the excess oil using a cloth or a tissue paper.
This process will not only season your cookware but will also keep it rust-free for the next use.
I suggest you watch this video below for more detailed instructions on how to clean, season and maintain/restore your cast iron cookware.
What are the Benefits of Using Cast Iron Utensils?
Unlike the non-stick cookware, cast iron utensils are free from any harmful chemicals
If maintained properly they can last for years without any issues
Unlike non-stick cookware, you can use metal spatula without any worry about scratching the surface
Cast iron increases the Iron level in food. This is especially helpful for women's health
Cheaper compared to non-stick. Remember, you will need to replace your non-stick cookware every few years
It is well accepted that cooking with Cast iron maintains the nutritional property of food
More FAQs About Cast Iron Cookware:
Is Cast Iron Cookware Safe?
Yes Absolutely. Cast Iron Cookware is extremely safe for daily use. It is a very healthy alternative to non-stick utensils. However, if you have any medical condition that arises due to excess iron in your body, then you might refrain from using it.
Best Cast Iron Cookware Brands in India?
I personally like Lodge. However, there are a lot of good Indian brands like Rock, Zistha, Wonderchef, Indusvalley etc. You can check out their offerings by clicking on this article.
Why is Cast Iron Cookware so Expensive in India?
Cast Iron Cookware is expensive to buy online. The main reason being its weight. It is expensive for traders to store, pack, ship these utensils simply because they are very heavy.
Is Rust on Cast Iron Harmful?
A little rust won't do any harm. However, if your utensil has been lying around for quite some time, you should wash it thoroughly and then season it again. I have added a detailed video in this article which shows you how to season your cast iron cookware. Click to find out.
Can you use butter in cast iron?
Yes, why not? However, you can use it for cooking purposes and not for seasoning it.
Is Cast Iron good for Cooking?
Yes, Extremely. Not only it is a more healthy alternative to non-stick cookware but also heats up very evenly. The helps cook the food more evenly.
What should not be cooked in Cast Iron?
Anything that is sour should be avoided. I also do not recommend cooking delicate food like fish or omelettes for people who have just started using cast iron.
This brings me to the end of my review of the best Cast Iron cookware in India. I have covered a lot of additional aspects like how to clean, maintain & season your cast iron cookware. We also discussed the benefits and problems associated with using cast iron cookware in your kitchen.
I hope you found this article helpful. If you have any further questions, do leave them in the comments section below and U will try to answer them at the earliest.