I have written this post to address the numerous email that I receiving asking to do a Bosch vs LG Washing Machine comparison for Indian consumers.
Ever wondered why ads like "Lalita ji" making an intelligent choice while buying a detergent of a particular brand at her local grocery store is a thing of the past in Indian television?
Instead, we have the same detergents brands in whole new avataars vying for the consumers' mind space. Trying to convince them why brand A may be a better choice than brand B for her washing machine.
The reason is evident!
However, Before I go into further details. Let me summarize my top picks for people who are short on time.
Summary: Bosch vs LG Washing Machine, Which one to Buy?
If you are a family of three or four seeking the best in class in engineering and technology, efficient and hassle-free machine in the high-end category This Bosch 7 kg Fully Automatic Front Loading Washing Machine, is just what you are looking for. A similar model is also available in Flipkart (Click Here)
This Top load machine, again by Bosch is something that will work well for most bachelors/young couples. Compare price on Flipkart before buying it by clicking here.
However, if you are a geek and prefer to control your machine through your smartphone, go in for this LG Front Load Machine. LG also has cheaper variations in the top load category.

Washing machines: No longer a luxury
Gone are the days when the lady of the house or even the household help for that matter, had to wash clothes physically armed with a bucket, detergent and a bar of soap in their hands.
In the modern era where gadgets equate convenience, a washing machine in the house is as essential a household gadget as a Refrigerator or a Mixer Grinder.
However, with numerous choices and brands, choosing the machine that is a perfect fit for your needs may indeed be a tough job. While there are numerous washing machine brands out there, I am here to make your life easier, if you are a contemplating a front washing machine for your urban home and are undecided between the Bosch and LG washing machine.
You May Like – Bosch vs IFB Washing Machines – Compared
Engineering Expertise vs Vast Experience and Popularity
My vote goes to Bosch, as I am a satisfied customer myself and I believe German engineering still remains unmatched in washing machines. However, you are not compelled to believe in my opinion up front. I urge you to read on further to form your own opinion after having read a comparative analysis of both the brands.
Bosch washing machines originate from a long pedigree of innovations in home appliances. Considered a global leader in manufacturing washing machines to date, Bosch manufactures some of the most efficient and innovative washing machines that are loaded with exciting features.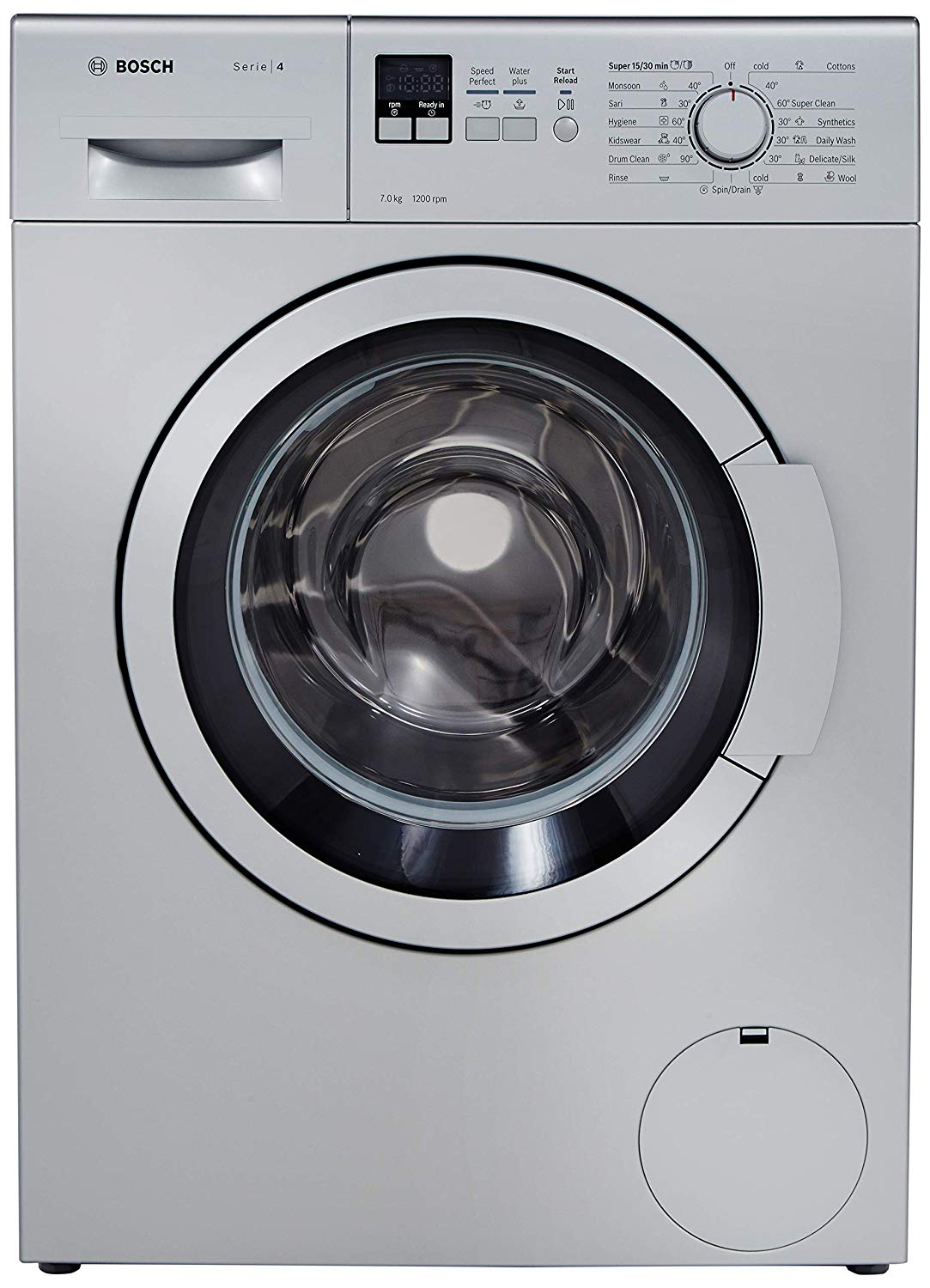 LG is not Far Behind.
However, this is not to dismiss that the South Korean manufacturer LG, that is one of the best-known brands in consumer electronics in India. LG has ruled the roost for over two decades now and has figured out the Indian psyche well. This explains their popularity among Indians, who have come to have blind faith in LG products.
In this article, I will take you through a comparative analysis of both brands in the same price band (in the higher range), for you to be able to make an informed choice. I am comparing the This LG 6.5 kg Washing Machine with the Bosch 7 kg Fully Automatic Front Loading Washing Machine. These are washing machines that are adequate for a family of three to four members.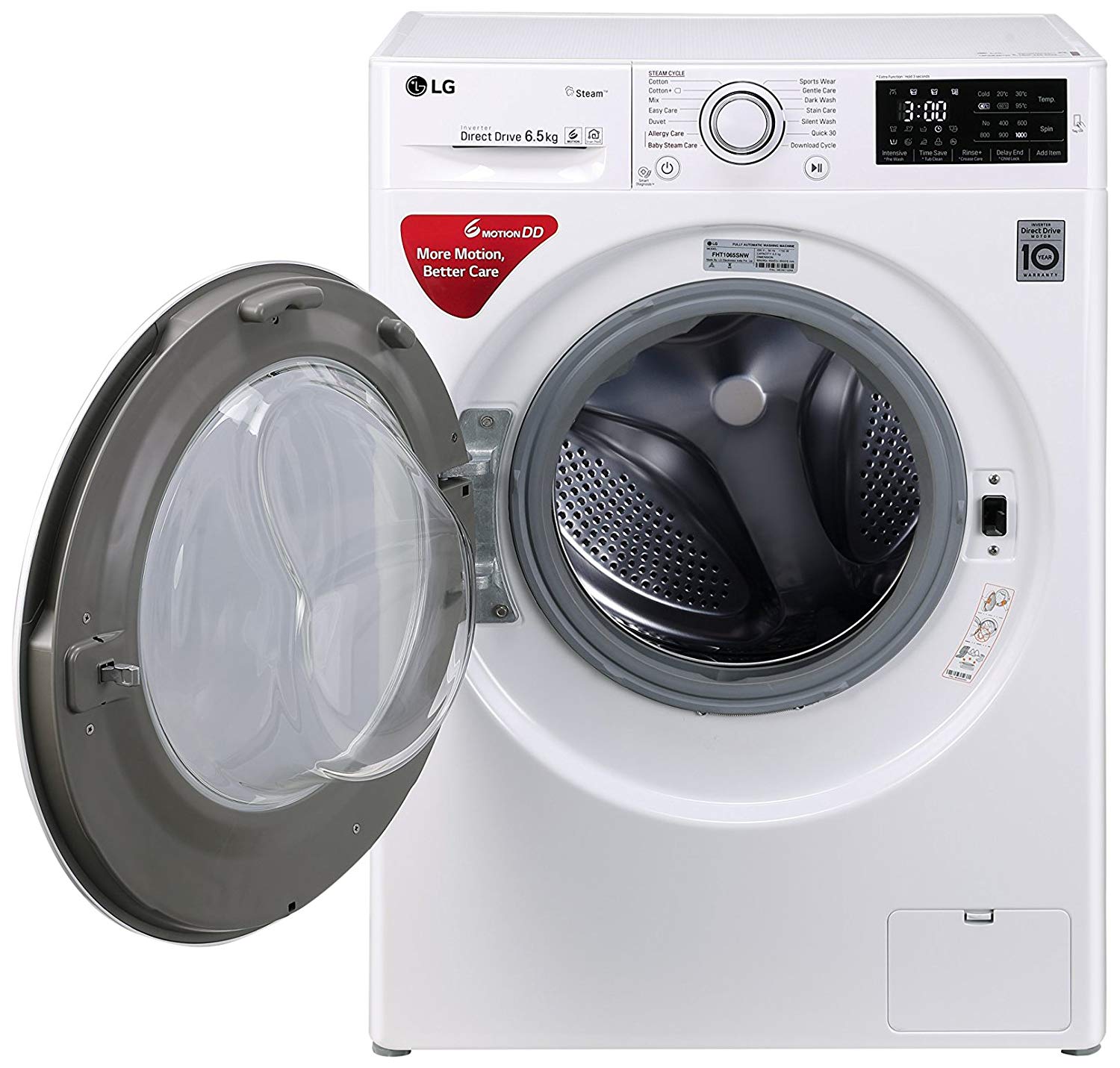 To begin with, while Bosch houses the largest drum size in this segment that is slightly bigger drum than LG. Bosch also has a drum clean feature that removes toxic residues and keeps the drum disinfected. The maximum spin speed of the Bosch is 1200 rpm as compared to 1000 rpm of LG.
Both machines come loaded with state of the art features. For instance, LG is built with 6 Motion Direct Drive technology that not only moves the drum in multiple directions, imitating human actions while washing clothes by hands, it is also effective in noise control and causes fewer vibrations.
Similarly, Bosch washing machines have an anti-vibration design that ensures greater stability and cuts the noise to nil. While LG has the spa steam technology that leads to enhanced washing performance, while Bosch has the foam detection system that detects extra foam if any due to excessive detergent use and takes preventive measures according.
Bosch: Think global act local
Now let's delve into little details and check some features that are unique to these brands. Let's begin with Bosch 7 kg Fully Automatic Front Loading Washing Machine. One of the main features of the Bosch washing machine is its VarioDrum, that is designed to be gentle on your clothes and tough on dirt at the very same time.
Have a look at the technology in action in the video below:
As the drum spins in one direction, the flat side of its paddle cleans out fine material. When it spins in the opposite direction, the steep side of the paddle ensures that your clothes experience a deep clean thanks to its wave droplet design.
Further, the Bosch washing machine boasts of a feature called "ActiveWater Plus" which automatically senses the amount of load and type of fabric and soaks laundry faster. This feature also ensures that the clothes are washed and rinsed out properly without leaving any detergent residue.
Understands Requirements of Women:
While LG may have hit a chord with Indian consumers, Bosch has introduced a unique feature for the Indian woman who is particularly sensitive about the washing of the sari! You can thus wash your nine yards garment using a preset function on your Bosch washing machine and ensure that the fabric, design and colour remain intact without compromising on the quality of wash!
There are also features preset functions such as monsoon that has been introduced with the Indian weather in mind. For instance, usage of the monsoon function prevents the foul smell that emanates from clothes during the monsoon season.
You May Like – Bosch WAK24168IN vs WAK24268IN – Review
Similarly, there are other features such as hygiene, kids wear to ensure that you can rest easy knowing that your machine is smart enough to dole out the treatment necessary for each kind of garment that goes in. There are other useful features in the Bosch washing machine such as Volt Check that ensures that your machine functions perfectly despite fluctuations and interruptions in power supply.
Another useful function is the reload function that allows you to open the door early in the cycle to add or remove items as the need arises. Further, if you have a young child who is particularly notorious for misdeeds around appliances, there is no reason to fear as Bosch features a child lock that prevents settings from being changed by a child!
LG: Smart thinking, intelligent washing
There are some unique features of the LG washing machine too that are specially designed with the Indian consumer in mind. For one, the drum is made of stainless steel and not plastic that ensures that your machine remains rust free life-long.
For ladies who multi-task working in the kitchen and doing a load of laundry at the same time, there is no need to dry wet hands before you work your washing machine thanks to the waterproof touch panel with a seamless design.
One of the latest features of LG is Smart ThinQ. This functionality allows you to connect your phone to the washing machine and then control all the functionalities through it.
Have a look at the video below to see how to set it up and use it.
Powercuts? Not an Issue.
Live in an area where power cuts are frequent? Don't worry! The LG washing machine has an auto restart function that will make your machine cycle start exactly where it had stopped during the power cut, saving you both power and electricity.
Stains are the bane of your existence? LG provides the perfect solution! The LG washing machine comes with a heater that can heat the water used for washing as high as 60 degrees that is most effective in removing stains.
While it is tough on stains, on the one hand, your LG washing machine provides just the right amount of care for clothes that are delicate through its steam wash feature.
Steam Wash – Is it Good?
Steam wash is not only effective in providing adequate care for delicate clothes, but it is also very effective in removing dust mites, pollen or pet allergen from your clothes, thus caring about your health as well.
LG washing machines have also taken connectivity to a whole new level. With the SmartThinQ NFC, you can download customised wash cycles for different types of clothing. You can use the SmarThinQ app to do much more. For instance, if there is any problem with your washing machine you can simply log on to the app and self-diagnose up to 86 errors in your machine.
After sales service matters
Now let's talk about the most important factor that you are likely to take into consideration before making a purchase decision.
Yes. You guessed it right. I am about to get into after-sales service of both machines. While Bosch has superior engineering that is expected to be trouble free once installed, installation of the Bosch machine is a time taking process.
Further, reaching out to technicians for problems is a problem, according to many Bosch users (on Amazon & Flipkart) as their service centres in India are few and far between.
While there is a 10-year warranty on the washing machine replacing small parts such as rubber guard on the door may turn out to be an expensive affair as it is difficult for technicians to source original spare parts easily.
Do Read – Is Bosch WOE652D0IN Worth Buying?
In this department, LG beat Bosch hands down, thanks to the presence of its service centres across the length and breadth of the country. Spare parts of LG are much more easily available, technicians can reach locations faster and overall leave the customer satisfied.
Bosch vs LG Washing Machines – Why Bosch still wins?
To conclude, I would like to maintain my stance that Bosch washing machines are a better bet than LG despite its popularity and after sales service, as it trumps LG with superior engineering that is adapting to Indian needs.
Having overcome its teething problems in India, Bosch is also proving extended warranty and annual maintenance contracts with local service partners that are addressing the after-sales service concerns that customers had so far.
Thus, as I close, I would say if you are seeking the very best in front load fully automatic washing machines, Bosch has no match yet.
I hope this article "Bosch vs LG Washing Machine in India" helped you select the right product for your needs. So which one did you decide to opt for? or Do you have any further queries that you would like me to address? Let me know your thoughts in the comments below.