IFB has come up with some really good premium washing machines + Dryers in India. They have launched them under the Laundrimagic brand name. Today I would be comparing two of the best models in this range. IFB Executive ZXS vs ZXM
Let's Begin!
Summary: IFB Executive ZXS vs ZXM
If you do not wish to go through the entire article, then I recommend simply going with this option with your eyes closed.
This model comes with all the premium features that you would ever need from Washing Machine + Dryer combo.
I will be listing out my reasoning below. However, do not forget to check out some more reviews using the link I provided above.
Difference: IFB Executive ZXS vs ZXM
The main difference between the two washing machines is the colour. While IFB Executive ZXS is Silver, the ZXM model has Mocha. But there is one more difference that will help you make the purchase decision.
p.s – If you missed my recommendation above, I recommend going with this option.
I will be covering the same below.
However, we get to the deciding factor, let's look at all the common features between these two models.
Keep in mind that IFB Executive is not a regular washing machine.
It comes with IFB's Laundrimagic 3 in 1 technology. It means it can wash, dry (absolutely dry, you can directly fold the clothes and keep them in your cupboard), and refresh your clothes.
Watch the video below to understand this better:
Features: IFB Executive ZXS & ZXM
The IFB Executive ZXM & ZXS washing machines have a wash capacity of 8.5 kg, making them suitable for medium to large-sized families. Its

front-load

design makes it easy to load and unload clothes, and it's fully automatic, so you just need to add clothes, and detergent, and select the program. The machine takes care of the rest.
The Laundrimagic feature combines washing, rinsing, and drying in a single cycle, saving you time and effort. The Steam Spa function uses steam to relax fabric fibers, making it easier to remove tough stains and wrinkles while also sanitizing clothes. The Power Steam feature uses powerful steam to penetrate deep into the fabric, removing stubborn dirt and grime while also reducing allergens.
However, the machine has a different capacity for wash, dry, and refresh cycles. Watch the video below to know why:
The machine's unique crescent moon drum design is gentle on clothes, ensuring they get a thorough wash without any damage. The Aqua Energie feature helps dissolve detergent better, ensuring a deep and gentle wash. The 3D wash system uses water jets from different directions to soak clothes and wash them evenly, removing dirt and stains more effectively.
You May Like – Bosch vs IFB Washing Machine in India
With 14 wash programs, you can choose the perfect one for your clothes, whether it's cotton, synthetic, or delicate fabrics. The time delay feature allows you to set the machine to start washing at a later time, saving you time and effort. The child lock feature locks the control panel, preventing kids from accidentally changing the settings or opening the door while the machine is running.
Watch the video below to understand the machine's wash cycles:
The machine's high spin speed of 1400 RPM ensures clothes dry faster after washing. The auto imbalance system adjusts the load if clothes are not evenly distributed inside the drum, preventing damage to the machine. The foam control system detects and controls the foam level, ensuring clothes are washed properly.
Check out the next video to see the dryer in action. As I said earlier, the dryer in this machine is very different compared to regular washing machines.
The LED display shows the remaining time, selected program, and other useful info, keeping you updated on what's happening inside the machine.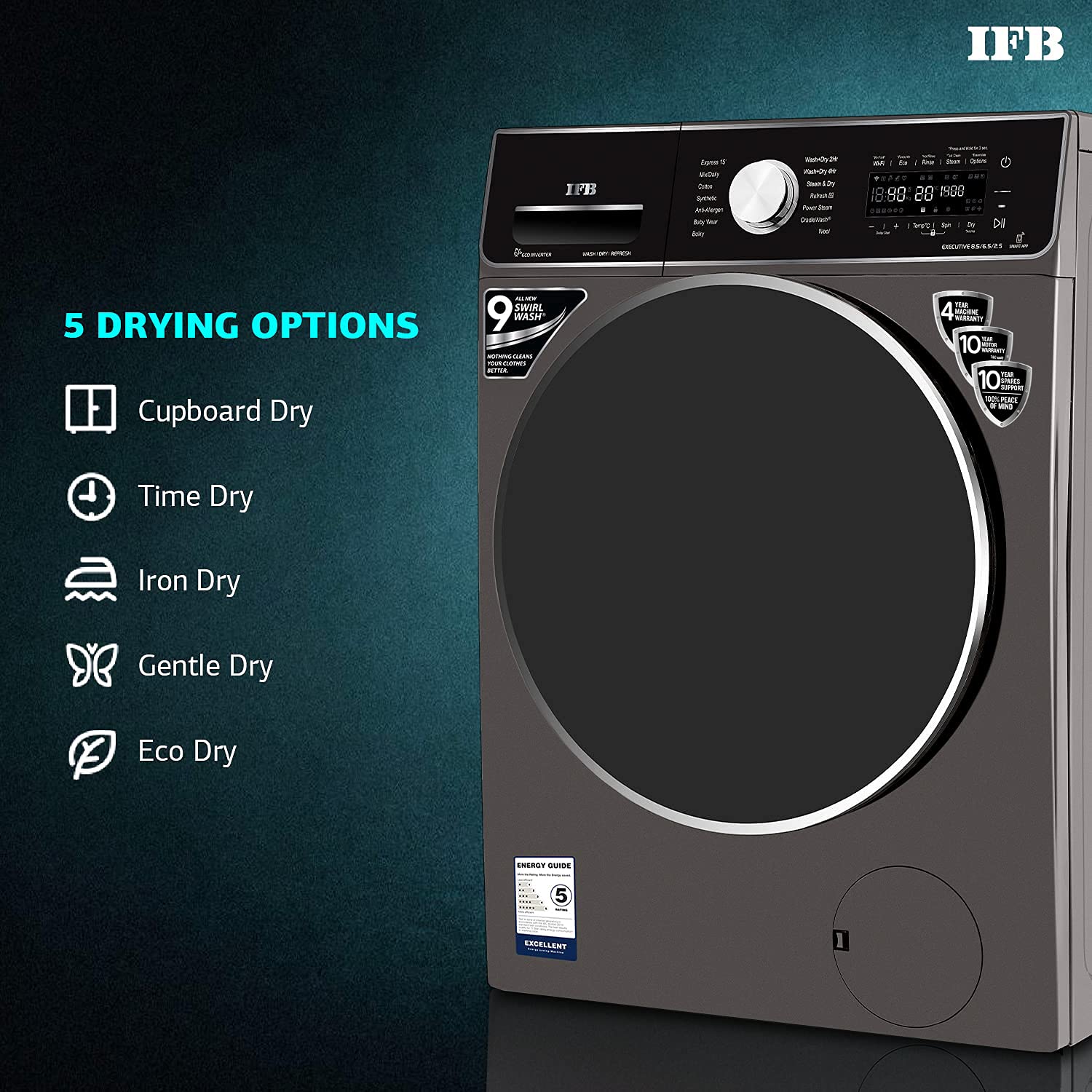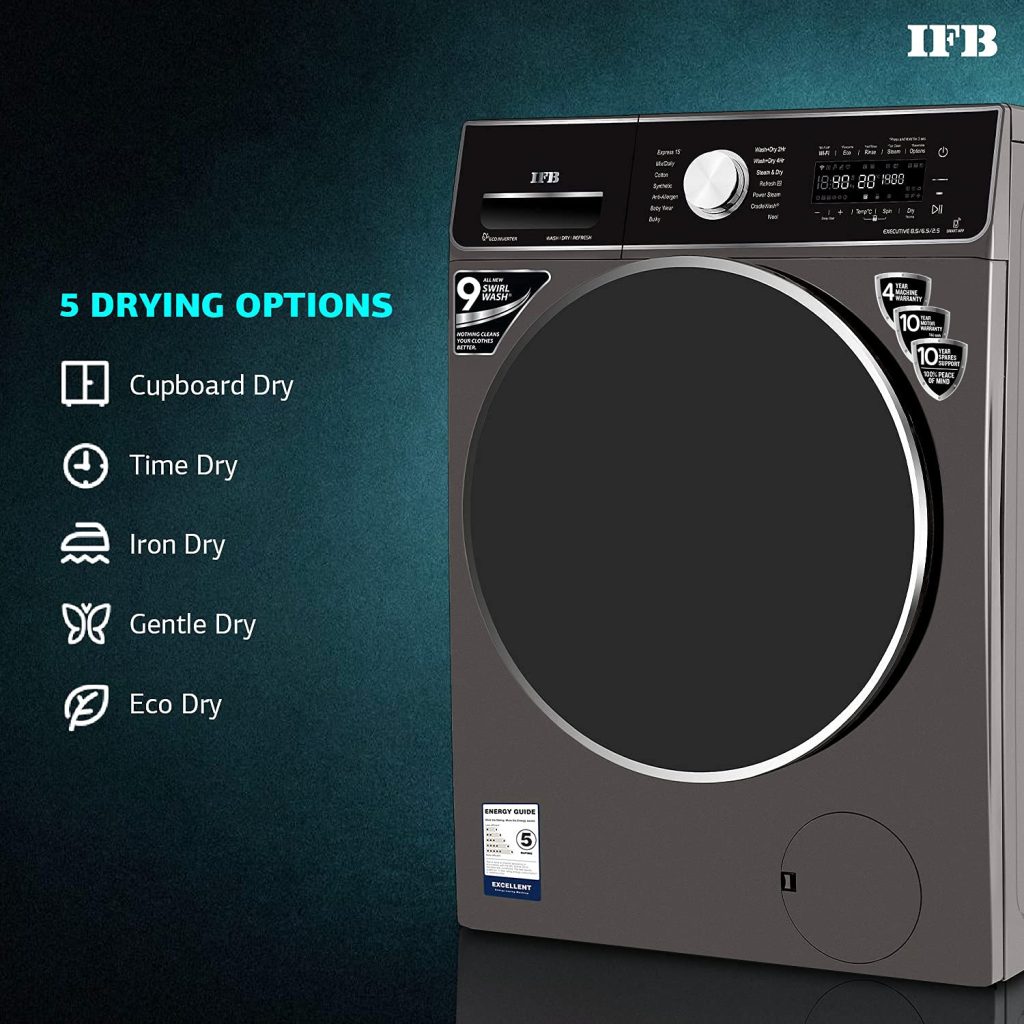 Check More Reviews – Amazon India
The machine has a built-in dryer with a capacity of 6.5 kg, making it convenient to wash and dry clothes in one go. The refresher function helps remove odors and freshen up clothes without the need for a full wash cycle.
Have a look at the refresher in the video below:
The machine is WiFi-enabled, allowing you to control and monitor it remotely using a smartphone app. It has a 5-star energy rating, making it highly energy-efficient and eco-friendly. The machine comes with a 4-year comprehensive warranty on the product and a 10-year warranty on the motor, ensuring peace of mind with your purchase.
Suggested Read – IFB vs LG Washing Machines in India
Overall, the IFB Executive ZXM washing machine is a great choice for those looking for a fully automatic, energy-efficient, and feature-packed washing machine. Its various wash programs, dryer and refresher capacity, and advanced features like Laundrimagic, Steam Spa, and Power Steam offer a convenient and efficient laundry experience.
So, as you would have noticed above, both these models have the latest technology and the best features that a washing machine can have.
However, the only reason I recommended ZXS between IFB Executive ZXS vs ZXM is that ZXS is slightly cheaper compared to ZXM.
The only reason I would buy ZXM is if I really like the colour or if the colour matches the interior of my home.
I hope this helps you make your purchase decision.
So, which washing machine did you decide to opt for between IFB Executive ZXS vs ZXM, Do let me know in the comments below.